50 best Amazon Prime Day fashion deals 2023 still in stock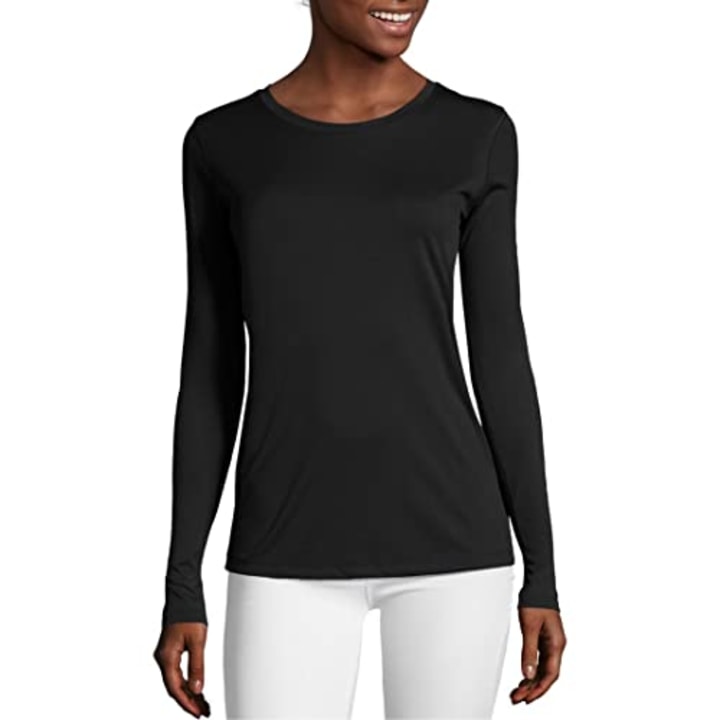 You might remember Amazon's Prime Day back in July. But if you missed the annual sale event, Amazon's fall Prime Day — Prime Big Deal Days — is here!
Whether you're revamping your wardrobe, growing inspiration for your wish list or getting a head start on your holiday shopping, Amazon has marked down a plethora of clothing and accessories from your favorite brands including Champion, Levi's, Calvin Klein, Steve Madden, Amazon Essentials, Lucky Brand and more. The Prime-exclusive shopping event is only here for 48 hours (ends midnight October 11), so stock up before the sale ends.
Best fashion deals | Best accessories and jewelry deals | Best dress deals
Read on to shop the best in Amazon fashion from top-rated brands for up to 66% off.
Amazon Prime Day women's fashion deals
Hanes Cool Dri Long Sleeve T-Shirt
Winter might be near, but that doesn't mean we can't wear cute atheleisure. One gym staple we have our eye on this Prime Day is this Cool Dri long sleeve from Hanes. Based on its description, the top should help manage sweat, protect you from odors, reduce chafing and shield you from harmful UF rays.
The Drop Women's Uma Pull-On Pant
Pull up to the office in style with these dressy pull-on pants from The Drop. The design features a high-waisted silhouette and bottom slits to showcase your favorite shoes – no more hiding.
Topyogas Crossover Flare Leggings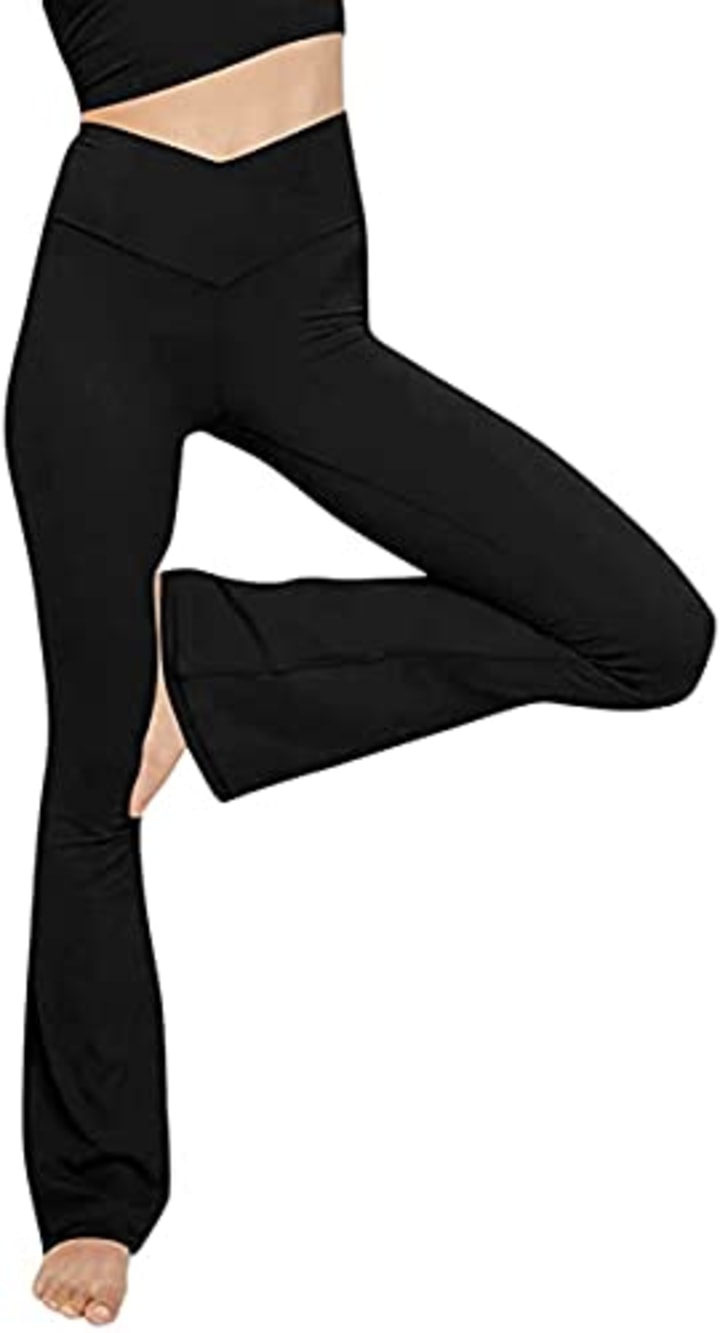 Other than the flared ends, what we appreciate most about this pair of leggings is the crossover waistband. According to the brand, this helps to flatter the waist and the rest of the body. On top of that, it should help prevent the band of your leggings from folding over during workouts. 
Champion Fleece Sweatpants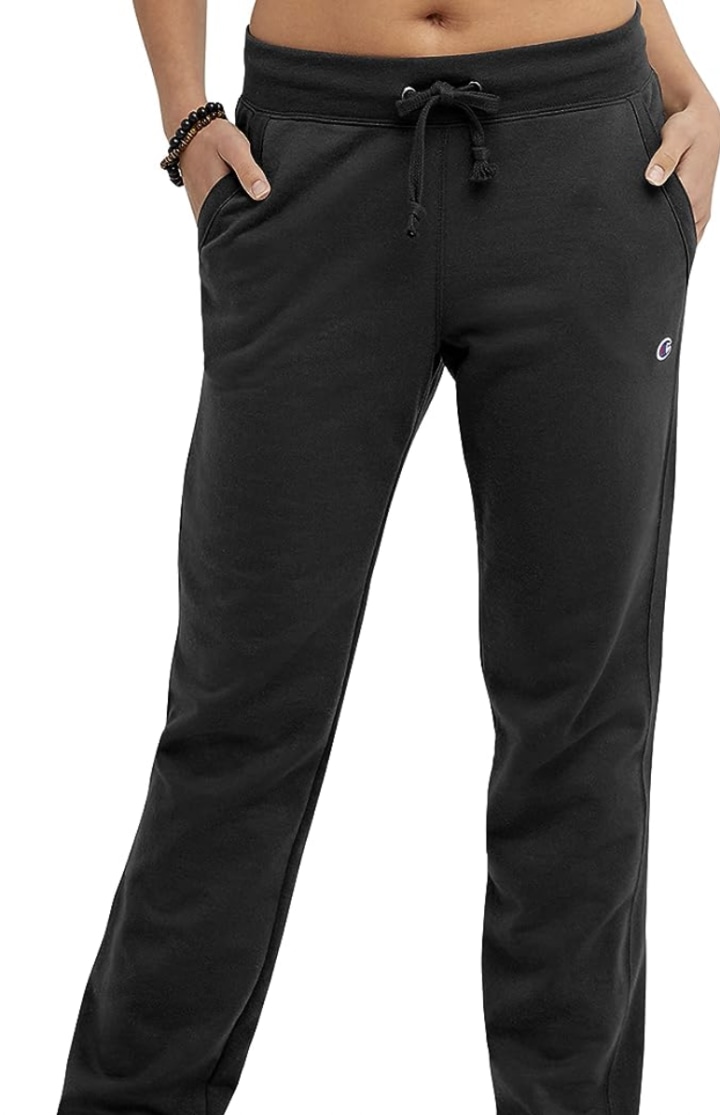 The cotton-polyester blend in these sweatpants means they're warm and comfortable (and they have the reviews to back it up). The fabric combo also means that they should not pile or shrink, suggesting that these should stay true to their quality after washing. They're also 56% off. Score!
More Champion Prime Day deals:
Reoria Halter Neck Bodysuit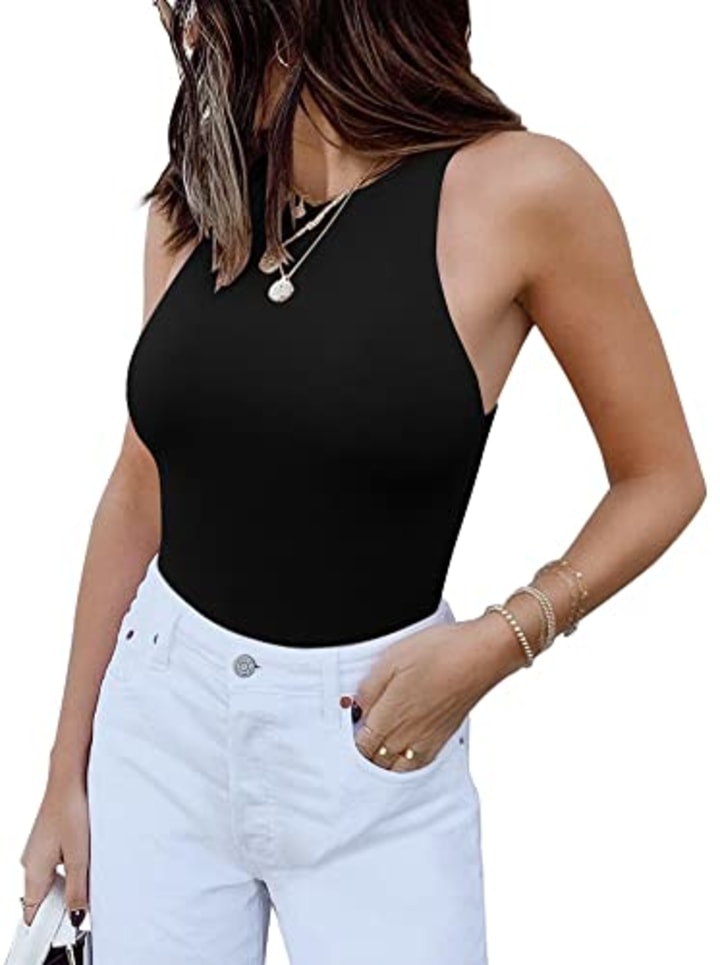 Complement your denim and pants with this basic bodysuit. According to reviewers, this suit has a functional bottom closure (which makes bathroom breaks easier) and the quality is unbeatable for its price.
Felina Velvety Super Soft Leggings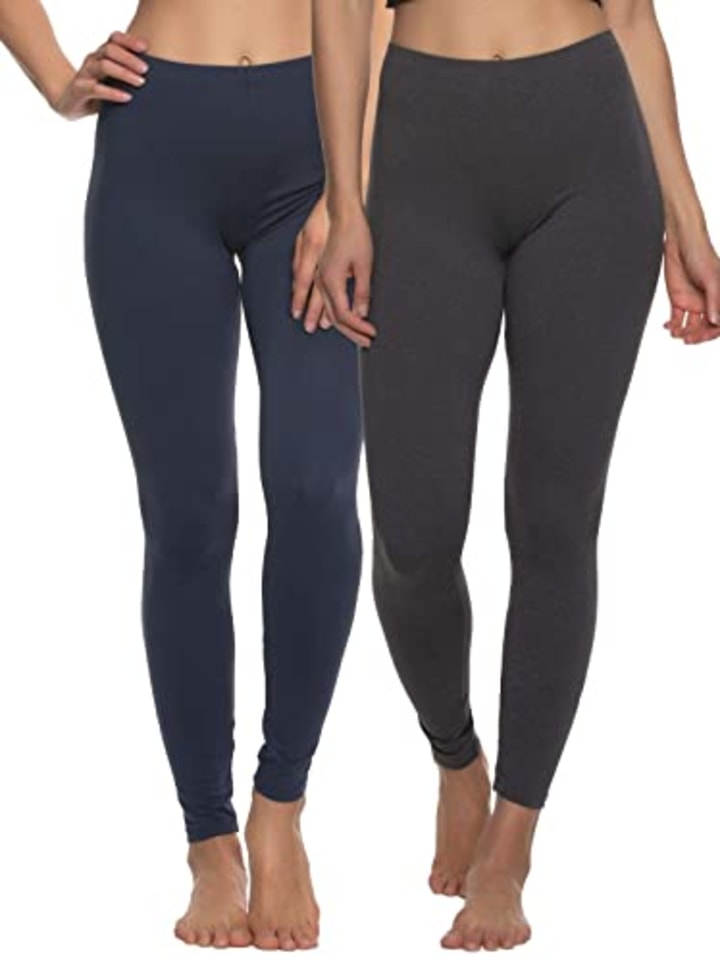 Raved for their versatility and comfort, these leggings are a favorite among customers. The design has been sold 8.6 million times to date and you can get a 25% off coupon at checkout.
Landroiy Women's Off Shoulder Sweater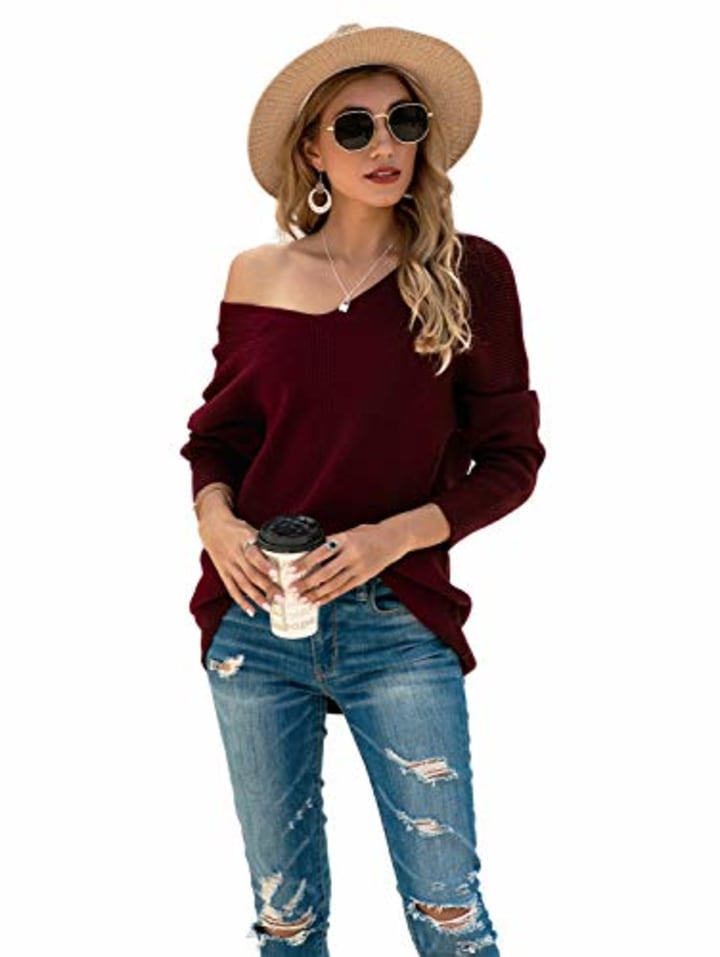 The oversized and off-the-shoulder silhouette on this sweater is perfect for casual days. It's a fall staple that will complement your denim collection.
Timeson Pullover Tunic Swing Sweatshirt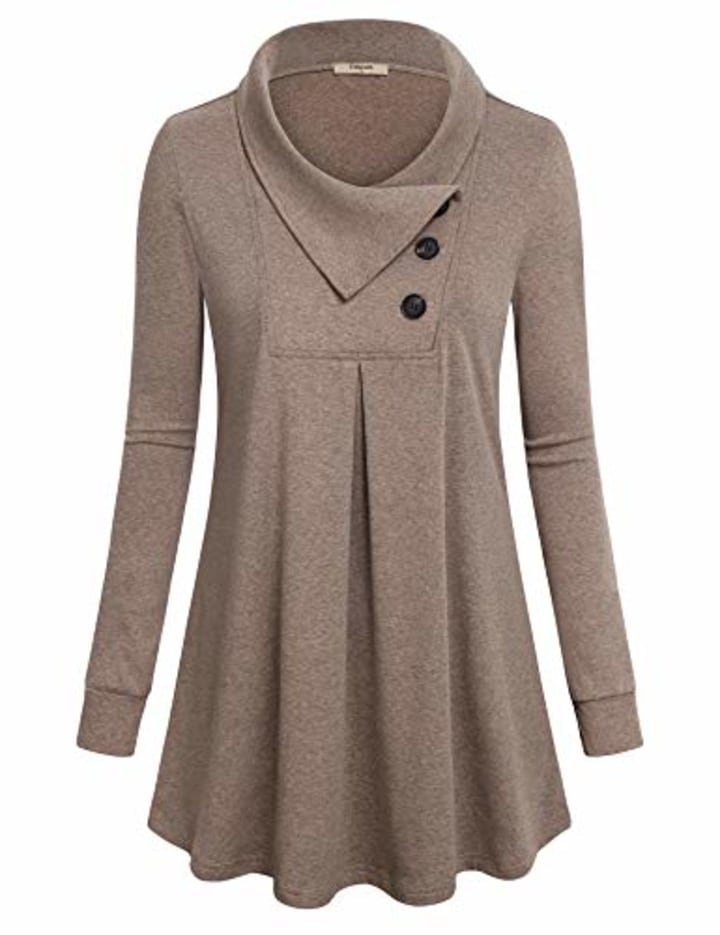 Shift to more cold-weather outfits with this elegant sweatshirt. The pullover design will elevate your most basic pieces and make you look chic in an instant.
Shaperx Seamless Sculpting Bodysuit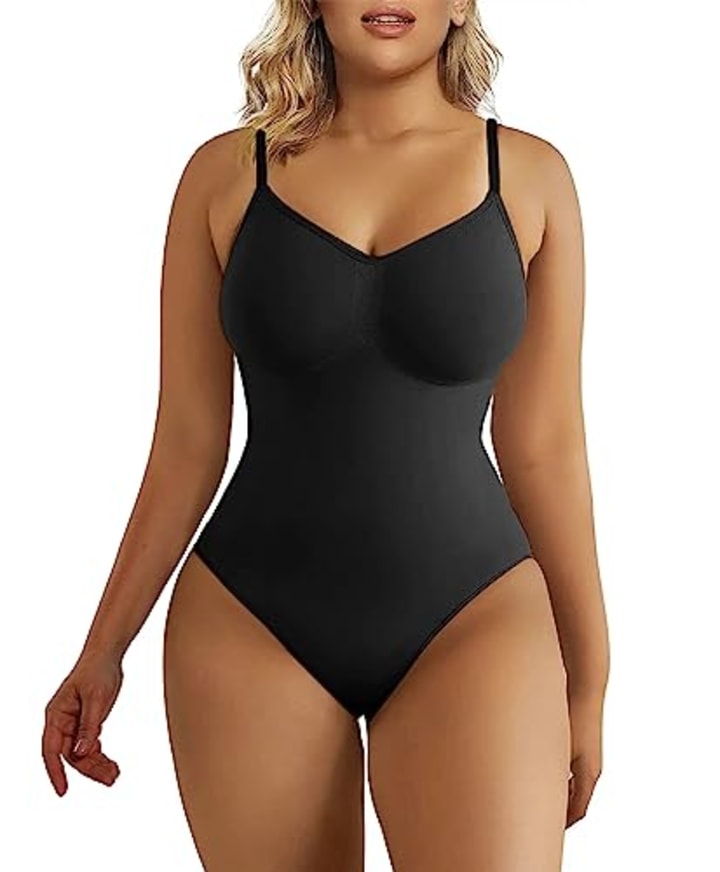 We wouldn't have guessed that this best selling sculpting bodysuit doubled as a fitted tank. Wear on its own or underneath clothes, the shapewear is available in nine colors from a size XXS up to a size 5X.
Lillusory Women's Oversized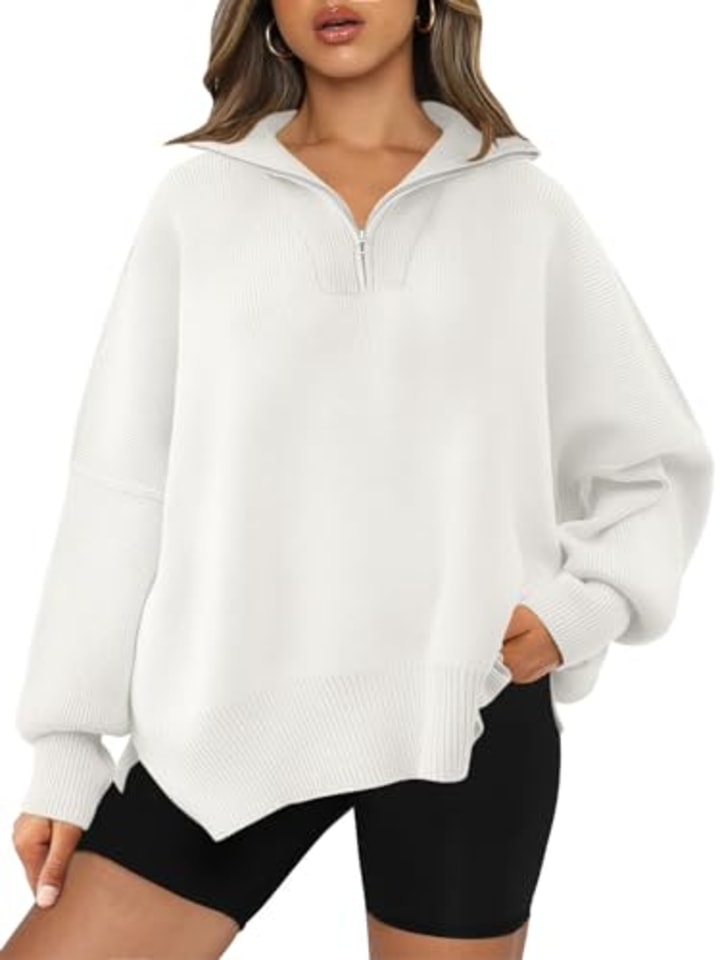 Now that fall is finally here, we can stock up on cozy sweaters. This one in particular was seen on TikTok and Amazon shoppers have rated it a top-quality find.
Anrabess Oversized Knit Pullover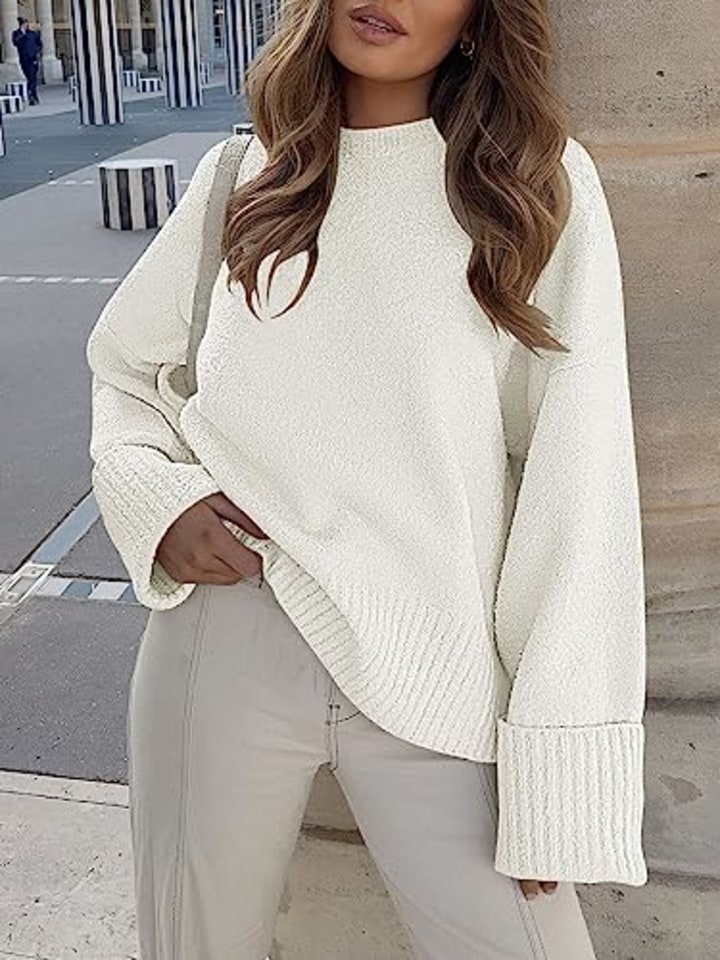 Oversized clothes, especially sweaters, are a great choice when you need extra coziness. This knit pullover has the right amount of flare and warmth for a chic fall look.
Lucky Brand Long Sleeve Utility Jacket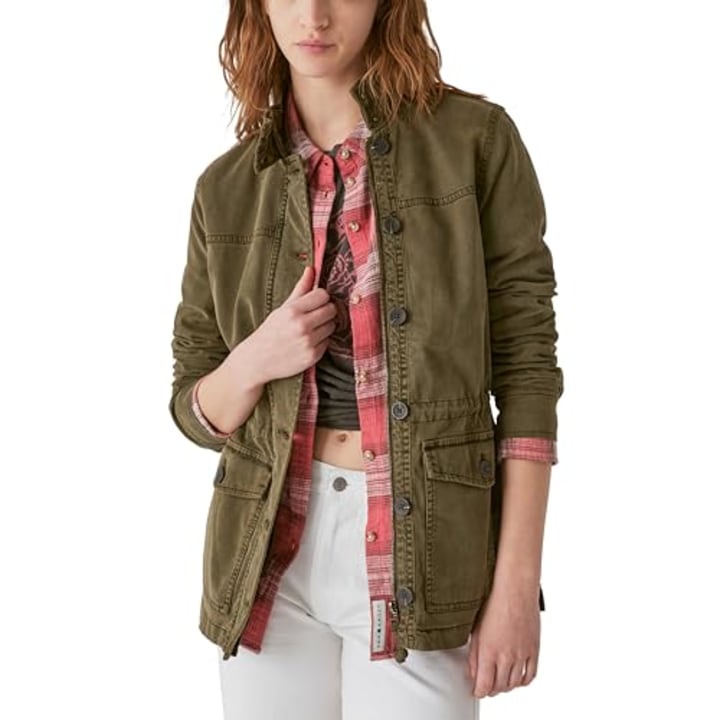 Utility jackets, including this one from Lucky Brand, add a touch of edge to every wardrobe. Based on the positive reviews, this jacket is supreme quality, durable and practical enough to wear as a top.
More Lucky Brand Prime Day deals:
Pretty Garden Plaid Shacket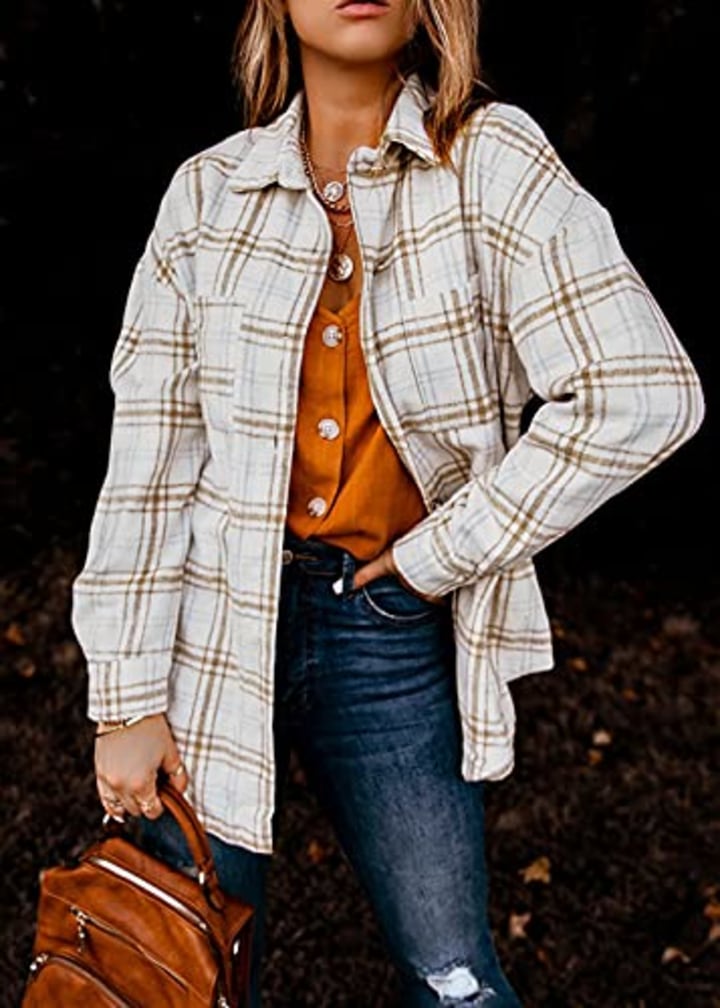 Shackets are a jacket alternative for in-between weather. You can wear this one as a button-down shirt or as a blazer for a layering opportunity. Over 3,600 reviewers agree this shacket is cozy, while others say it's "soft on the outside" and "heavier than expected."
Lillusory Oversized Batwing Pullover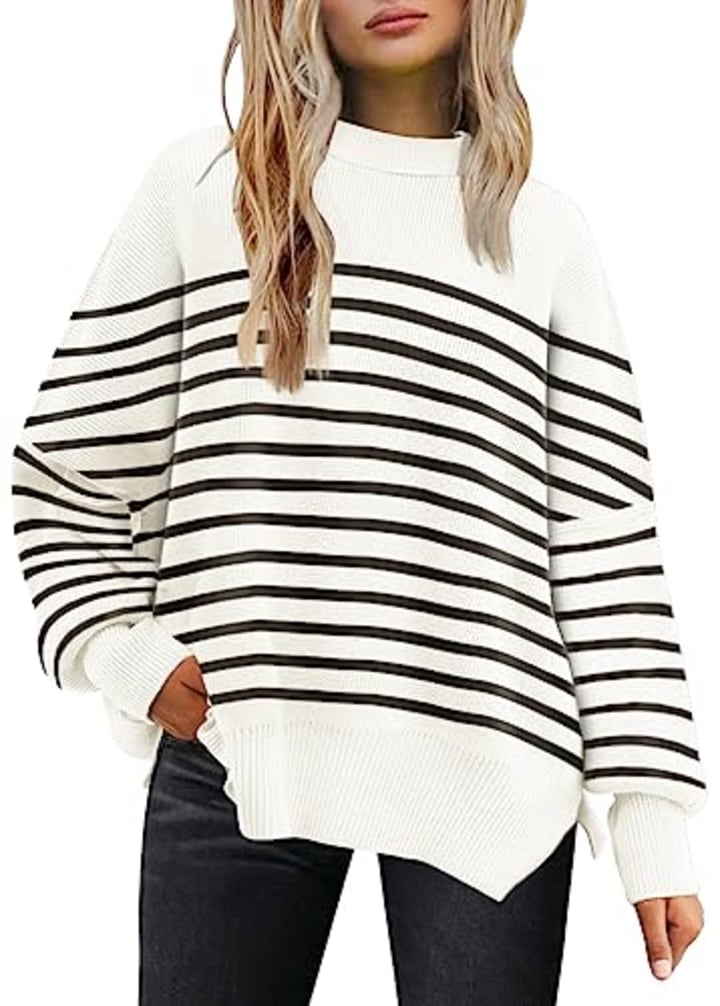 Sweater weather is here, and you have 28 options from Illusory to choose from. Select from a striped print, like the one above, or a neutral shade, depending on your style preference. And it is over 50% off during Prime Day.
Mavi Emma Slim Leg Jeans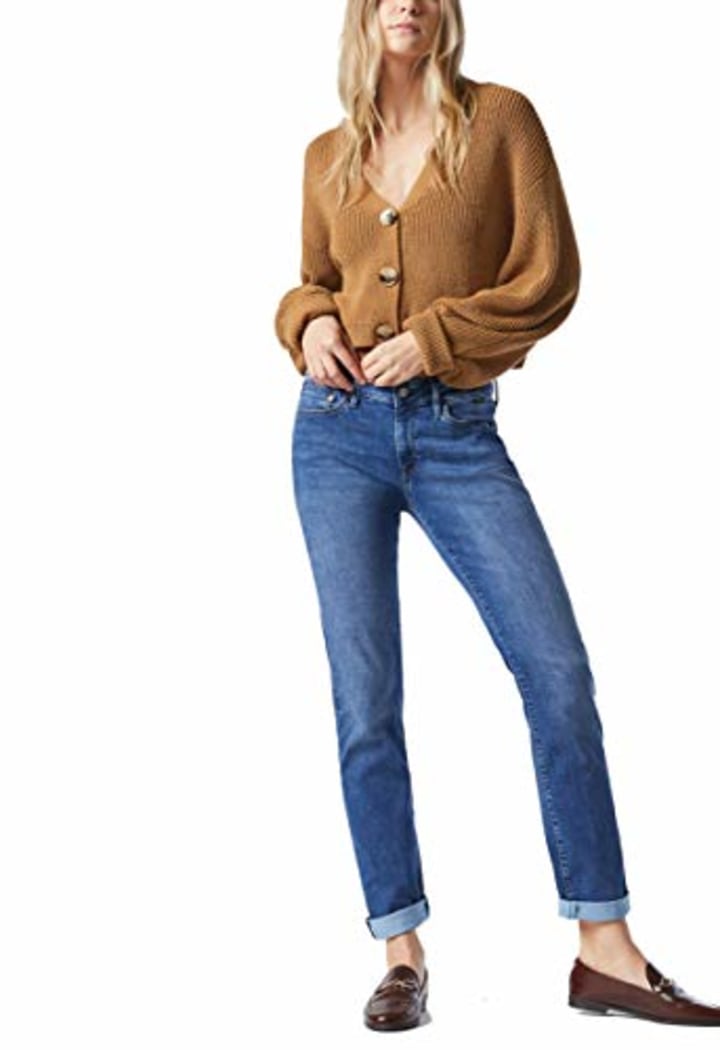 Skinny and slim fitting jeans are always in, regardless of what the trends might say. These Mavi jeans claim to retain their shape and fit seamlessly for everyone, which we can contribute to their cotton, polyester and elastane blend. They're also mid-rise and rolled at the cuff.
Anrabess Women Crewneck Batwing Sleeve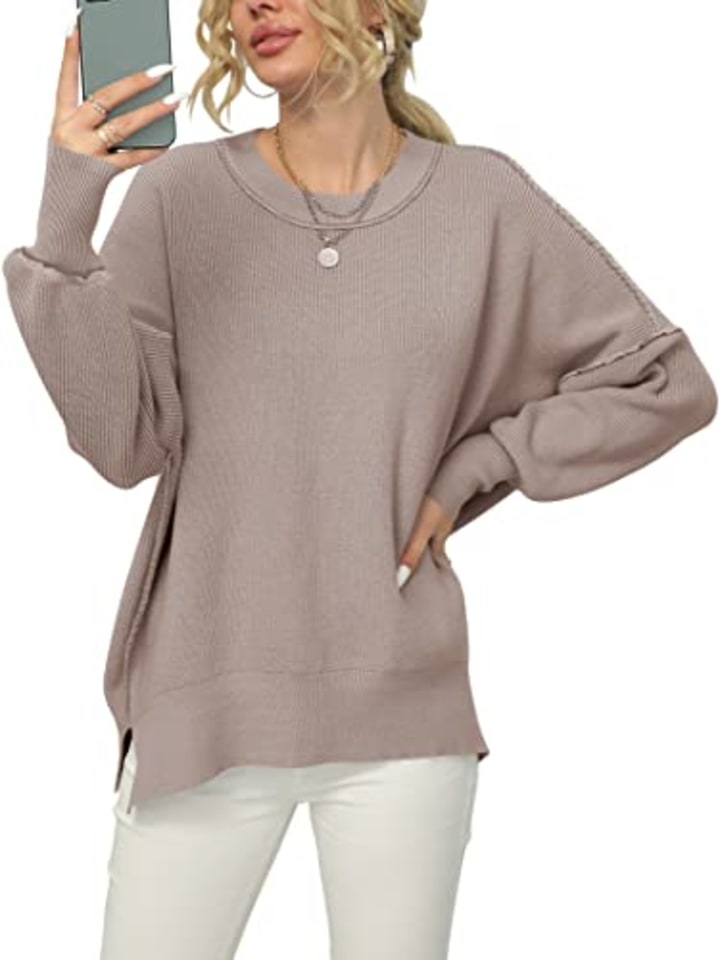 Shop TODAY associate editor Kamari Stewart loves this sweater for its oversized fit and soft feel. Add this knit pullover to your fall collection for a chic yet casual look.
Lillusory Oversized Matching Set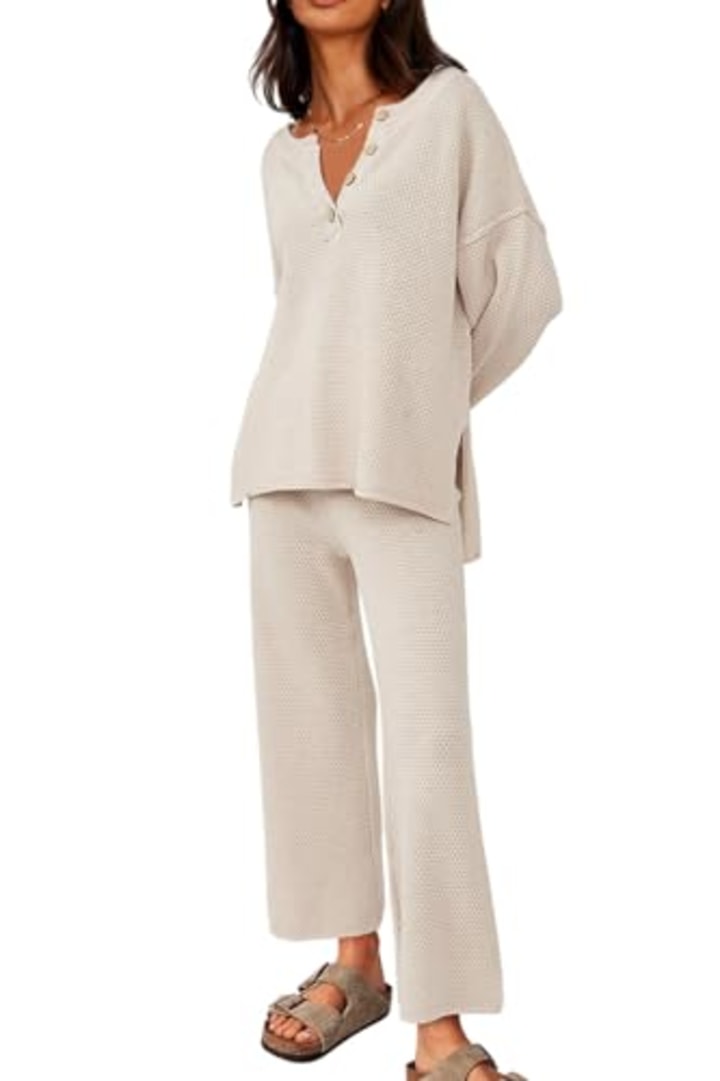 We can picture this matching set worn during casual days at home or on a girl's night — the versatility is evident. No matter the color you choose from, each can easily pair with whatever you might have in your closet. 
Anrabess Women's Two-Piece Outfits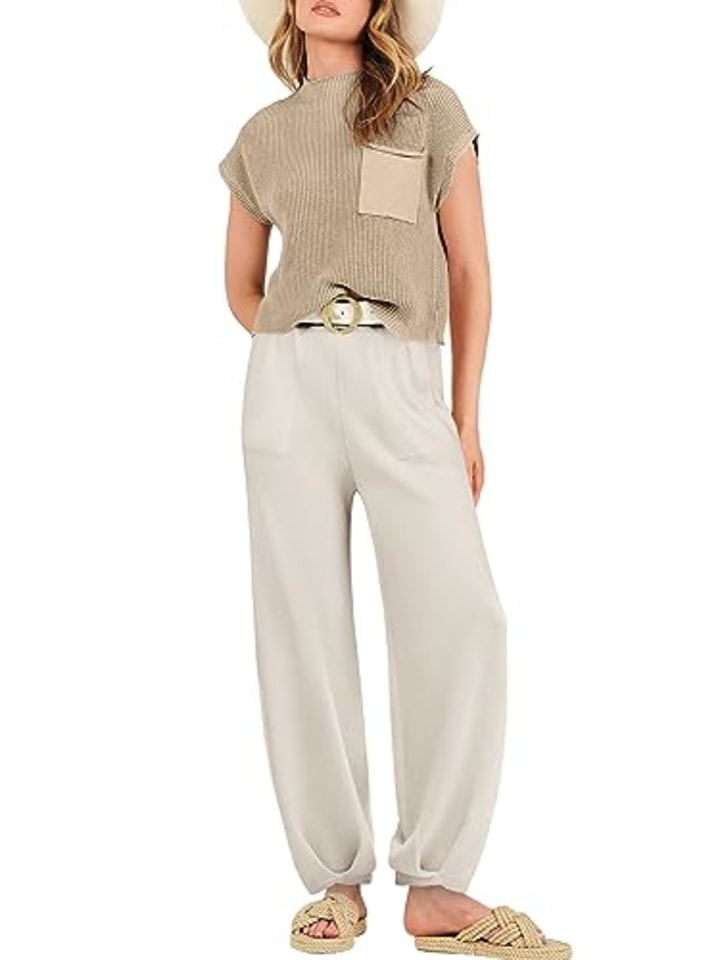 For days you want to lounge and run quick errands, this outfit is the solution. The two-piece set comes with a knit top and matching pants for a casual look.
Pretty Garden Women's Casual Blazer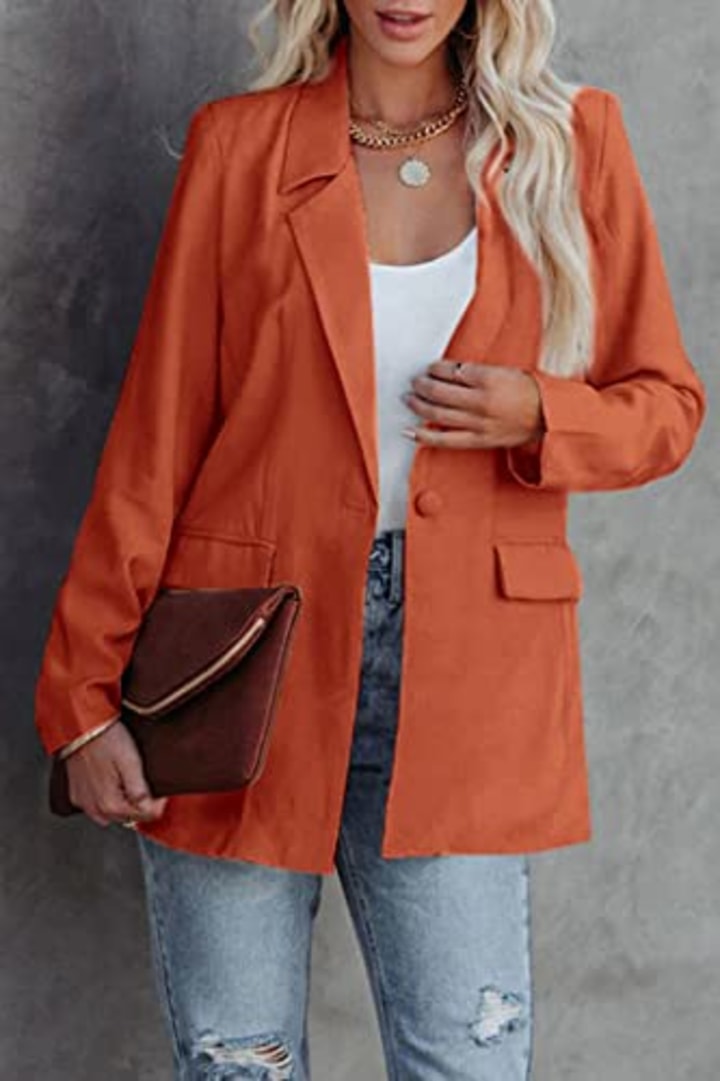 Zhuzh up your basic pieces with this casual blazer from Pretty Garden. It features a full lining and button closure for a professional take. The style also comes in 10 different hues to upgrade all your fall essentials.
Orolay Women's Thickened Down Jacket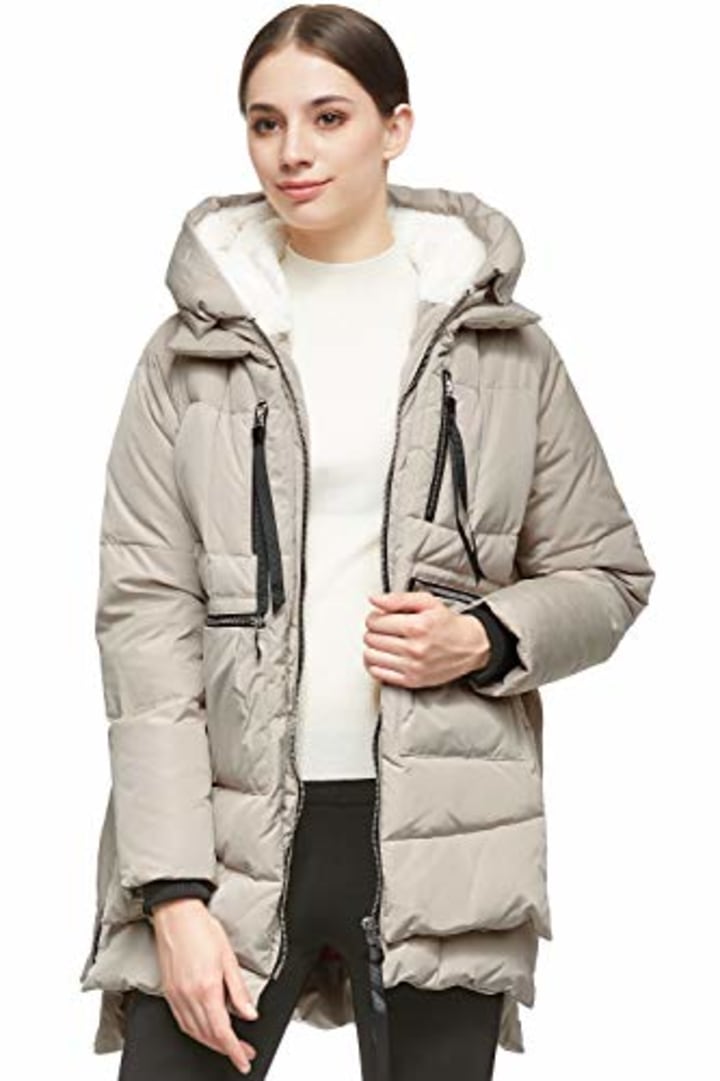 Comfortable, stylish and affordable are the qualities that distinguish this jacket from other ones. It has over 19,900 five-stars reviews for its spacious interior and duck-down filling, and happens to be over 40% off this Prime Day in select colors.
More Orolay Prime Day deals:
The Drop Noa Trench Coat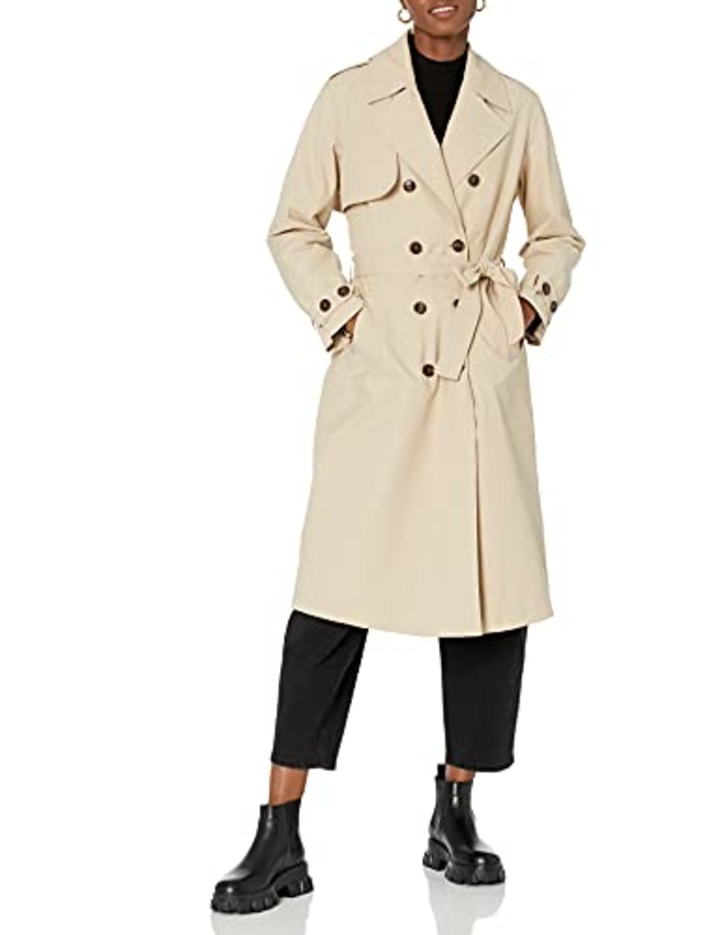 Trench coats are a fall closet staple because they compliment almost everything. Score this one while it is 30% off during Prime Big Deals Day.
Levi's Women's Trucker Jacket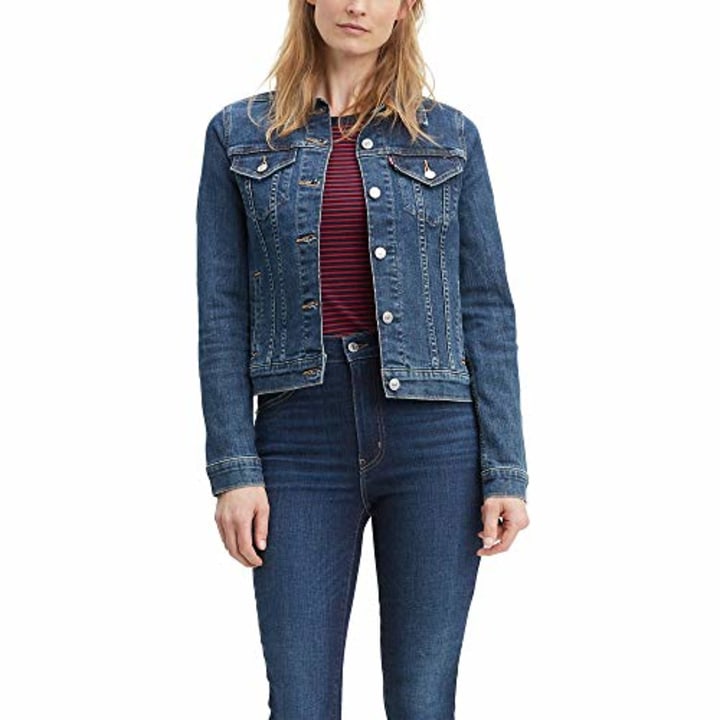 There's nothing more versatile than a denim jacket. This one from Levi's is one that we've had our eyes on, especially now that it is available for almost half its cost (based on wash and size).
More Levi's Prime Day deals:
Lee Plus Size Relaxed Straight Leg Pant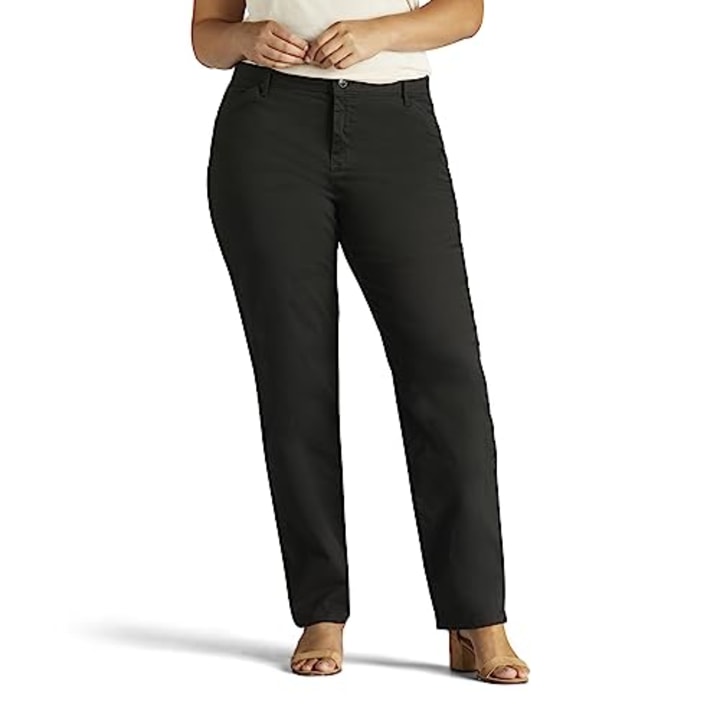 These Lee straight leg pants are meant to fit relaxed without tampering with the flattering silhouette. For every size (14 to 30!) and wash, the pant is available in regular, petite and tall lengths.
More Lee Denim Prime Day deals:
Lillusory Knitted Pullover Sweater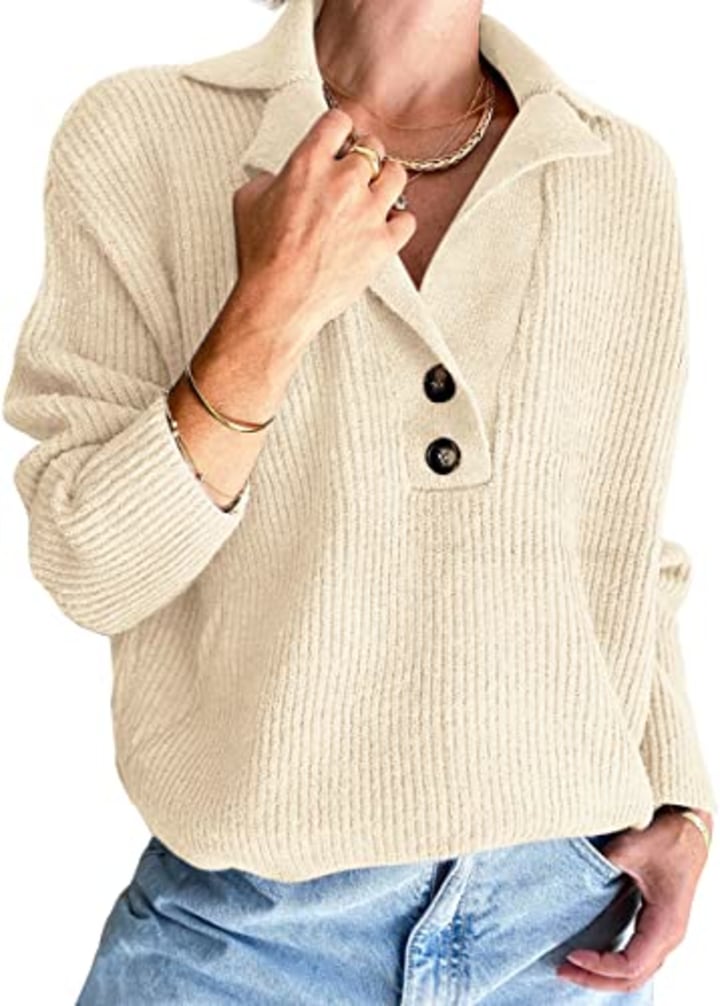 Pull out this knitted sweater whenever you need a cozy upgrade to your cotton shirts. This style comes in 17 different earthy and bold colors. It's warm, chic and overall comfortable (and 50% off!).
The Drop Blake Long Blazer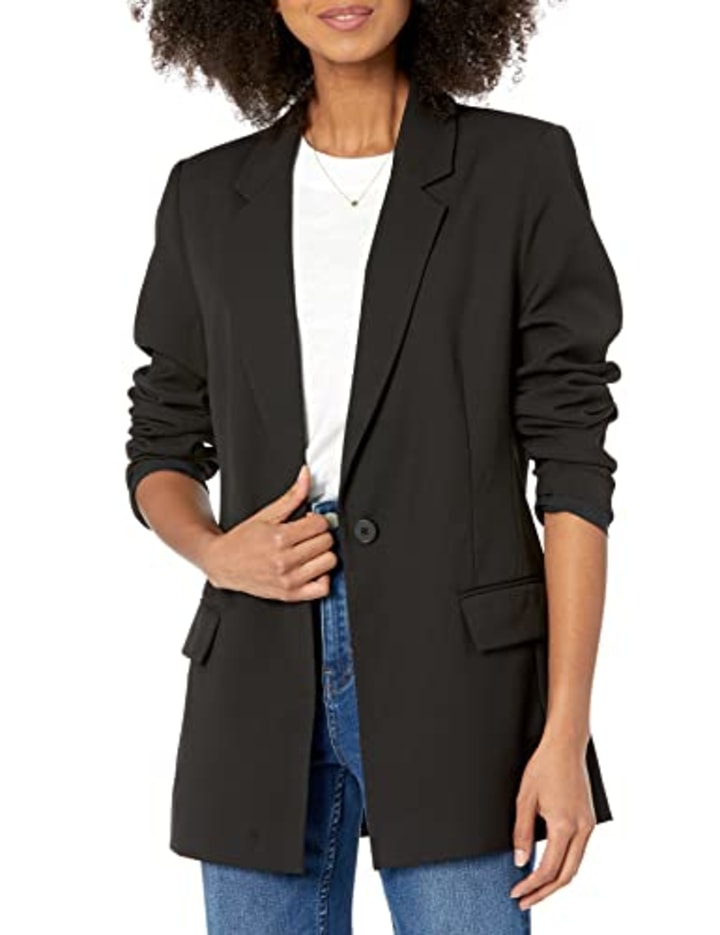 Your first thought when it comes to blazers might be work-related. But blazers happen to be one of fall's favorite staples. Dress up with a pair of jeans for a business casual look, or with your best dress if you want to go the formal route.
Amazon Prime Day accessory deals
Gold Chunky Hoops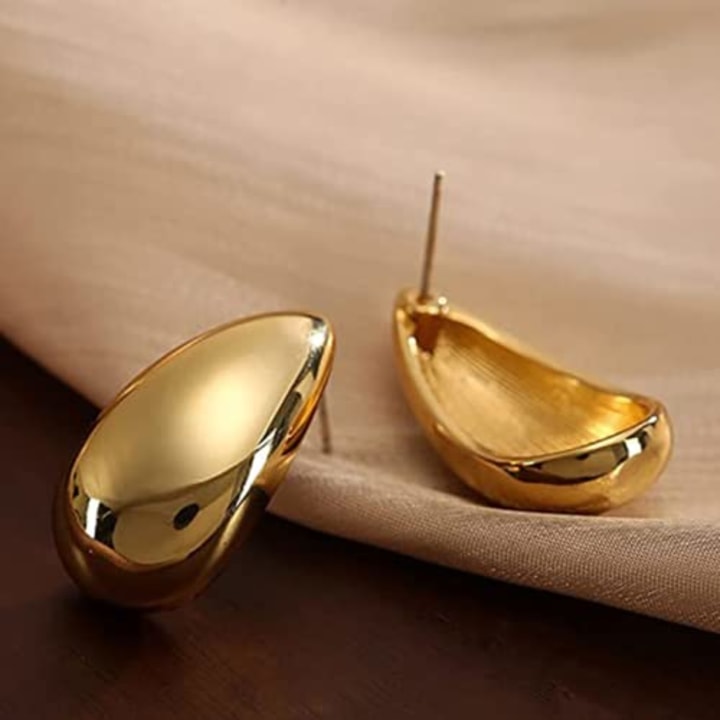 A simple pair of hoop earrings matches any outfit. It's a classic and timeless design that will add an interesting look to all your basic essentials.
Sojos Round Sunglasses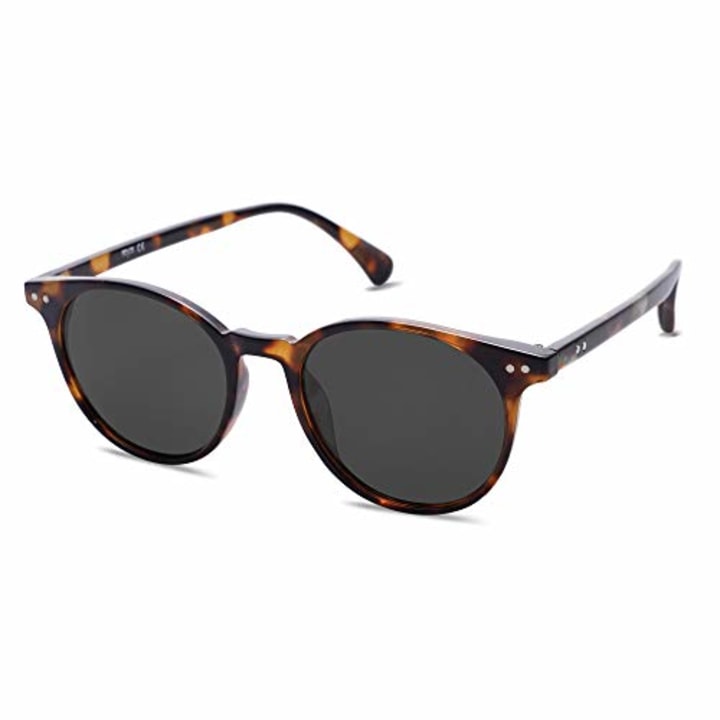 Although the sky is becoming cloudier, sun protection is always important. That's why we had to include these polarized (and fashionable!) sunglasses on our list.
Adoyi Gold Hoop Earrings Set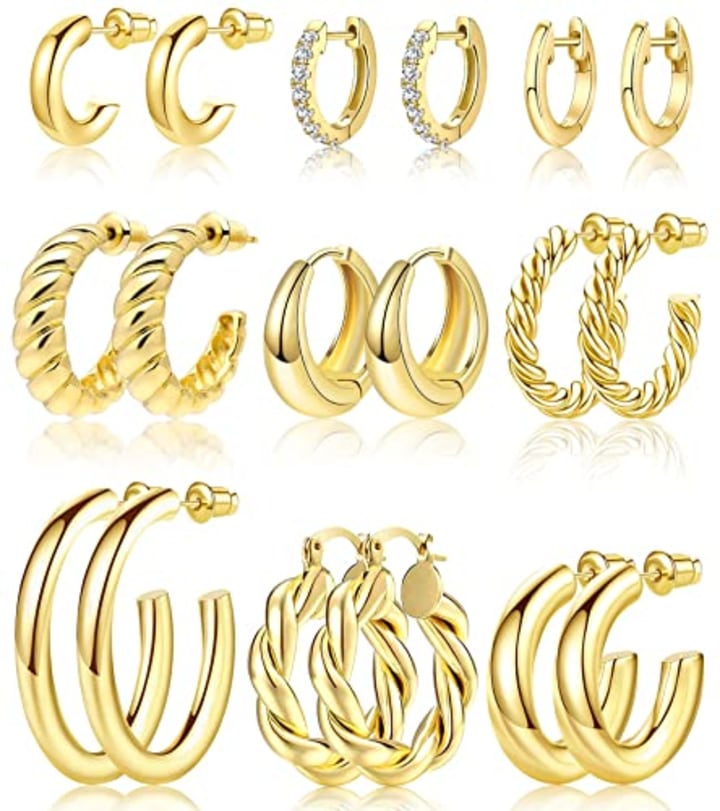 The convenience of purchasing an earring set is that you get a number of styles for the cost of one. Case in point: this one from Adoyi. From large hoops to huggies, there's a range of options for you to select and style with. 
Sanxiner Classic Shoulder Bag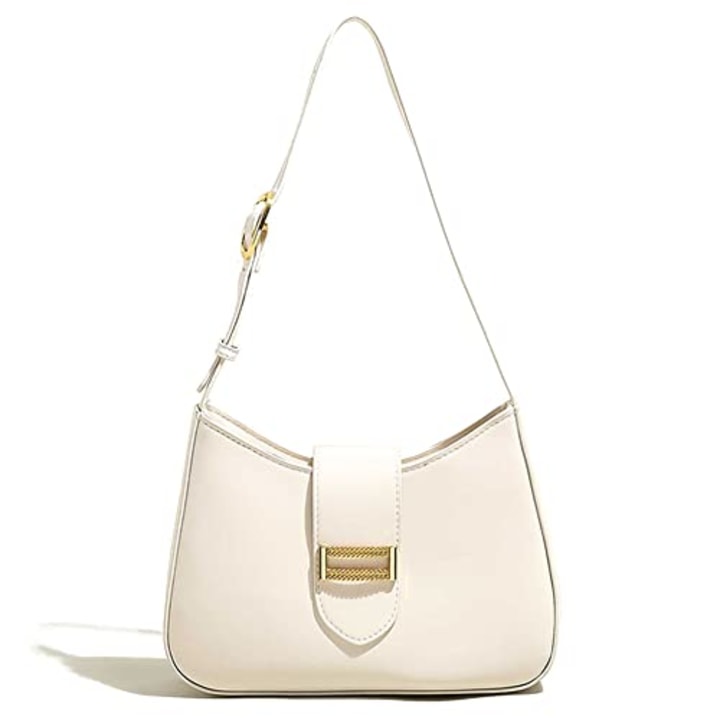 Elevate your work attire with this chic shoulder bag. It's offered in several neutral colors and shapes for the businesswoman woman on the go.
The Drop Women's Southampton Zipper Foldover Clutch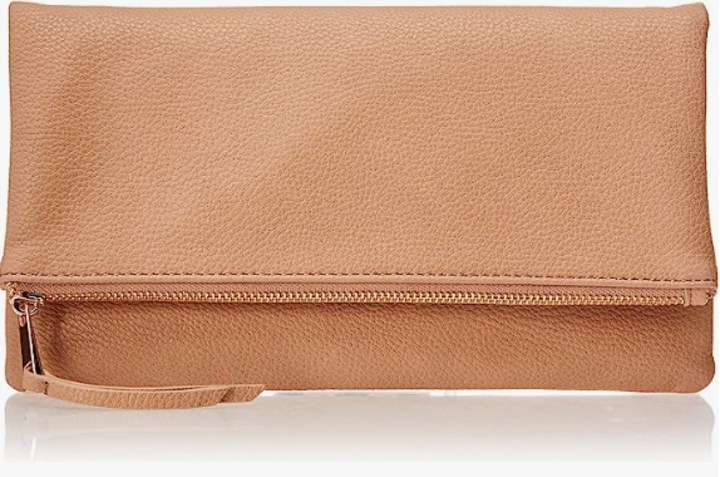 Add a little pizzazz to your night attire with this foldover clutch. There is an array of hues to choose from and is pretty spacious too.
FashionPuzzle Small Crescent Shoulder Bag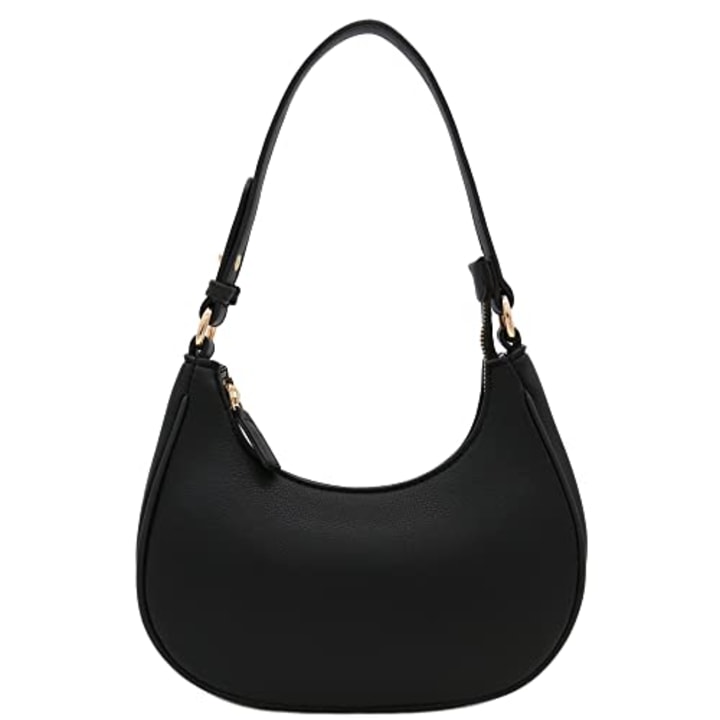 For days when you need to head out quickly, grab this timeless purse. It comes in many colors to mix and match your outfits. Plus, it's spacious enough to fit your essentials — think wallet, phone and makeup bag.
Kroser Laptop Backpack 17″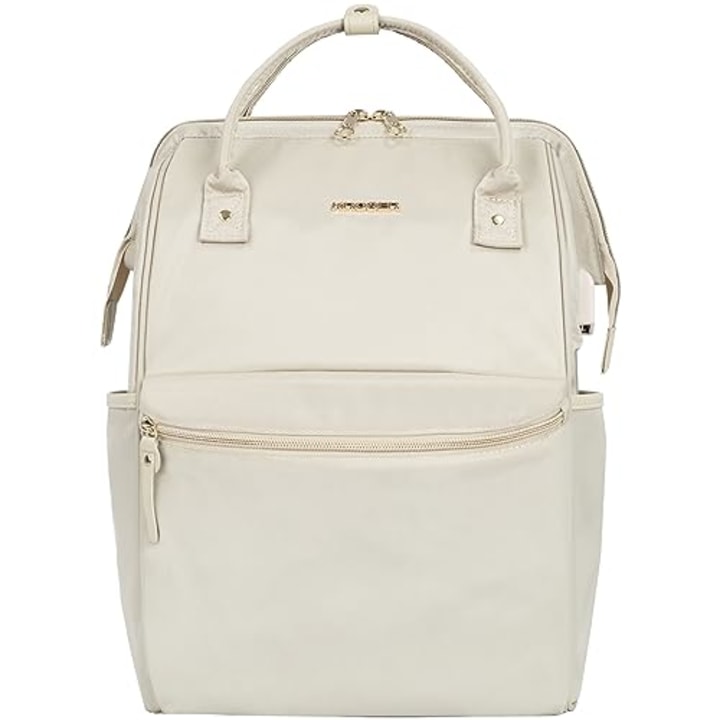 If space is a required feature to carry your belongings, this backpack has you covered. The roomy interior can fit a 17-inch laptop, clothes, notebooks and other things to keep you ready when on-the-go.
Etronik Duffel Bag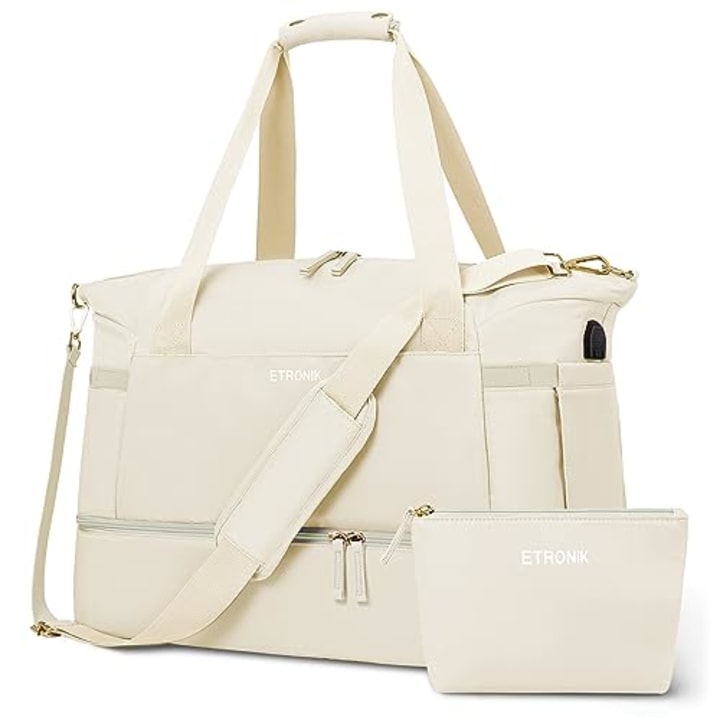 Besides a good deal, what we appreciate most is a multipurpose product. Here, this duffel bag can be used as a work or weekender bag. Each compartment is said to be large enough to fit several pairs of shoes, days' worth of clothes, along with other necessities. The brand also suggests that the fabric is water-resistant, so you can trust your belongings will be protected.
Dream Paris Platform Heels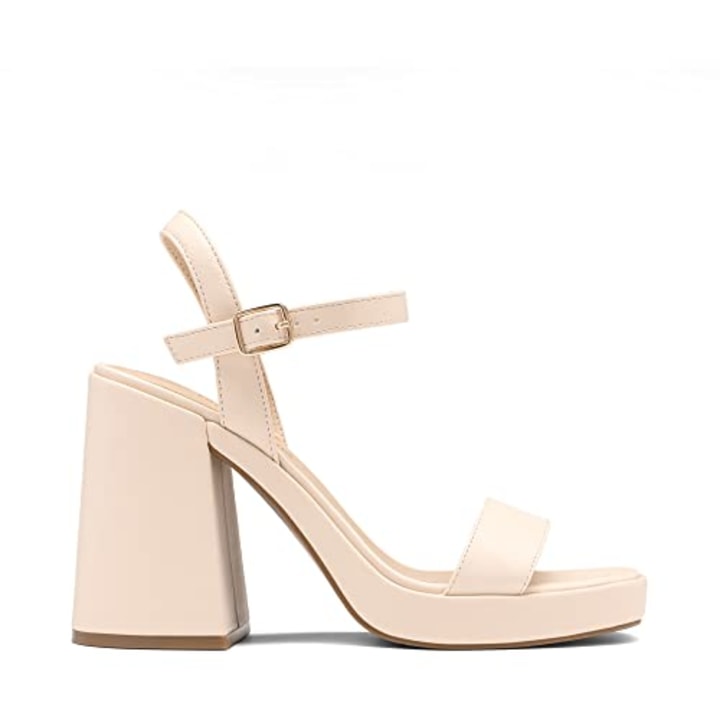 Don't let the four-inch heel on these shoes intimidate you. Because of the block design, they should make standing for long stretches more bearable than your standard heel. The soft lining, adjustable straps and rubber outsole also suggest comfort and stability while you walk in them. 
More Dream Paris Prime Day deals:
BENYAR Men's Waterproof Analog Quartz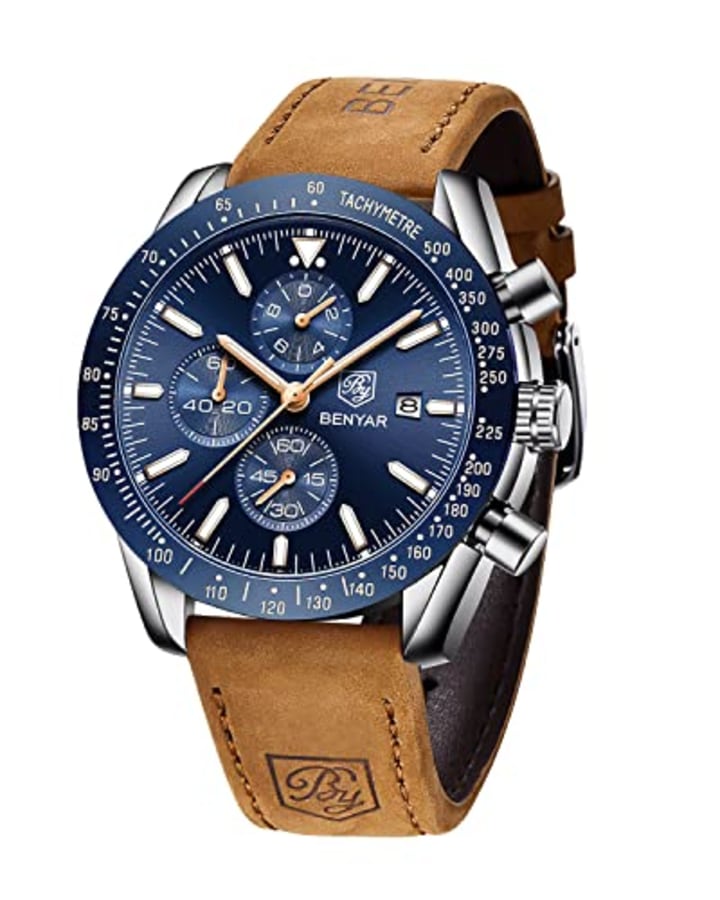 Looking for a special gift for the man in your life? This watch screams luxury without the hefty price tag. Grab this deal for 20% off and give the quality of time.
Anne Klein Bracelet Watch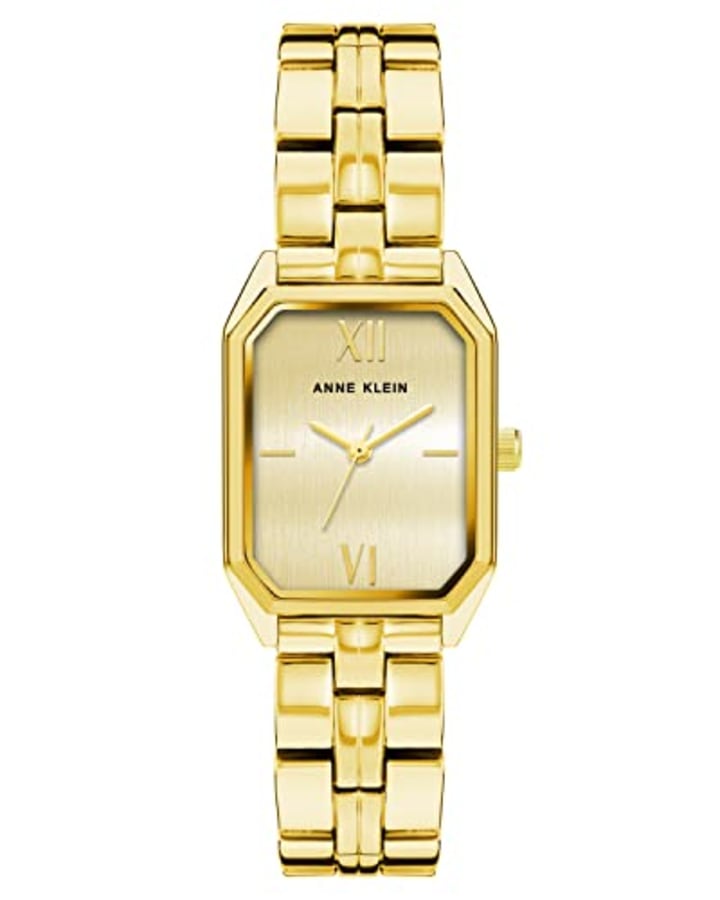 The look of this watch exudes quiet luxury. The gold finishes, crystal lens and the light champagne dial would have anyone guess this is worth more than it is.
More Anne Klein Prime Day deals:
MaxMuxun Faux Suede Booties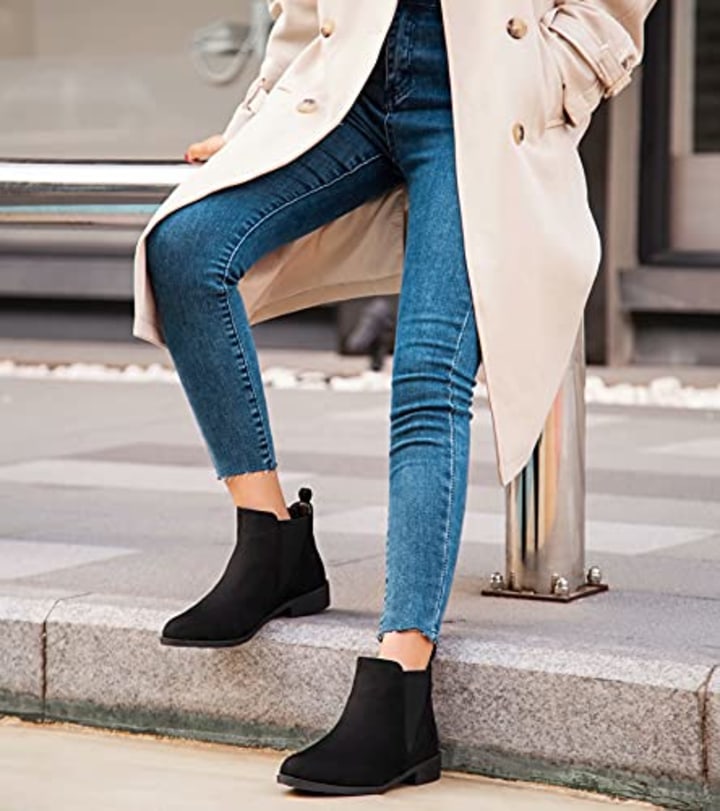 With a flexible construction and comfortable feel, these booties are the perfect match for your fall wardrobe. Style the pair with your favorite jeans or maxi dresses. Also, the low-block heels are designed to withstand longer walks.
Steve Madden Bsammy Handbag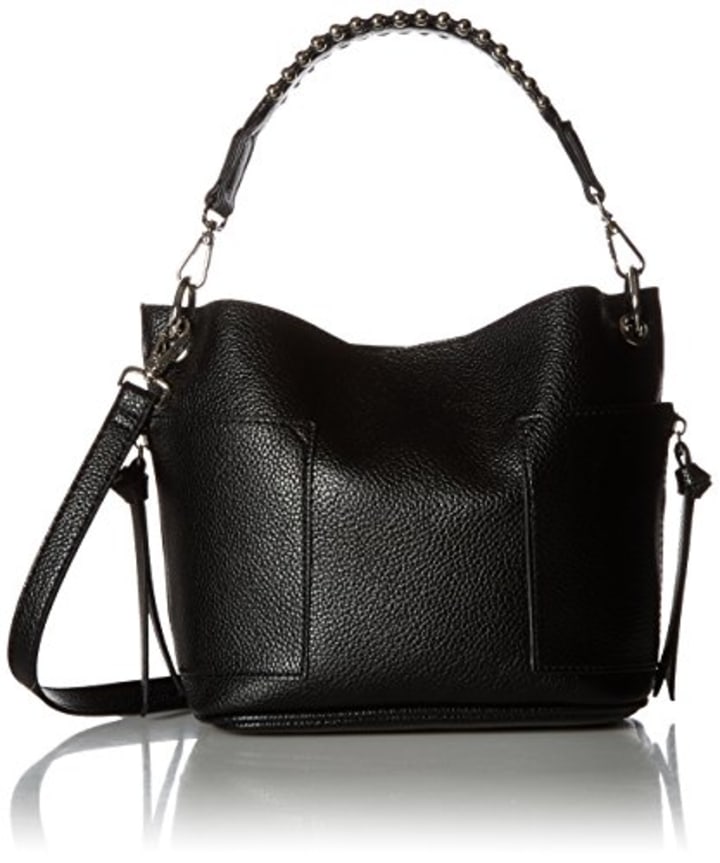 Steve Madden doesn't just make footwear — the iconic shoe brand makes handbags, too, such as the dressy tote above (which comes in black and brown). Grab it while it is up to 50% off during the sale.
More Steve Madden Prime Day deals:
Swarovski Earring Jewelry Collection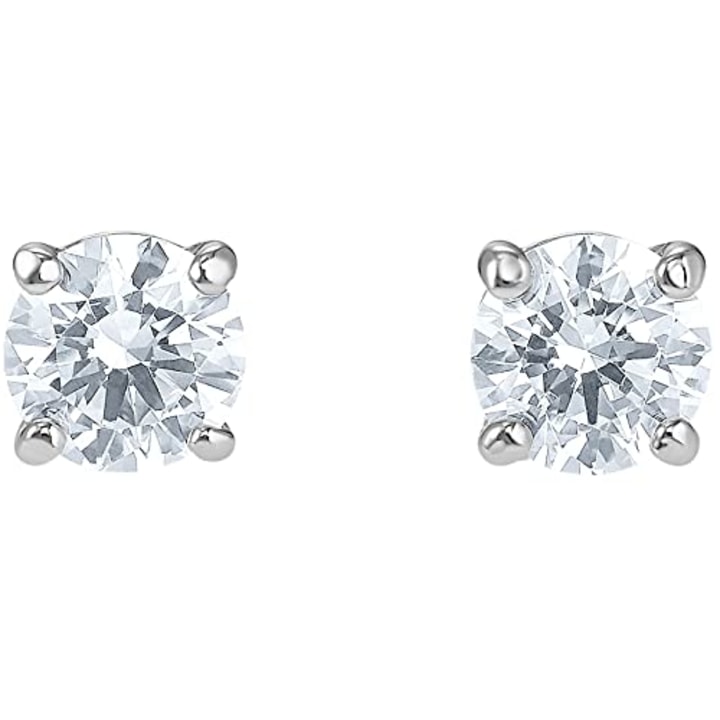 These delicate earrings make the perfect gift and feature the right amount of shine. It's timeless design can pair with any outfit.
Baggallini Everyday Bag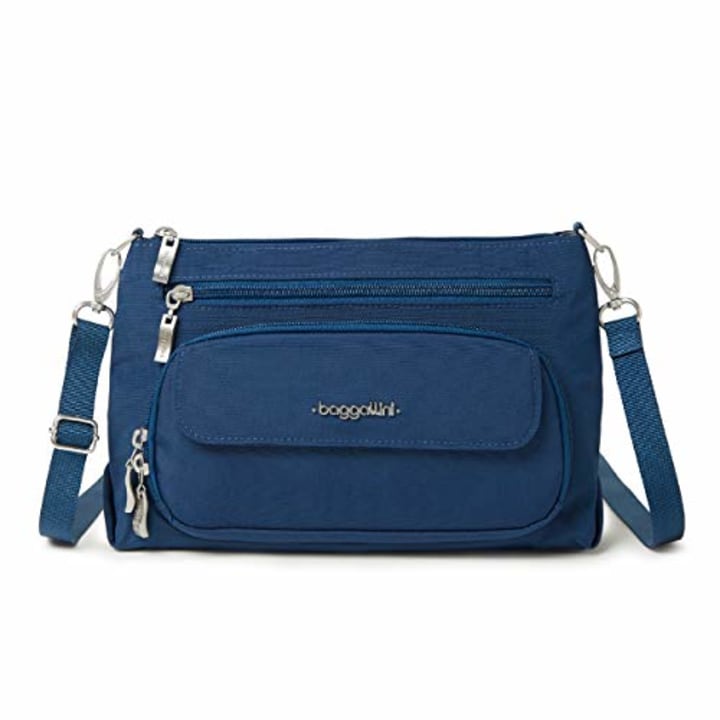 Baggallini claims that their Everyday Bag has "hands-free functionality." Their reason for that is because of a few features: quick-access pockets, a crossbody design, built-in RFID-blocking technology (so your personal information is protected), among with other things. That's a lot of power in one bag.
More Baggallini Prime Day deals:
Calvin Klein Reyna Shoulder Bag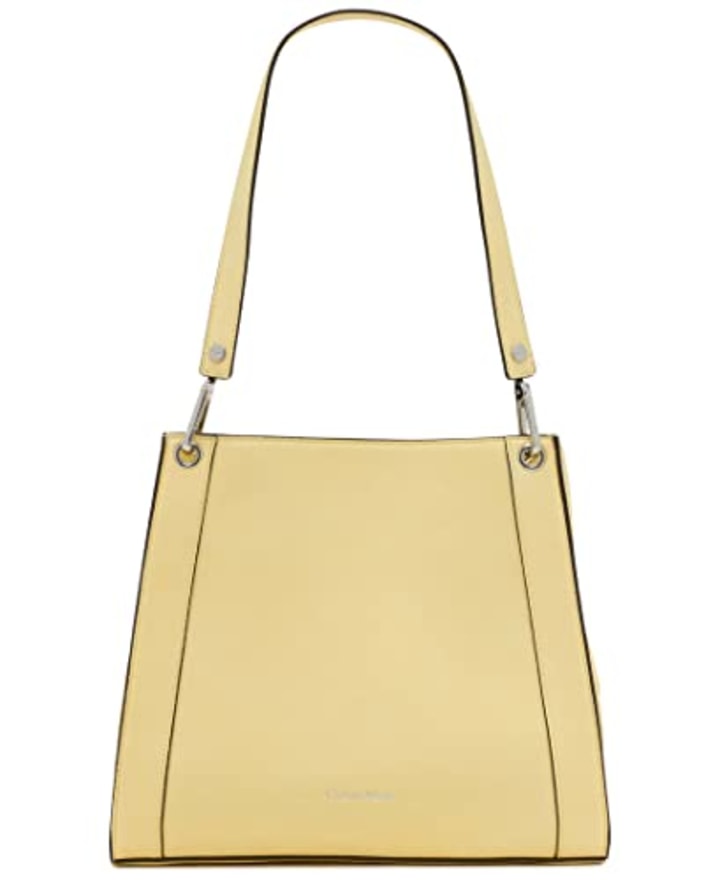 Based on customer reactions, this Calvin Klein shoulder bag is pretty roomy. We can guess why: there are multiple pockets (interior and exterior), compartments and everything else in-between. Plus, it's made from quality vegan leather.
More Calvin Klein Prime Day deals:
The Drop Preston Belt Bag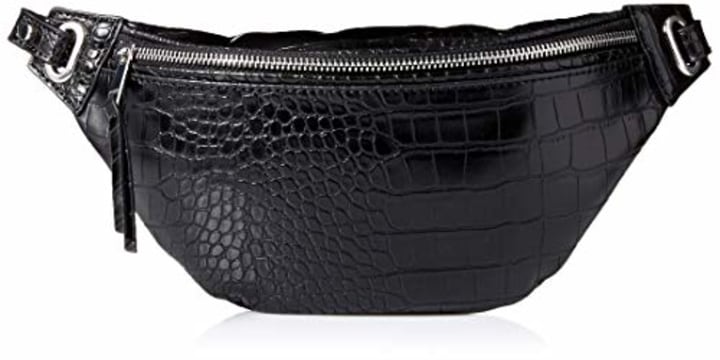 If you want a bag that is hassle-free, especially during travel, consider a belt bag. For the most part, they're quick to access and simple to wear, just like this one from The Drop.
More The Drop Prime Day deals:
Vince Comuto Saprenda Heeled Sandal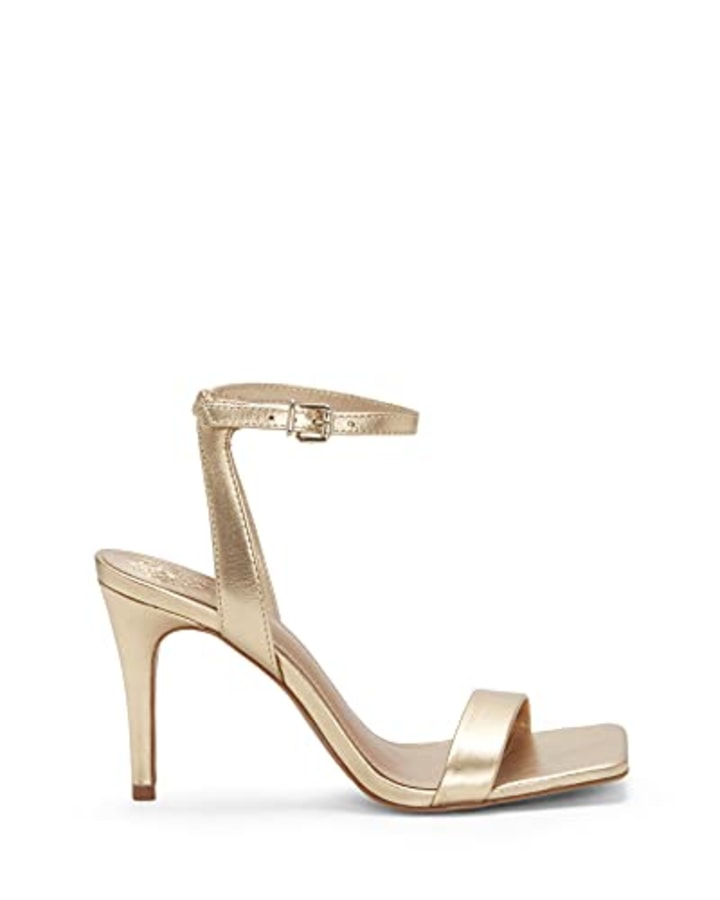 These stiletto heeled sandals from designer Vince Comuto are a statement on their own. We appreciate that there's a toe and buckled ankle strap for support (and the 53% discount, of course).
More Vince Comuto Prime Day deals:
Fossil Women's Carmen Leather Shopper Tote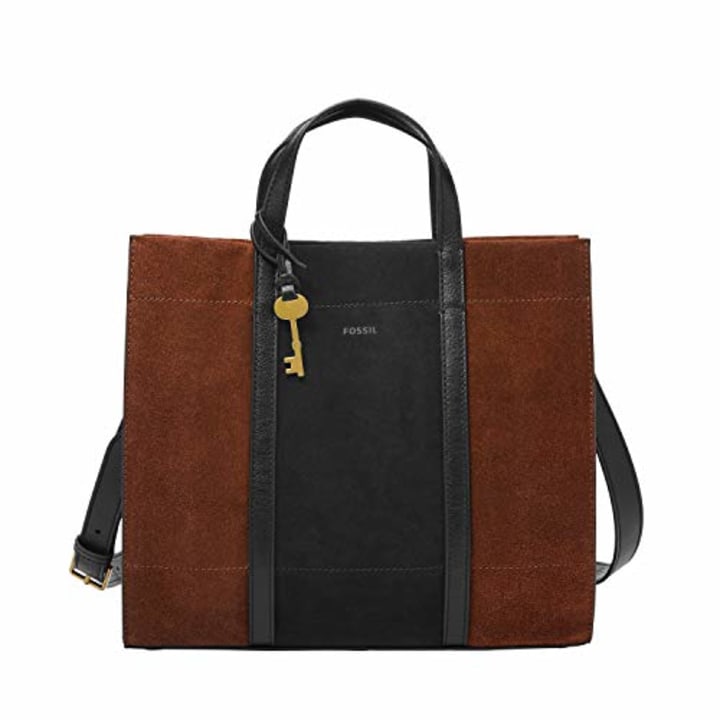 Elevate your work attire and luxury collections with this leather tote from Fossil. The bag features many exterior and interior compartments to store all your essentials, plus it's 68% off today.
More Fossil Prime Day deals:
Amazon Prime Day dress deals
The Drop Laila Midi Sweater Dress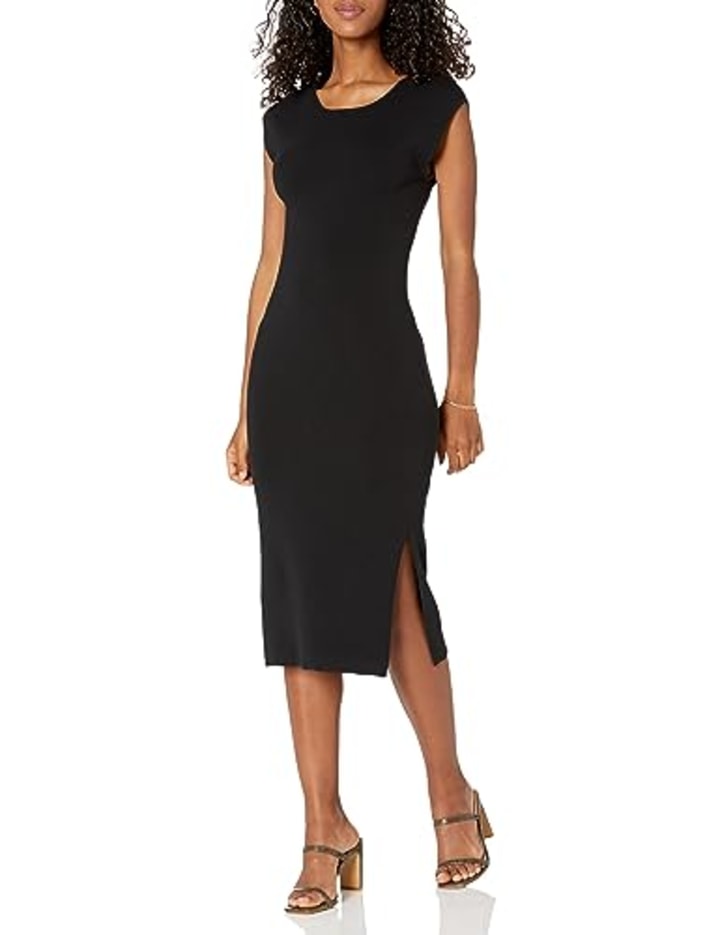 Traveling to a tropical place? Dress up for dinner in this chic yet casual midi dress. It comes in five different colors and is easy to pack.
Exlura A-Line Mini Dress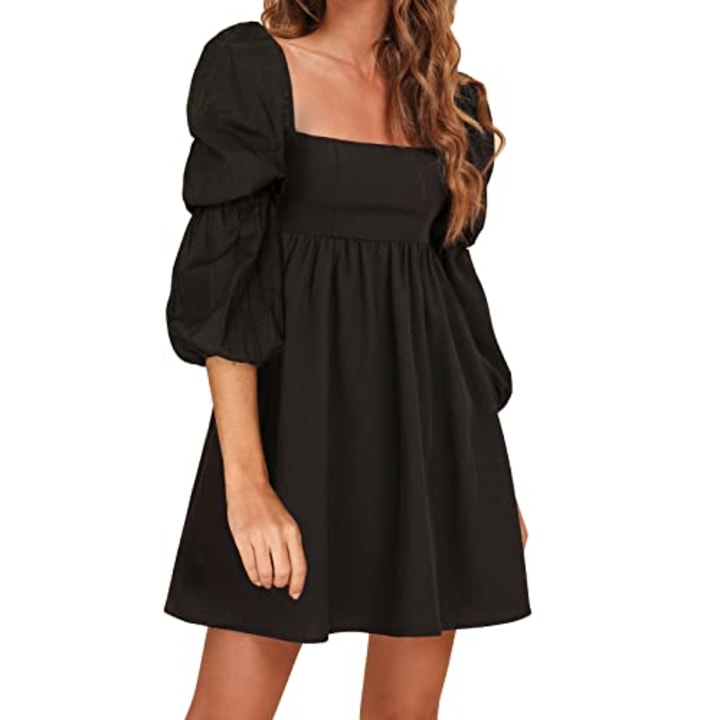 This above-the-knee a-line dress is ideal for those days when you don't know what to wear, regardless of the occasion. You could wear it for date night while running errands or to work. The possibilities are endless!
Exlura Knit Sweater Dress with Belt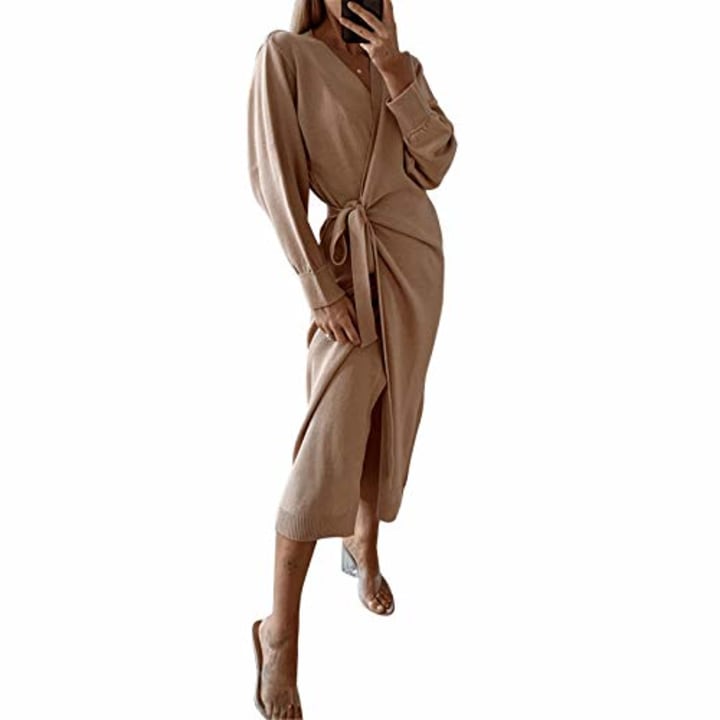 Unwrap all your wardrobe problems with this knit sweater dress. It's easy to style and reviewers say is cozy, flattering and has the right amount of comfort. Score this design for 57% off during Prime Day on select colors and sizes.
Cupshe Women's Knit Dress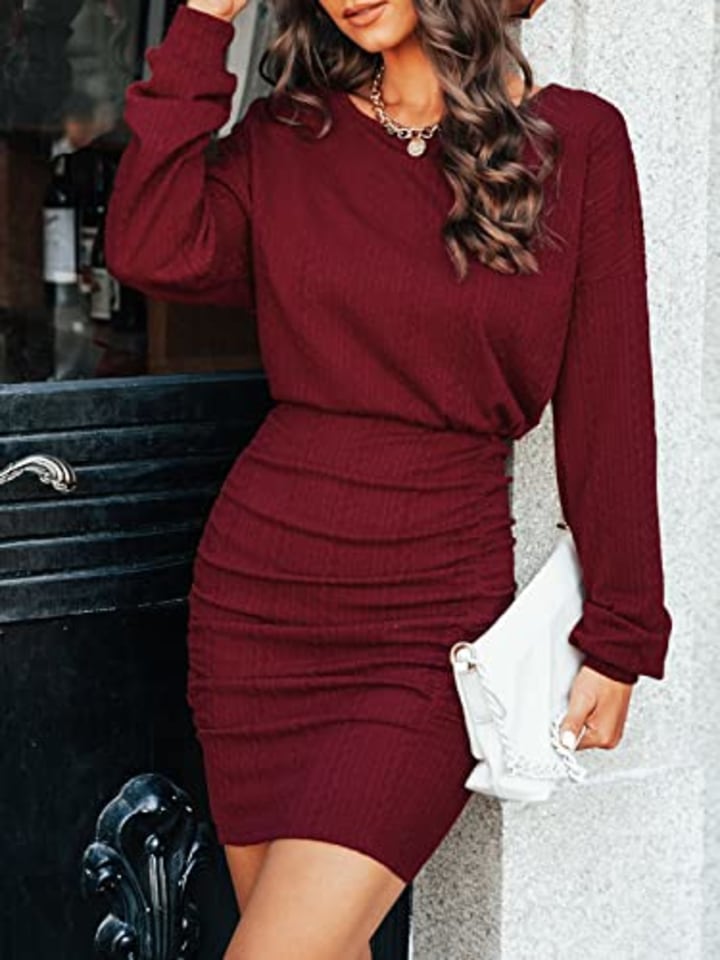 Get ahead of the holiday celebrations with this knit dress from Cupshe. According to reviewers, this design is 'very warm' and the ruched details add a chic flair to the style.
Illusory Mock Neck Sweater Dress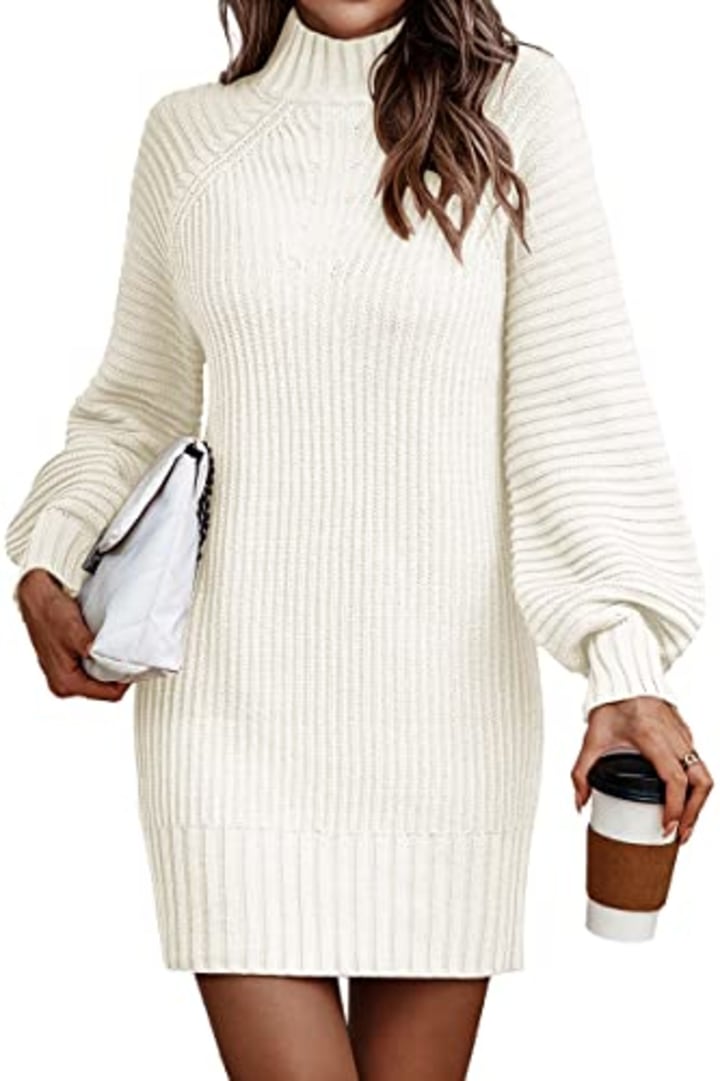 Sweater dresses are perfect for those days when you don't know what to wear. Pair with your coziest winter coat and a pair of knee-high boots and voilà! Your daily winter outfit awaits.
Zesica Pleated Pullover Sweater Dress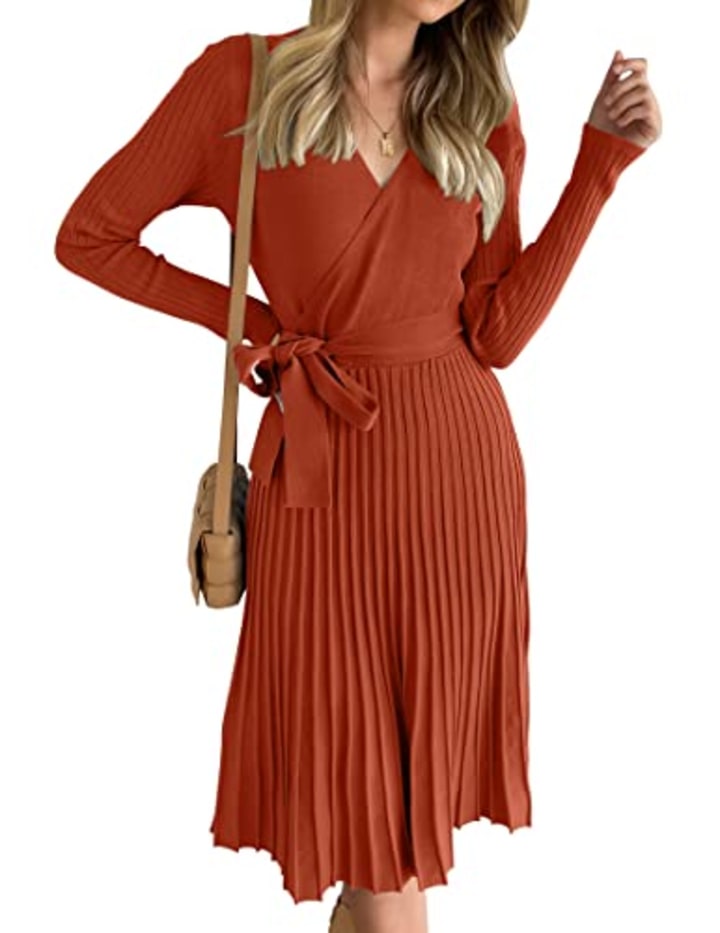 If you're not into mock necks, then this V-neck sweater dress might be an option to consider. Since it's a wrap dress, the overall fit can be adjusted to your comfort.
Runwind Plus Size Maxi Dress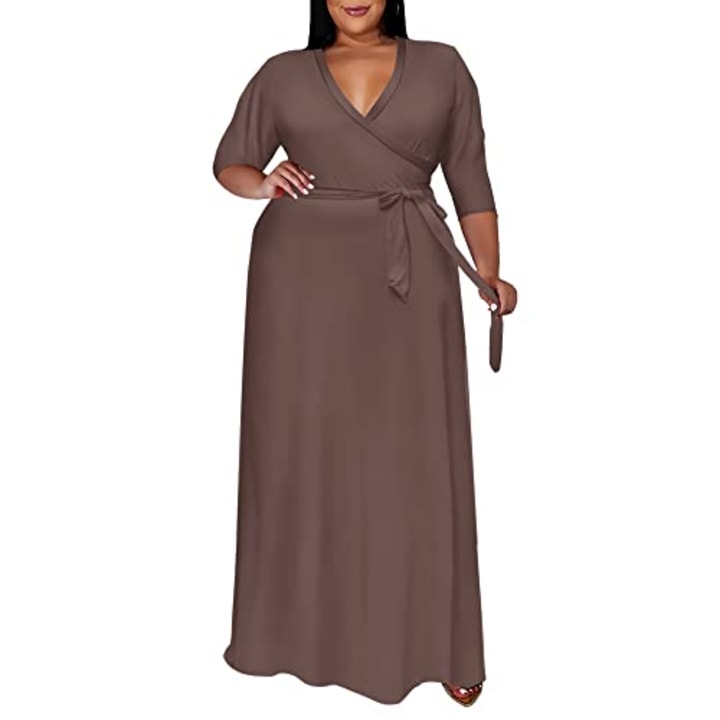 Besides the size inclusivity (which starts from an XL and goes up to a 6X), we were more than impressed with this dress' variety. From tropical florals to neon yellow, this dress should suit every personality and occasion.