Fall and Halloween Clothing and Accessories for Moms
It's officially the most wonderful time of the year: Halloween season. I know a lot of us have been prepping for fall mode for a while now, but now that October (one of my favorite months of the year) is on the horizon, I am ready for full-on spooky season. And while you probably already thought about things like fall and Halloween decor and this year's costumes, there's also festive clothing to consider. 
In addition to all of the fun activities that come with Halloween and the fall season every year, I also love that I can stock up on spooky season gear like graphic sweatshirts and cute fall mugs. A couple of years ago, I purchased a Halloweentown University sweatshirt (see similar options below!), and I always count down the days until I can break it out of storage again.
There is just something about cozying up on the couch in your festive fall pajamas with a spooky ghost mug that makes a Halloween movie marathon that much better. Check out our favorite fall and Halloween clothing and accessories to get in the spirit this season:
Fall and Halloween Clothing
Etsy | Symbolic Imports
Dancing Skeletons Sweatshirt
These dancing skeletons are the perfect subtle way to add a little spookiness to your go-to cozy sweatshirt.
5 colors available
sizes S – 2X; also comes in T-shirt version
Etsy | Flame Design US
Sanderson Witch Museum Sweatshirt
Another reader and editor favorite, we can't picture anything better to wear while watching Hocus Pocus for the 800th time.
10 colors available
sizes S – 3XL; also comes in kids' sizes and a hoodie version
Aerie
Oversized Halloween Graphic Tee
We love how soft and comfortable Aerie's oversized tees are, and this fun graphic makes this one even better.
4 styles available
sizes XXS – XXL
Etsy | Tea Shirts US
Vintage Hocus Pocus Sweatshirt
Get into the spooky spirit with this vintage sweatshirt featuring a classic Halloween movie.
10+ colors available
sizes S – 2XL; also come in kids' sizes
Etsy | Plant Stitch
Halloweentown University Sweatshirt
As a huge Halloweentown fan, this sweatshirt is a must—it's insanely soft and comfortable.
10 colors available
sizes S – 2X
Etsy | Sarah Family Designs
Get In Losers We're Saving Halloweentown Shirt
If you're more of a fan of the original Halloweentown and Benny the taxi driver, this T-shirt is for you.
10+ colors available
sizes S – 2XL; also comes in kids' sizes and sweatshirt version
Aerie
The Chill Crew Sweatshirt
This iconic sweatshirt pays tribute to a Halloween classic: Ghostbusters!
10+ styles available
sizes XS – XXL
Old Navy
Ghoul Vibes Only Shirt
Another subtle yet adorable option, this skull tee would look so cute with a pair of jeans and sneakers.
6 styles available
sizes XS – 4X
Etsy | Trendy Tee Store
Just a Bunch of Hocus Pocus Sweatshirt
If you want to take your love for the Sanderson sisters up a notch, this graphic sweatshirt is for you.
sizes S – 5XL; also comes in kids' sizes
Etsy | and Morgan
Pumpkin T-Shirt
This adorable pumpkin T-shirt pairs perfect with your favorite leggings and denim jacket.
sizes S – 3XL; also available in long-sleeve
US quality shirts
Spooky Dog Sweatshirt
10+ colors available
sizes S – 2XL; also comes in kids' sizes and t-shirt version
Old Navy
Skeleton Graphic Tee
Creep it real this Halloween with this adorable graphic tee that's perfect for spooky season.
2 styles available
sizes XS – 4X
Pajama Sets
Smockingbird
Skeleton Button Down Pajamas
An editor-favorite, these skeleton pajamas are neutral yet have a subtle festive touch.
sizes XS – XL
Aerie
Halloween Plush PJ Set
This print is neutral and not only cute for sleeping, but for lounging as well.
sizes XS – XXL
Etsy | Cozy Lounge Wear
Pumpkin Print Pajama Set
If you're looking for PJs that are a little less Halloween and a little more fall, these are a perfect option.
sizes XS – L
Old Navy
Pumpkin Patch Pajama Set
Another festive option, you can't go wrong with these fun pumpkin PJs!
3 patterns available
sizes XS – 4X
Mugs & Cups
Target | Hyde & EEK! Boutique
Stoneware Ghost Mug
I'm not sure if I've ever wanted to drink my coffee out of something more than this ghost mug—plus, it's only $5.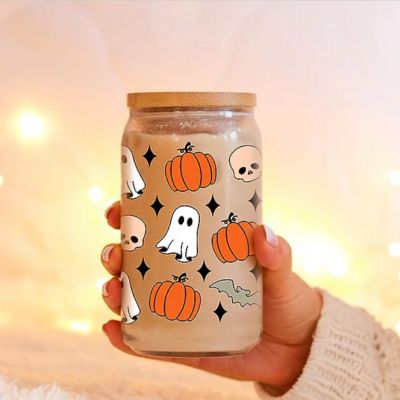 Pottery Barn
Scary Squad Mug – Set of 4
Perfect for mornings with the family, this mug set will get everyone into the Halloween spirit.
Etsy | Banana Go Wee
Pumpkin Iced Coffee Cup
This classic pumpkin coffee mug is not only cute during Halloween season, but also throughout the entirety of fall.
2 styles available
Etsy | Colt and East Designs
It's Spooky Season Cup
If you're trying your hand at an at-home Pumpkin Cream Cold Brew this season, this glass is definitely a necessity.
Target | Hyde & EEK! Boutique
Stoneware Pumpkin Mug
This cute jack-o-lantern style mug is a steal at only $5.
Accessories
Etsy | faire broderie
Ghost Baseball Hat
Nothing hides second-day hair better than a baseball cap, and this little ghost is sure to make you smile.
10+ colors available
Etsy | Raphael Shop Finds
Halloween Claw Clip
Add a touch of Halloween into your outfit with these subtle yet spooky claw clips.
4 styles available
Amazon
Leopard Cat Ears Headband
Paired with your favorite leopard sweater, these make for an easy at-home Halloween costume!
4 colors available
Etsy | OhSarahJean
Skeleton Hand Hat
This adorable hat is trendy and can be worn after spooky season!
Etsy | Esser Accessories
Ghost Huggie Hoop Earrings
For those who love minimalistic jewelry, these dainty ghost earrings will be a great option to wear this Halloween.
Target | SUGARFIX by BaubleBar
Dead Cute Earring Set
This earring set comes with the cutest Halloween-themed pieces, and they even glow in the dark. Plus, you can find more adorable earrings from this collection here.
Etsy | Slipper Cozy
Pumpkin Slippers
Get cozy this Halloween with these chic and comfy pumpkin slippers.
Target | Universal Thread
Checkered Crossbody Bag
We are obsessed with this checkered crossbody bag that's perfect for Halloween and all of fall.
4 colors available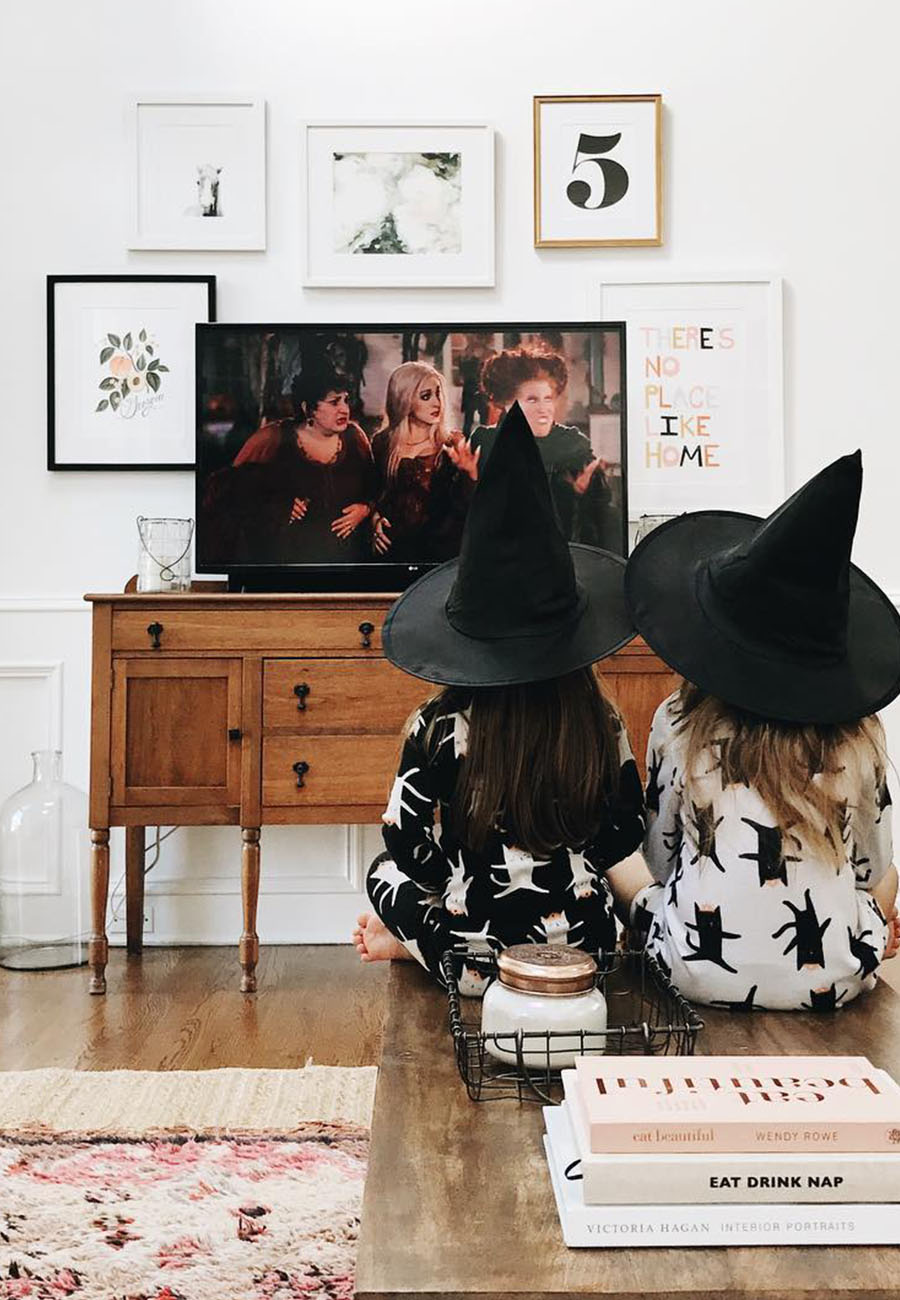 Want More Fall & Halloween Content? We've Got You Covered