Kylie Jenner Admits She Has Set Impossible Beauty Standards For Other Women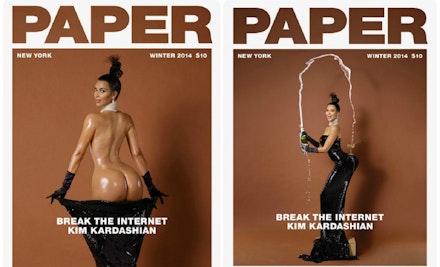 If I'm being completely honest, I have always strived for an hourglass figure. You know, a 23-inch waist and dipless hips to compliment a naturally big butt? The desire to attain this 'perfect' yet unrealistic body type shaped my teens and my early twenties – and it is perhaps no coincidence that this period ran in tandem with the increasing fame and influence of The Kardashian-Jenner family.
The billionaire family, particularly Kim Kardashian with the rounded bottom which made her so famous, have often been cited as a driving force behind the rise of surgical trends like the Brazillian Butt Lift (BBL) and lip fillers during the 2010's and beyond. While the sisters have often shied away from discussing exactly what procedures they have had, the family have finally had an unfiltered conversation about the damaging effects the beauty standards they have set could have had on young girls.
Kim Kardashian in Paper Magazine
In the new season 3 trailer for their Disney+ reality show, The Kardashians, Kylie Jennerappears to express regret for altering her face with injectables. 'All of us just need to have a bigger conversation about the beauty standards that we're setting,' Kylie tells her sisters in one scene. She then says she doesn't want her 5-year-old child, Stormi, to follow in her footsteps when it comes to cosmetic procedures. 'I don't want my daughter to do the things I did,' the Kylie Cosmetics creator adds. In another scene Jenner is shown speaking with her best friend Stassie Karanikolaou, admitting, 'I wish I never touched anything to begin with.'
Whilst I can only commend Kylie for owning the contributions she has made to reinforcing unattainable beauty standards – it almost feels a little too late. While the idea of a perfect body, or the perfect face, has changed over the years, the last decade, at least, has been dictated by the Kardashian family and their own pursuit of perfection. Whether they are giving interviews about extreme weight loss tactics, advertising diet supplements or admitting to using fillers and Botox, their looks and how they got them have often dominated the media narrative. Combined, the Kardashian sisters have an instagram reach of 744million, a huge chunk of the internet, which they use to sell their products by sharing – often heavily filtered – images of themselves.
There are stats which appear to confirm the Kardashians' influence on changing body shapes. BBLs became more popular in the U.S. in the middle of the last decade. The American Society of Plastic Surgeons (ASPS) called 2015 "another year of the rear" in its annual report. That year, there was a buttocks procedure — such as a lift, implant or fat grafting — performed every 30 minutes. Coincidentally, 2015 was the year after Kim Kardashian's infamous internet-breaking cover of Paper magazine, where she showed off the derriere that launched 1,000 think pieces.
It's likely that, at some point, a huge amount of young girls have looked at their bodies and wondered why they don't look like the Kardashians. Yet these body types are often highly unrealistic and unattainable for those who don't have the money for personal trainers, a healthy sustainable diet, body procedures, and even access to editing apps.
It's not anyone's place to condemn another for having surgery, especially since no one knows the insecurities or medical issues that may motivate such procedures. I'm also not suggesting that celebrities should be creating a detailed list of procedures, this is all a private matter. However, I wish the Kardashians had been more transparent with their legions of fans along the way. The damage here lies in portraying this perfect version of yourself online whilst denying any rumours of plastic surgery.
Kendall Jenner told Andy Cohen last year that the only thing the family promotes is 'being healthy.' She said, 'We all really enjoy taking care of ourselves and being healthy,' she said. 'So I think if anything, the only thing we're really trying to represent is just being the most healthy version of yourself.' Kim Kardashian added in the same interview, 'We get up, we do the work. We work out.'
And Kim doubled down on her stance in an interview with Allure magazine, where she was asked if she feels responsible, even guilty, for setting an unrealistic, unattainable beauty standard. 'If I'm doing it, it's attainable,' Kim insisted in response. 'I've never had eyelash extensions. I've never done anything. I have a drop of mascara on today. I've never filled my cheeks. I've never filled my lips,' she stated.
Kylie herself famously denied having her lips plumped with filler for some months, before finally coming clean. She told E! News: 'I feel like everyone has been talking about it for months, so I'm kind of sick of it. In my pictures, I just pout them out a lot.' Adding on Twitter: 'I love lip liner and over lining my lips.' She later admitted on an episode of Keeping Up With The Kardashians she had used lip injections because she was insecure about her lips. This provided the basis for the Kylie Lip Kit, and in 2019 she sold half of Kylie Cosmetics to City for $600 million.
There are many ideas as of late about what the perfect body looks like for a woman – and the Kardashian's mighty cultural influence has only reinforced this
Over the years fans of the Kardashians have spent huge amounts of money to look like their favourite reality stars – and not just by buying their products. In 2019, MTV released a documentary series called True Life/Now. The first episode examined three subjects obsessed with the Kardashians. There was Sherrah, a 26-year-old bartender from Brooklyn, New York, who spent $10,000 on a Brazilian butt lift and $700 on lip injections. 'To be complete, I'd need to spend like, another $100,000,' she said, adding, 'The Kardashians have become the idea of what beauty is, so I feel pressured to have a big butt, or have fake boobs, because this is what society deemed as beauty.'
The blame can't lie solely with the Kardashians, of course. Beauty standards are upheld by our sexist society. You rarely see male celebrities asked to explain their suddenly plumper face or chiselled jawline, despite the many examples of them also seeking plastic surgery.
And while the influence that the Kardashian-Jenners have had on beauty standards cannot be ignored – it is refreshing at least to see that the reality stars are starting the conversation about the damage that has been done. Only they can decide where we go from here.