What It Is, How Long It Lasts and Cost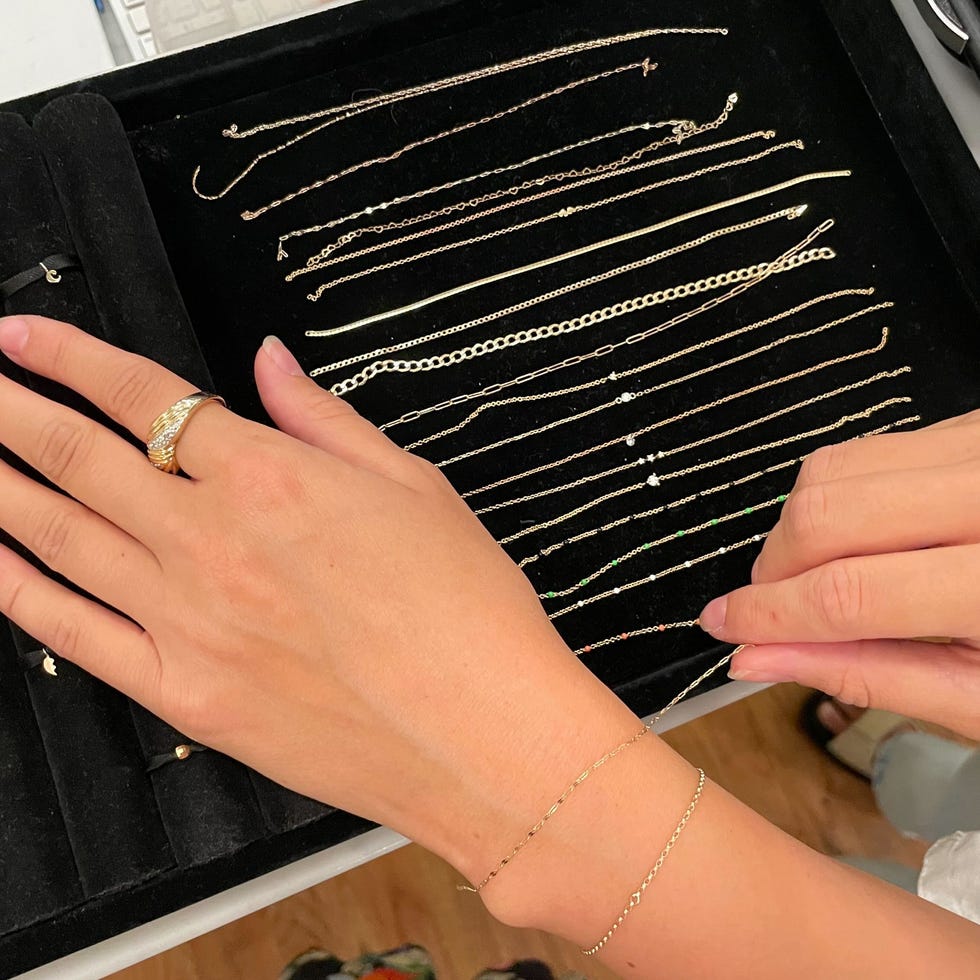 A statement jewelry piece rarely goes out of style. And when you find the right one, you may never want to take it off. Luckily, the latest accessory trend known as permanent jewelry brings forth low-maintenance, lavish-looking jewelry that you don't have to part from.
In the realm of "forever" jewelry like the famous Cartier lock bracelets, these welded chains are the latest iteration. Typically done at an independent jewelry store that specializes in the craft, the process involves welding together dainty bracelets or rings so that they cannot be removed à la clasp. A trained welder links together a tiny "jump ring" that secures a custom fit chain.
Still, anything dubbed "permanent" will make you want to weigh the pros and cons. We tapped the maker of the trend, Catbird (launched in 2004), as well as welded jeweler The Spark Collection and a dermatologist to answer all your lingering questions. Our GH editors even got zapped and documented the process, ahead.
How long does permanent jewelry last?
If you're wondering just how permanent is permanent jewelry, many stores boast it can last for as long as you'd like. It's all dependent on the type of metal you pick. Most options come in solid 14k gold that's designed to withstand daily activities, from showering to swimming.
Just keep in mind that gold is a soft metal and will relax some over time, add The Spark Collection creators Kelsey Knott and Abby Stewart. So it's important to nail the fit from the jump and anticipate a couple centimeters of wiggle room. Especially so for daintier chains, which can snag if too loose. Fortunately, some stores work such matters into their policy, including one free reattachment with each purchase.
How much does permanent jewelry cost?
That all varies upon the metal type to the jewelry style to the karat. Based on quotes from two different welded jewelers, quality permanent jewelry typically costs around $100 for a standard bracelet. Other pieces like permanent rings can start at $55 while necklaces can come in at the pricier end of $185.
Is it safe to get permanent jewelry?
Yes, as long as you're going to a reputable place. For Catbird and The Spark Collection, the welders go through an in-person training "bootcamp" of sorts to learn how to safely and correctly weld the jewelry. "'Zapping' refers to the flash of light you see when it's welded, but it's completely painless!" says Catbird's Chief Creative Officer Leigh Batnick Plessner. "And though we love the idea of the bracelet representing permanence and commemorating moments, it is indeed easy to snip off with a pair of scissors, and you can always re-weld it on for a small fee in the future."
What are the cons of permanent jewelry?
As its name suggests, permanent jewelry cannot be removed so easily (unless you opt to cut it off), which makes it crucial to shop pieces that'll fit into your daily routine of lotions or perfumes galore. Investing in quality karats and metals that'll stand the test of time — like 14k white or yellow gold — can help ensure that your pieces won't tarnish and are well tolerated across skin types.
Jewelry made from base metals, cheap alloys or materials with high nickel content are more likely to trigger skin reactions. Ever tried on an accessory only to find it left a red, itchy or bumpy rash in its wake? It may be a tell-tale sign of a nickel allergy. Those with skin sensitivities should avoid permanent jewelry or, at the very least, consider getting patch tested by an allergist, says dermatologist Heather D. Rogers, M.D., F.A.A.D., the founder and CEO of Doctor Rogers Skin Care.
When traveling, our editors haven't had any trouble going through security. The exception comes to MRI scans, during which permanent jewelry must be removed. Some stores offer to weld it back on for a low fee. Catbird's site just advises carefully cutting at the small jump ring that connects the two ends of the chain with scissors to preserve the integrity of the bracelet.
Permanent bracelets seem to be the most common route, though permanent rings are also an option. Some stores differ on whether it's ideal to zap necklaces and anklets, so it's really up to you and the store's discretion.
---
Our honest review
I'm quite reckless when it comes to jewelry. In more times than I can admit, I've lost jewelry to my laundry abyss or accidentally abandoned it on bathroom sinks. It's why I don't allow myself to spend on jewelry often. So, when I stumbled upon The Spark Collection's pop-up in Nashville, I simply couldn't resist something that would be there and stay there.
My spontaneous endeavor into permanent jewelry was pretty painless. It entailed signing a waiver beforehand and chatting through my preferred placement and snugness of the bracelet. Zapping took roughly 20 minutes as they worked with careful diligence. Truly the hardest part of the entire process was deciding between the dozen of dainty bracelets that ranged from delicate chains to chunkier links.
Fast-forward to five months later, and my gold piece looks in mint condition, like the day I got it on. There's a teensy bit more give in the bracelet, but my welder assured me at the fitting that it's all from normal wear, showing that her own had a couple centimeters of looseness.
To get a bird's eye view of the trend, I went for round two at permanent jewelry pioneer Catbird. The brand recommends booking an appointment online (and perusing their chains and charms ahead of time), especially if arriving in a group. While they accommodate walk-ins, I can attest that the former is the move considering the dizzying amount of people on both occasions I visited (once to get it on and again to tighten my bracelet a smidge).
Catbird's welders have you in and out once you're sitting in the chair — think just under 10 minutes. After picking out Tinsel in 14k gold, the expert jewelers measured a snug yet comfortable fit. When it came to welding time, my technician threw on shades and asked me to avert my eyes from the flash. And while looking away felt oddly adjacent to getting a tattoo, I felt nothing at all as they zapped away. I went back after sitting a couple of days with it and got a free adjustment, opting to tighten it just a couple notches so it didn't tangle with my other bracelet or loosen too much down the road.
The dark spot that initially covered the jump ring because of the welding has since faded with wear, affirming my welder's spiel. Both pieces feel incredibly comfortable, too. Most of the time I actually forget it's on unless I look at it or if the two bracelets occasionally get tangled with one another. And both have withstood sun, water and heat, with no tarnishing or damage in sight. Considering how dainty they are, they're incredibly versatile and match with anything.
So, is it worth it?
Much like a tattoo or a piercing, a service of permanence like this one can mean shelling out a Benjamin. As mentioned by dermatologists and professional welders, you'll want to choose something of substantial material, which tends to hike up the price with each karat.
That said, it also means investing in quality pieces that can follow you for years. It's especially valuable to someone, like me, who has a habit of misplacing jewelry, sticks to simple pieces or wants to get a matching bracelet with a friend. Considering how it's supposed to be, well permanent, permanent jewelry seems worth the price.
Commerce Editor
Jacqueline (she/her) covers all things e-commerce in beauty, lifestyle and beyond for the Good Housekeeping Institute. Before joining GH in 2021, she was a style and beauty reviews fellow at Insider, testing viral trends, reviewing sustainable brands and more. She's a graduate of the University of Florida's School of Journalism, with a specialty in magazines and mass communication.