29 Black-Owned Jewelry Brands to Support in 2022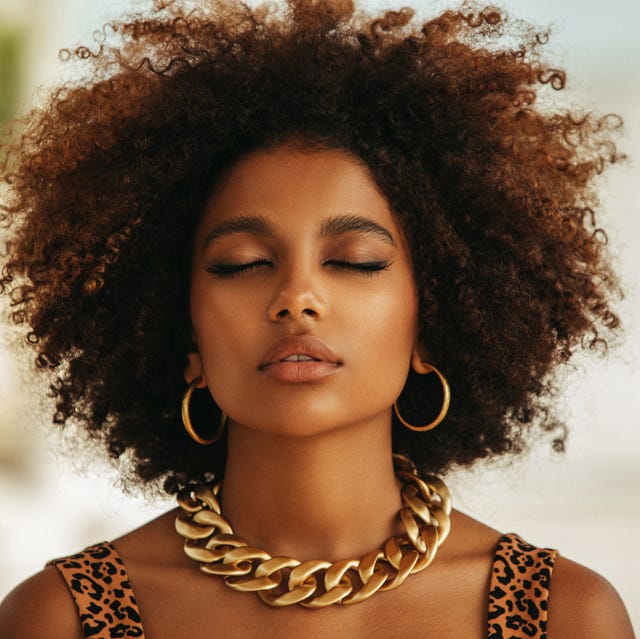 CoffeeAndMilkGetty Images
The pieces sitting pretty in your jewelry box hold sentimental value—whether in your heart or the creators'. So when treating yourself to something special, why settle for mass-marketed items flying off display cases with materialistic intent, when you can invest in something artisanal? Something made from passion and rich in culture, like the eclectic gems designed by Black-owned jewelry brands?
Think about it: What sorts of brands make up the majority of your closet? How about your accessories collection? Take note of your inventory, and the next time you find yourself in the market for a new piece, challenge yourself to branch out and explore new labels and designers, including Black-owned brands.
In Black culture, jewelry represents more than status; it's dripping in symbolism and art that speaks to today's trends and yesterday's history. There are pieces that make a political statement, and those that honor the jewelers' ancestry. These accessories are also often bursting with color and unique structural designs that will undoubtedly stand out in your collection. What's more, gifting yourself or a loved one jewelry from a Black-owned label is not only beneficial to your style but also one of the easiest ways you can show your support for Black-owned businesses. Too often, Black artisans and designers are marginalized but deserve to be highlighted and celebrated for their incredible work. By giving them business and sharing your experiences with their products, you help make them visible.
Ahead, we've rounded up 29 Black-owned jewelry brands we love and truly believe you'll love, too. From designs inspired by African culture to body jewelry and accessories produced as the result of a fiery desire to beat the status quo, there's a label that will align with your style, tastes, and personality.
Advertisement – Continue Reading Below
Tenisha Wilde founded her namesake label, Ten Wilde, back in 2016. Each piece is made with either plated, filled, or solid gold and speaks to her own personal style. Described as "a gem for every gem," the brand offers shoppers options across almost all categories (from earrings to bracelets, anklets, and more), and bestsellers include hoop earrings and chain necklaces.
Haitian-American designer VB's creative genius started with beaded earrings and necklaces she sold at family gatherings in Massachusets. Now a New York City resident, VB designs custom and contemporary pieces described as "clean, yet edgy." Bestsellers include skinny band rings and customizable pendant necklaces, but a personal favorite of ours is the jeweler's gorgeous pearl chain bracelet.
3
Loved by Celebrities
Almasika
Catherine Sarr has shared her expertise in fine jewelry across continents. Now the designer calls Chicago home and creates elegant gold pieces enhanced with diamonds, seen on celebrities from Alicia Keys to Reese Witherspoon. The brand's philosophy is to "explore what we have in common with others" and channel that synergy into sophisticated, sculptural accessories adorned with universal symbols and representative of stories spanning generations and cultures.
4
Benefits a Nonprofit
Made By KWest
For everyday staples, look to Made ByKwest. Brooklyn-based founder Kira West views jewelry as a daily reminder of her place within the world. Her designs are inspired by travel, meant to be worn as functional basics, and 10 percent of proceeds from all sales are generously donated to Girls Going Global, an organization that works to expose African American girls to the wonders of the world.
Black-owned and women-led B-corp jewelry brand SOKO aims to bring Kenyan artisans to the global market. Founded by Gwendolyn Floyd, Catherine Mahugu, and Ella Peinovich, the retailer showcases ethically made designs from bracelets to necklaces, in either gold plated, silver, or mixed materials.
6
Sustainably Made
Grunhorn Watches
Timepiece label Grünhorn was founded by Cameroon, Africa, native Elvis Babila. Named after Mount Grünhorn in the Bernese Alps range of the Swiss Alps, Babila's watches are inspired by nature, made from quality materials, and have minimal impact on the earth's natural resources (a brand pillar). Carrying both men's and women's watches, each luxurious, sustainably made piece bears an engraving of a majestic mountain in hopes that the symbol will inspire its wearer to take advantage of the time they have and discover new horizons.
7
Made by Hand
Romy Studio
Logging on to the Romy Studio website will give you the same vibe as walking into a one-of-a-kind boutique. Founder Camille sells her creations in small batches and limited releases, each accessory equally gorgeous and timeless. Sure to inspire a release of dopamine, the artist's accessories are designed to be uncomplicated, but fun with pops of color and unique shapes, all of which are cut, baked, sanded, assembled, and packaged in her home studio in Washington, D.C.
8
Customizable Pieces
ByChari
You might recognize ByChari for the custom-made "Rhode" necklace Hailey Bieber's been spotted sporting amid her beauty brand's official launch, but this jewelry designer's been around since 2012. Her signature customizable pieces are the label's touchstone, but Chari Cuthbert's offerings also include fine and everyday essentials. Her mission: to create jewelry that's simplistic, yet luxurious, and always sustainable.
9
Loved by Celebrities
Lace by Tanaya
Model Tanaya Henry's designs have iced celebrities from Alicia Keys to Beyoncé. Her claim to fame was her "earlace," a cross between an earring and a necklace, adorned with Swarovski crystal. Since then, she's expanded her portfolio to include "liplace" (rings for your lips), bracelets, anklets, and even clothing. But note: These unique pieces are handmade and only available online, so bookmark your faves and don't sleep on adding them to your cart.
Lola Ade's designs are dripping with culture. The shop's name alone was derived from Lola's West African heritage (lola means "wealthy" and ade means "crown" in the Nigerian Yoruba language). Drawing inspiration from colors, textures, and local artisans she was exposed to during childhood in Lagos and the places she's visited in life, Lola's shop is a culmination of breathtaking pieces made from a myriad of materials and vibrant colors.
Founder Oukassa Wetzel is passionate about jewelry that properly represents her African heritage. Paying homage to the strong women who raised her, Aflé Bijoux's designs are rooted in Akan culture and made for women who "ooze self-assurance" and "own their womanhood." Offerings include chain and thread earrings, earrings, rings, and more, as well as customizable necklaces and bracelets that speak to your tastes.
Oma the Label founder Neumi Anekhe pulls inspiration from her birthplace, Norway, and her parents' Nigerian roots. A crossover of Scandinavian and African elements, the pieces work for everyday elegance as well as statements for special occasions. From gold-plated accessories to body pieces, like waist chains, there's an item fit for any wardrobe among Anekhe's collections.
For statement-making accessories that take your breath away with their unique and innovative architectures, look to Mahnal. Constructed from contemporary brass, jewelry designer, Shayba Muhammad's craft is inspired by natural forms and elements. The brand largely focuses on Arabic influences, and each piece holds a special meaning representative of the wearer's power. The Asal Necklace (shown here) is a personal favorite (and a bestseller—it currently has a waitlist), as well as the Adas Brass Ring and Akirah Bracelet.
14
Benefits Nonprofits
Trey Bleich
Formally called "Vella mode," Trecy Bleich is the Georgia artist's namesake label that offers shoppers made-to-order designs. Her pieces are minimalistic, though some feature mixed-media elements, and while Bleich's goal is to empower her customers through her jewelry, her mission also involves philanthropy. Each year, the designer aligns her company with causes that strive to better humans and the Earth they inhabit. Currently, donations from proceeds are made to the Dogwood Alliance and the Lupus Foundation of America.
15
Loved by Celebrities
Third Crown
Founded by husband-and-wife team Kristin and Kofi Essel, Third Crown is a gender-neutral accessories label. The everyday essentials are created with an architectural vision, made with sharp attention to detail, and enhanced with bold accents. Queen Bey and Solange Knowles are fans.
Founder Lisette Scott brought Jam + Rico to life through the influences of the Caribbean. With a sparkling résumé that includes collection launches at Moda Operandi Inc, Greenwich St Jewelers, and Target, as well as an exclusive diamond collection with the Natural Diamond Council's Emerging Designer Diamond Initiative, Scott's expertise is not to be questioned. Her jewelry line is categorized by country (Puerto Rico, Cuban, Aruba, and Jamaica) and comprised of bangles, earrings, necklaces, and more.
When you browse the offerings from We Dream in Colour, it's clear the jewelry label has been aptly named. Founded by Pratt Institute and Danmarks Designskole graduate, Jade Gedeon, whose sister Mika would eventually join on as a designer, self-funded her independent brand with a fierce dedication to bringing bold colors and rich patinas to the accessories market. The result: vintage and antique-influenced jewels you will not find anywhere else.
Épifenē's "our story" page begins with the phrase "For the Love of Gold" in bold, so if there was any confusion over what this brand's all about, there you are. Cofounded by best friend duo Hanna O. and Emma Nicole, the label is the coming together of mixed heritages and creative geniuses, resulting in innovative pieces designed for everyday wear and special occasions.
L.A.-based designer Khadijah Fulton works with small manufacturers and individual artisans around the city to produce collections that, she hopes, will instill confidence in the wearer. Elegance is a key component of every White/Space piece, and the designer draws inspiration from mid-century architecture to ancient goldsmithing, minimalist art, to sculpture. While the Pebble Pearl Necklace is a particularly sweet piece, bestsellers include the Continuity Ring and Disc Threader Earrings.
Another luxury watch brand to add to your collection, Talley & Twine was founded by entrepreneur and author Randy Williams. Unwilling to compromise quality or style, as a handful of timepiece labels tend to do, Williams set out to create aesthetically pleasing wrist watches and accessories that, while boasting a clean and classic design, challenge the status quo. Our consensus? Mission accomplished.
Cofounder and creative director of Black-owned jewelry brand Auvere, Gina Feldman kick-started her design career as a child creating outfits for her dolls. Now working with 22- and 24-karat gold and gemstones, rather than scrap cloth and construction paper, the designer sketches every Auvere creation herself, by hand. In collaboration with her husband, Steven Feldman, the label is a labor of love in many ways and showcases quality materials at luxury price points.
Looking to support a Black-owned jewelry brand that sells elevated everyday essentials? Jooel's inventory is timeless and luxurious and affordably priced compared to other accessory labels on the market. There are also plenty of stunning products to choose from, from necklaces and pendants to anklets and bracelets.
What's especially charming about Black-owned jewelry brand Carlisle Clay is each piece's ability to spark joy. Founded by Briana Shaw, a clay jeweler from Raleigh, North Carolina, finds inspiration in the concept of home—hers, and those of her customers. Shaw's philosophy: We decorate our houses, so why wouldn't we adorn our physical home—the human body—with accessories that make us look and feel our best?
24
Loved by Celebrities
Khiry
Khiry is a majestic accessories brand founded by Jameel Mohammed, a multimedia artist, designer, and Chicago native. He founded Khiry as an undergrad at the University of Pennsylvania to prove luxury labels aren't exclusive to Paris and Milan. Now an international brand, Khiry's demi and fine jewelry are beloved by artists, activists, curators, and entrepreneurs. Celebrity supporters include Michelle Obama, Janelle Monae, and Solange Knowles, to name a few.
25
Made From Fair-Trade African Gold
Omi Woods
Omi Woods is a Black-owned brand deeply rooted in African culture. Founder Ashley Alexis McFarlane pays homage to their Jamaican-Akan-Indigenous-Maroon heritage through accessories made from fair-trade African gold and globally sourced recycled and conflict-free fine metals. Each design is a contemporary heirloom that celebrates and speaks to the artist's connection with the continent, and with 14 collections dedicated to different places, we guarantee there is a piece fit for every wardrobe.
Matthew Harris is a self-taught designer who was born in Jamaica and grew up in New York City. He got his start in men's jewelry but expanded his label to include women's accessories after a successful capsule collection. Today, the brand is made up of elegant, fine jewelry at affordable price points.
Leliamae is a New York-based, woman-run jewelry brand for which the artist strives to strike a balance of integrity and unique style. Needless to say, they succeed. Pieces are made from quality gold materials that are ethically produced and made with the intention to elevate your everyday collection.
Actress Tracee Ellis Ross is a noteworthy fan of this noteworthy brand—and it's no wonder why. The pieces showcased on the HOME by Areeayl website are essentially Areeayl Goodwin's imagination come to life. With creations like the pictured Vase earring, Seat Choker, and Labra Lights Earrings, we guarantee you've never seen accessories like these.
Last, but certainly not least, Edas is a Black-owned jewelry brand that caught this author's eye immediately. Created from innovation, with a sharp focus on sustainability, Edas accessories are designed for everyday wear, but with an eclectic twist. It's head designer Sade Mims' eye for intricacy that keeps loyal shoppers clicking "add to cart." Each piece is handmade and tailormade to the wearer's specifications.
This content is created and maintained by a third party, and imported onto this page to help users provide their email addresses. You may be able to find more information about this and similar content at piano.io
Advertisement – Continue Reading Below