9 best retinal products of 2023, according to experts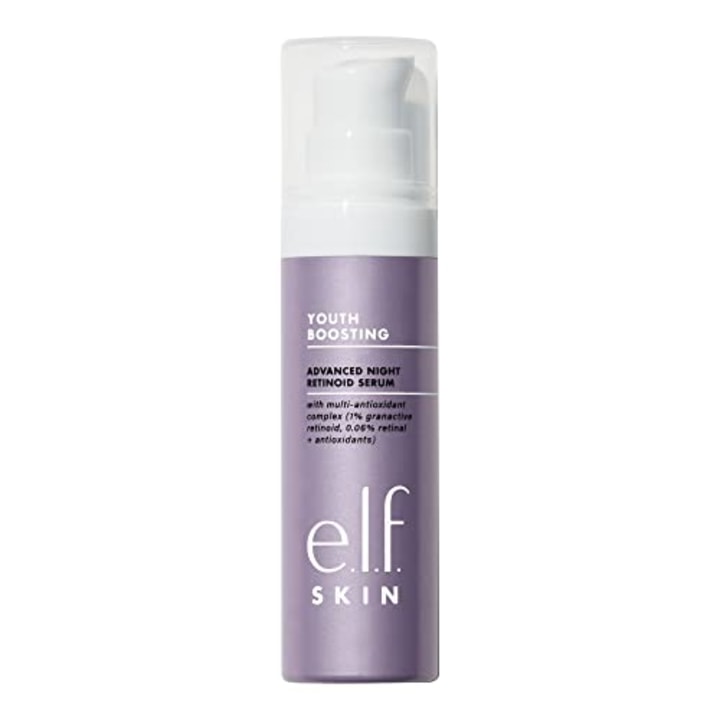 Retinol is as close as it gets to a do-it-all topical skin care ingredient; dermatologists love its ability to boost skin cell turnover and spur the production of collagen (collagen being the fiber in skin that keeps it firm and smooth). Plus, it has ample data to back up its efficacy. But retinal, which belongs to a group of ingredients called retinoids (that also includes retinol), might be able to surpass it. Short for retinaldehyde, retinal is even more powerful than retinol, with the similar ability to smooth skin texture, clear breakouts, even out skin tone and soften fine lines and wrinkles.
Retinoids are vitamin A derivatives that you can use for acne, wrinkles and hyperpigmentation, says Dr. Gloria Lin, a board-certified dermatologist at Schweiger Dermatology in New York City. Some are only available by prescription (often bucketed under the term "retinoids"), while you can find other over-the-counter options at a lower strength, with retinal being the most potent of these, she says.
SKIP AHEAD The best retinal products in 2023 | What is retinal? | What are the benefits of retinal for skin? | How to shop for retinal | Are retinol and retinal the same thing? | Which is more irritating, retinol or retinal? | How to use retinal in your skin care routine
Our top picks
How we picked the best retinal product
Retinal products can treat a variety of skin concerns like uneven texture and clogged pores, and can address discoloration, acne and wrinkles, according to our experts. When shopping for retinal products, they recommended considering the following factors:
Concentration: The concentration of retinal can vary, with the lower end starting at 0.05% and going up to 1%.
Additional ingredients: Retinal is often paired with soothing and moisturizing ingredients to offset any potential for dryness or irritation.
Delivery system: Some retinal formulas are encapsulated, meaning it's housed in a capsule that dissolves after you apply them to skin, which may reduce irritation at the skin's surface and keep the ingredient stable.
The best retinal products in 2023
The right retinal product depends on your experience with retinoids, as well as your skin type. Below, we compiled expert-recommended face serums and creams that help improve wrinkles, fine lines, breakouts and more. All of the products listed are balanced with moisturizing ingredients, and many are fragrance-free to minimize the potential for irritation.
E.l.f. Youth Busting Advanced Night Retinoid Serum
Intended for overnight use, this face serum contains two retinoids: granactive retinoid and 0.06% retinal. Dr. Michael Jacobs, MD, a board-certified dermatologist and clinical associate professor of dermatology at Weill-Cornell Medical College, likes this fragrance-free formula since it's infused with hyaluronic acid for hydration, he says. It also has antioxidants to further help brighten skin, according to the brand. 
Youth To The People Retinal + Niacinamide Youth Serum
Both Jacobs and Lin consider this fragrance-free serum to be a good option for most skin types. Not only is it both vegan and cruelty-free, but "it contains 0.15% retinal along with niacinamide and ceramides to help nourish the skin," says Lin. Together, these ingredients can improve fine lines and even out skin tone, according to the brand.
Allies of Skin Retinal & Peptides Repair Night Cream
This fragrance-free night cream uses a patented and encapsulated form of retinal (at 0.05% concentration) alongside antioxidants, peptides and botanical oils. Jacobs like this particular combination of ingredients since "it hydrates, protects and renews the skin all at once," he says. Lin is also a fan of the product, saying "it is both gentle and goes on smoothly."
Skinbetter Science AlphaRet Overnight Cream
This product, which comes expert recommended in our guide to dermatologists' skin care routines, pairs retinaldehyde with alpha hydroxy acids for a two-pronged approach to treating fine lines and dark spots, according to Dr. Julie Russak, board-certified dermatologist in New York City. "It offers the benefits of both exfoliation and retinal, making it a standout choice for addressing multiple skin concerns in one formula," she says. I've also personally found it to help control my hormonal breakouts while smoothing the texture of my skin, making it a must-have in my own routine.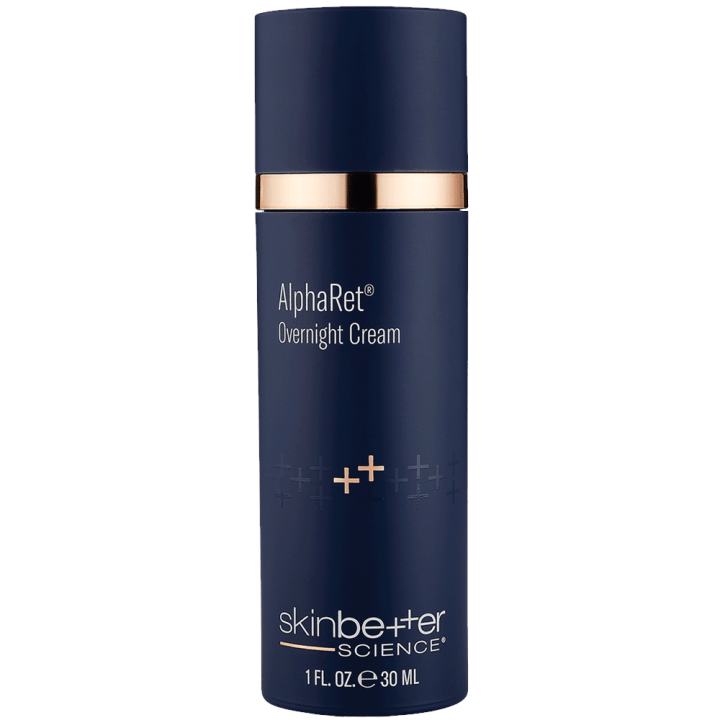 Isdin Retinal Advanced Dual-Phase Night Serum
Russak recommends this night serum as a great option for those who want to target fine lines and wrinkles. "When introduced gradually into your evening routine, it aims to reveal smoother and revitalized skin," she says. It also has a proprietary soothing complex, which includes niacinamide, to keep skin calm and hydrated, according to the brand.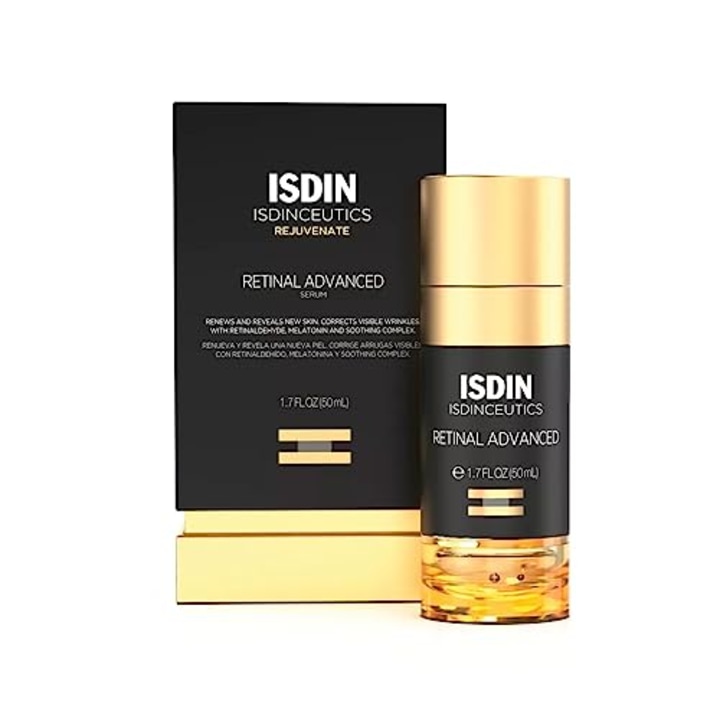 Peach & Lily Retinal for All Renewing Serum
Lin likes this Korean skin care brand, which she says focuses on gentle ingredients and preventative care. What makes this serum especially great, according to Lin, is the 0.1% retinal as well as ceramides and ectoin, which research has found to prevent inflammation caused by retinoids.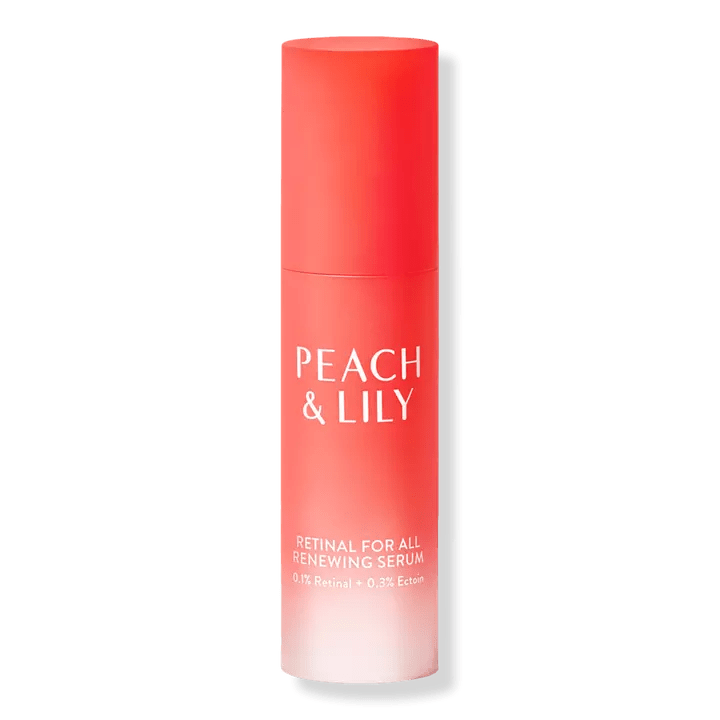 Naturium Retinaldehyde Cream Serum 0.05%
Since this serum has a relatively low concentration of 0.05% retinal, it's beginner-friendly, says Lin. Plus, because of its unique cream serum texture, it is easy to apply, she says. The retinal is encapsulated to ensure it doesn't break down (and thus lose efficacy) while en route to skin's deeper layers, according to the brand. The fragrance-free formula also contains vitamin E and apricot kernel oil to moisturize skin.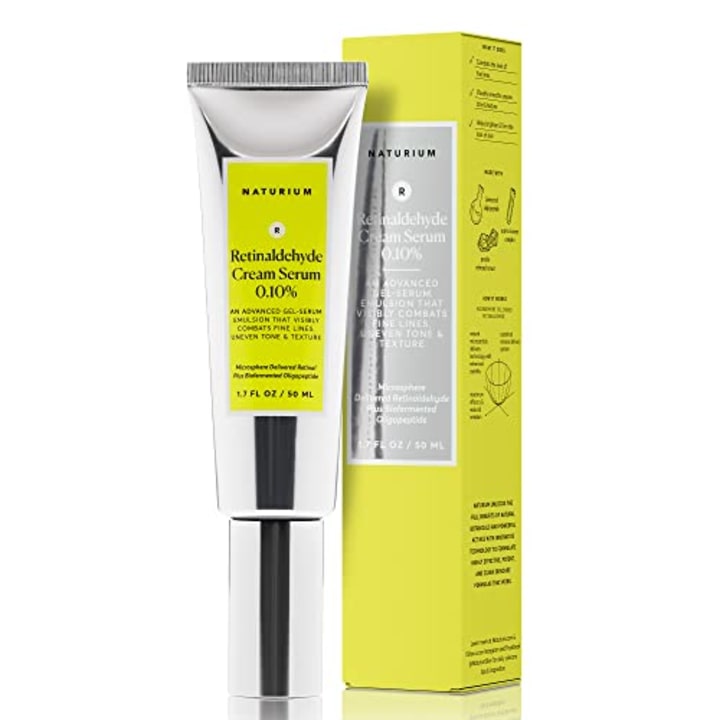 Avène Retrinal 0.1 Intensive Cream
Lin likes this cream not only because it comes in two strengths (0.05% and 0.1%), allowing users to graduate to a higher percentage as their skin adjusts, but also because it's fragrance-free, which she says may be better for sensitive skin types. Plus, it is formulated with thermal spring water to help reduce the irritation, along with vitamin E and peptides to soothe and brighten skin, she says.
Murad Retinal ReSculpt Overnight Treatment
Designed to target sagging and deep wrinkles, this serum uses an encapsulated form of retinal as well as oat lipids and alpha glucan (to moisturize) and botanical ingredients, including kangaroo paw flower and olive leaf extract (to improve saggy skin). It can also be used on the neck to help lift and smooth sagging skin, according to the brand. It has a 4.9-star average rating from over 500 reviews on Sephora.
What is retinal?
Retinal, or retinaldehyde, is a derivative of vitamin A and delivers results more quickly than retinol (as well as other over-the-counter retinoids). It "is considered the most effective retinoid in over-the-counter [skin care products]," says Jacobs. 
Because it's weaker than prescription-level retinoids, "retinal is a good option though for those who cannot tolerate the prescription tretinoin, but want to see more benefits than with just plain retinol," says Lin. (Tretinoin is a form of retinoic acid, which makes it more powerful and therefore only available with a prescription.) Additionally, it's easier to access, as it doesn't require a trip to the dermatologist.
Finally, retinal also offers a middle ground for those looking to amplify the benefits of their retinoid. "Some people may want to work their way up from retinol to retinal and then to a prescription tretinoin depending on their skin type," says Lin. It can be a way to step up your skin care regimen over time.
What are the benefits of retinal for skin?
Like all retinoids, retinal offers a multitude of benefits for skin. "Retinoids help increase the natural skin cell turnover to minimize the appearance of fine lines and wrinkles," Lin says. They've also been found to treat acne and even out skin tone, thus reducing hyperpigmentation.
As a result, "products containing retinal can benefit a wide range of individuals, particularly those who are concerned with aging skin, acne, uneven skin tone and texture irregularities," says Russak. The below groups would benefit most from using a retinal product in their routine, she says.
People who want to address signs of aging, like wrinkles and fine lines
People who want to clear and prevent breakouts
People who want to improve skin tone and reduce hyperpigmentation and acne scars
People who want overall skin rejuvenation and a healthier complexion
How to shop for retinal
When searching for retinal products, our experts advise looking at the concentration. "Start with a lower concentration of retinal and gradually increase usage as your skin adjusts," says Russak. That's because retinoids, in both prescription and over-the-counter products, can leave skin dry, flaky or irritated.
Your skin type and your history with retinoids can help guide you to the right concentration of retinal. On the lower end, you may find concentrations around 0.05%, while higher strengths have up to 0.1% retinal. If your skin is naturally dry or sensitive, consider trying a retinol first, since it's less powerful than retinal. If you can tolerate that, then you could move up to the lower strength retinal, says Lin. Meanwhile, if you have more oily skin, you can potentially start with a higher strength retinal, like 0.1%, and then increase it over time (or move up to a prescription-level retinoid) if tolerated, she says. The same goes for those who are currently using retinol without any side effects.
That said, individual tolerability can vary, and some people may still experience sensitivity or irritation when using retinal, says Russak. The formulation can also play a role; some ingredients, such as hyaluronic acid and ceramides (that are both hydrating), can help balance the inherent drying properties of retinal. Plus certain technologies — such as encapsulating the retinal — can also minimize side effects. Research shows that encapsulation, which slowly releases the retinal over time, is a good way to keep retinal stable and avoid irritation.
Are retinol and retinal the same thing?
They're both types of retinoids, but they're not the same thing. "The main difference lies in their chemical structures and how they interact with the skin," Russak says. In your skin, retinol needs to convert into retinal before it can further convert into retinoic acid, which is the active form that delivers benefits. Retinal, on the other hand, only needs to convert once to become retinoic acid.
The extra conversion needed by retinol ultimately weakens it, according to Jacobs. As a result, it takes longer to work. Meanwhile, "retinal can potentially deliver quicker and more noticeable results in terms of improving skin texture, reducing wrinkles and addressing other skin concerns," says Russak.
Which is more irritating, retinol or retinal?
While it may seem reasonable that the more potent ingredient, retinal, would have a higher risk of irritation, that's not actually the case. According to recent research, retinal is actually better tolerated by skin compared to retinol, says Russak. Since it requires fewer conversions in skin, that "results in potentially fewer side effects such as irritation and dryness," she says.
That said, individual tolerance can vary, so it's possible to still experience sensitivity when using a retinal product. For that reason, some people with facial eczema or rosacea may find that retinoids worsen their condition; in that case, you should avoid using them, y says Lin.
How to use retinal in your skin care routine
"Retinal may require an acclimation period when first incorporating it into your skincare routine," Russak says. For that reason, she recommends starting with a lower concentration of retinal, with the option of gradually increasing it as your skin adjusts.
Retinal, as with all retinoids, have some contraindications; for instance, they're not safe during pregnancy and breastfeeding. And for those who already have an extensive skin care routine — for example, one that includes exfoliating acids like alpha hydroxy acid, beta hydroxy acid and poly hydroxy acid — retinoids, including retinal, might be hard to tolerate, says Lin. Consider using those once weekly and taking a break from the retinoid that night if you want to incorporate both into your regimen, she says.
Meet our experts
At Select, we work with experts who have specialized knowledge and authority based on relevant training and/or experience. We also take steps to ensure all expert advice and recommendations are made independently and without undisclosed financial conflicts of interest. 
Dr. Gloria Lin, MD, FAAD, is dermatologist with the Schweiger Dermatology Group in New York City. She has special interests in the treatment of skin cancer, psoriasis and atopic dermatitis among others.
Dr. Michael Jacobs, MD, is a board-certified dermatologist and clinical associate professor of dermatology at Weill-Cornell Medical College. In addition to practicing both medical and cosmetic dermatology, his research interests include the treatment of melanoma.
Dr. Julie Russak, MD, FAAD, is a board-certified dermatologist and assistant clinical professor of dermatology at . Her areas of research span general, cosmetic and pediatric dermatology, skin cancer and dermatologic surgery.
Why trust Select?
Deanna Pai is a freelance beauty writer and editor who has been covering beauty and health for more than a decade, including topics like skin care ingredients and sun protection. For this article, Pai spoke to three dermatologists to narrow down the retinal products to shop this year, and highlighted their recommendations for the best options to consider.
Catch up on Select's in-depth coverage of personal finance, tech and tools, wellness and more, and follow us on Facebook, Instagram, Twitter and TikTok to stay up to date.