adidas and New York Accessories Designer Tulie Yaito Announce the reimagined Forum Hi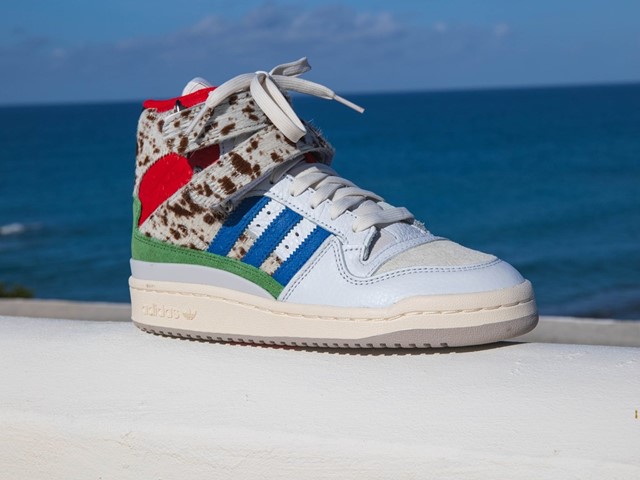 adidas and accessories designer Tulie Yaito announce the limited-edition Forum Hi available July 8, 2023. Known for her vibrant designs and creative approach to color and materials, Tulie presents a luxurious take to the iconic Forum Hi with designs centered on wearable luxury and the fusion of streetwear and high fashion through leather, prints and colors.
The female shoe is inspired by Yaito's popular knot and Keijō bags, featuring white pebble leather, faux pony hair, cowhide with detachable straps, blue and red ostrich embossed leather, green suede and black paisley embossed cut out leather. The designer's influence on this limited-edition sneaker showcases a symphony of color and contrast, giving a nod to Tulie's Jamaican roots and forward-thinking approach to footwear.
"adidas superstar shelltoe was the first pair of sneakers I owned and to have the opportunity to design a shoe with the brand is a full circle moment," said designer Tulie.
This collaboration is bigger than myself. It's about much more than just designing a sneaker but also advocating for women, especially those who look just like me, who came from little to nothing, who migrated with a mission, and fantasized about creating generational wealth and breaking boundaries.

Designer Tulie
"We're beyond excited about our partnership with Tulie and to release a fresh take on the Forum Hi," said adidas Senior Product Manager Esaie Witherspoon. "Tulie has such a unique ability to blend low and high brow, use her expert eye to rediscover an iconic shoe and do it all while giving homage to her roots through color and contrast."
The exclusive sneaker retails at $130 USD, is female sizing 3-13 and will be available on July 8, 2023 at select retailers and adidas.com.
About Tulie 
Tulie is a Queens-based accessories designer and co-founder of the coveted label, Yaito. Born and raised in Jamaica,Tulie relocated to New York to study fashion marketing and merchandising. In 2015, Tulie and her partner/co-founder Carlton launched their business with made-to-order custom pieces. Over time the brand has grown to encompass accessories, home goods and outerwear. Tulie's unique designs, like her label's viral knot bag, and approach to wearable luxury have amassed a loyal following and recognition from tastemakers and global media.
About Adidas
Inspired by the rich sporting heritage of adidas — one of the world's leading sports brands and a global designer and developer of athletic footwear and apparel —adidas Originals is a lifestyle brand founded in 2001. With the adidas archive at its foundation, adidas Originals continues to evolve the brand's legacy through a commitment to product innovation. The brand strives to reflect contemporary youth culture by honoring the creativity and courage found on courts and sporting arenas. Marked by the iconic Trefoil logo that was first used in 1972 and championed by those that continue to shape and define the zeitgeist, adidas Originals continues to lead the way as the pioneering sportswear brand for the street.