Best Minimalist Jewelry Brands 2022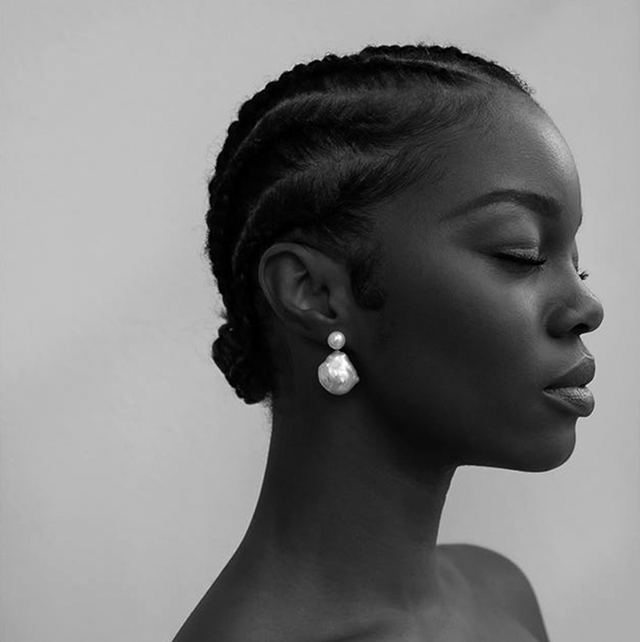 Ah, minimalism: there's a lot of ways to interpret the pared-down aesthetic, and that especially applies when we're talking jewelry. It's an intimate thing, ya know? The jewelry we wear has a lot to do with how we express ourselves through our personal style choices. Whether you're typically more of a statement bling kind of gal, or you've always been into dainty styles, it's easy to feel overwhelmed by the many options so we made it our duty to find you the best minimalist jewelry brands to shop ASAP.
These cool labels seriously deliver on clean are a curated sampling of all that's out there, and they sure are good. Some are worn on the reg by your fave celebs and influencers, while others are total hidden gems (pun intended). We scoured for loads of unique pieces to upgrade your bauble situation—from ethically-sourced to artisan-made to more affordable gold vermeil or plated options. Get ready to discover your new go-to sources for hoops, studs, chains, personalized jewelry, all things pearls, and so much more. All in the name of minimalism. There's something here for everyone!
Our top picks for the best minimalist jewelry for women of 2022:
---
Truly, nothing makes a better statement than a gorge accessory so if you wanna get inspired, check out some more trends and shop these brands to up your accessory game. Oh, and we've discovered 40 Black-Owned jewelry brands you're gonna be obsessed with, too! Ahead, 19 minimalist jewelry brands to complete your chic wardrobe.
Advertisement – Continue Reading Below
if trendy is your thing
Oma the Label Abma Hoops
Count on Oma the Label if you're seeking pieces that tap into jewelry trends you've been lusting after, like these perfectly proportioned hoops. But these aren't one-season-wonders: the brand's designs are classic enough to wear for years to come.
if you dig understated pieces
YOJ Concha Bracelet
YOJ, a jewelry brand created in 2019, takes curves and lines to the next level. We love its v sculptural aesthetics and nods to historical eras. For example, this concha bracelet was inspired by the shell design made popular during the Art Deco period.
if you're into stacking and layering
Catbird Threadbare Ring
Gotta stack 'em all—if you enjoy wearing tons of minimal jewelry at once, then you'll love Catbird. The Brooklyn-based retailer with a vintage edge basically perfected the art of piling on barely-there rings and layering wispy necklaces that you'll never want to take off. This delicate ring is apparently worn daily by Meghan Markle, per Catbird's site, so it's fit for royalty and for you, duh.
if you're a whimsical minimalist
Daphine Ana Enamel Earrings
Raise your hand if you believe minimalist jewelry should include color—Daphine is all about that. Sure, the brand stocks all the classics, but you'll also find fresh pieces like this soft pastel earring pictured here. Founded by a pair of besties in London, Daphine is dedicated to keep the bond of "a shared perfectionism, a love of simple, uncomplicated design," and celebration of strong women alive.
if you're an avid traveler
MadebyKwest Chain Ring
If you have a case of wanderlust, MadebyKwest just may be the cure. This brand makes travel-inspired jewelry meant to be worn and loved throughout all of life's ups and downs. Its durable pieces like this simple chain link ring are as adventurous and resilient as you are: they'll bend, but not break.
if you're all about artsy jewelry
Closer by WWAKE Dash Wisp Earrings
Okay, how cute is this bb wispy earring? We love an everyday accent you can have fun with! Celebrities Rihanna, Zoe Kravitz, Solange, and Emma Watson got the memo and have styled this beloved brand's modern, geometric creations to perfection. Designer Wing Yau founded WWAKE in 2012 with the goal of combining playful art with the intimacy of jewelry. The result? Ultra-wearable pieces, cool asymmetrical designs, and tiny gems (like shimmery little opals, a brand signature) for a touch of sparkle.
if you need all the accessories
Missoma Silver Interstellar Drop Choker
Missoma is about to be your new go-to for all things accessories. We're talking chokers (how chic is this one, BTW?), eyewear chains, chain belts, hair clips, and even sunnies. Oh, and they sell chic jewelry storage cases and boxes, too! Talk about clutch. Missoma also covers a lot of ground when it comes to metal types and chain length. If you don't know what, exactly, you're searching for, we're pretty sure you'll find something here.
if you love contemporary, sleek baubles
Mahnal Petite Pod Earrings
We love how Mahnal's M.O. is to "inspire free thought and the freedom to feel again." If accessorizing is your happy place, you'll adore how this brand translates natural elements through design. It's all about the slow and intentional lifestyle, and we're here for it, especially in this hectic world we're living in. Bonus: the high quality of Mahnal's affordable, handcrafted brass creations.
If you've got decked-out lobes
BYCHARI The Huggie
Founded in 2012, BYCHARI echos designer Chari Cuthbert's easygoing outlook on life and personal style. The brand's worn by major fashionistas like Aimee Song, Rose Huntington-Whiteley, Chiara Ferragni, and Rocky Barnes. Every piece is modern, unique, and designed for folks who "appreciate simplicity but demand luxury." I mean, just take a look at these bestselling huggies!
if you're reppin' the culture
Omi Woods The 4C Necklace Stack
Omi Woods = for the culture, by the culture. This jewelry brand celebrates its ties to Africa and the African diaspora. Omi Woods' stunning pieces are ethically handmade using sterling silver and fair-trade African 18k gold vermeil. As a natural hair 4C girlie myself, I am in awe of this everyday necklace, made to mimic the texture of 4C strands!
if you're on a budget
MermaidHausJewelry Brea North Star Bracelet
Dainty and statement handmade accessories is the name of the game for Etsy shop MermaidHausJewelry. You'll love the affordable range of chunky, 18K gold-plated pieces that won't turn your wrists or ears green. The brand uses a hypoallergenic stainless steel base layer and PVD plating, a vacuum coating process which creates long-lasting, weighty treasures you'll wear for years to come.
Rave Review: "This is super cute and doesn't change color over time," one reviewer shares. "I shower and sleep with mine and they've been fine!"
if you wanna accessorize like an influencer
Ana Luisa Scarlett Earrings
Tons of stylish influencers wear Ana Luisa's affordable, high quality pieces, which are made from 14K gold-plated brass. Plus, the brand's earrings have titanium or stainless steel posts to help avoid irritation. The only challenge? Trying to decide on a piece (or three) to order first…
Rave Review: "These are so on-trend," writes one reviewer. "Shiny, feels great quality-wise, and so refreshing for any outfit that needs a cool girl lift. The hoops are actually not attached at the end and are separated FYI. I just love that they don't feel lightweight and flimsy (but they're not necessarily heavy)."
if you want empowering pieces
Bryan Anthonys Beautifully Broken Necklace
Bryan Anthonys is named after co-founder Amber Glassman's brother, who passed away at a young age from severe bacterial meningitis. Each of Glassman's dainty, geometric designs, available in sterling silver or 14k gold-plated brass, come with a motivating, heartfelt message.
Rave Review: "I am extremely pleased with my new necklace," writes one reviewer. "I've received so many compliments. The meaning behind it is where I am in my life. Beautifully broken and stronger than I ever have been….Thank you for your creativity and boldness in your jewelry to help build and send clear messages of hope and strength."
if you're v into pearls
Mateo Duality Pearl Drop Earrings
Pearls, anyone? Say goodbye to the typical prim and proper, perfectly round look you're probably familiar with. Instead, you'll find natural, uniquely shaped cultured pearls at Mateo. The brand is known for simple elegance and is beloved by major celebs like Kerry Washington, Gabrielle Union, and more.
if you want to make a statement
Simone the Label Justice Necklace
Simone the Label is all about celebrating creative work by minorities in fashion. The label also aims to make a difference: for example, 50% of profits from this powerful pendant are donated to the Equal Justice Initiative.
Rave Review: "The necklace is a perfect size for all occasions, and makes a beautiful gift to inspire women," writes one reviewer.
if you wanna celebrate yourself
Mejuri Croissant Dôme Hoops
If you're looking for texture and sizing that's juuust right, you'll find it at Mejuri. Founder Noura Sakkijha created the brand when she realized the jewelry industry was so focused on men gifting women, and not women gifting themselves beautiful baubles. Take that, patriarchy.
Rave Review: "These are a best seller for a reason," shares one reviewer. "I wear them everyday and adds a trendy look to any outfit!"
if you're all about meaningful pieces
153 Jewelry Personalized Infinity Charm
Demi-Leigh Tebow, former Miss Universe, and her husband, NFL star Tim Tebow, started 153 Jewelry with the hopes of deepening relationships and reminding people that they're loved. We're lovin' this infinity charm-accented nameplate necklace. And who doesn't adore personalized jewelry?!
if you're on the hunt for easy gift ideas
Doviana Double Layer Sterling Silver Adjustable Ring
Doviana is all about ~the sparkle~ and has new drops every week. Plus, all of their pieces are delivered in pretty custom packaging, perfect for gifting your loved ones (or yourself).
if you're all about your birthstone
Aurate Birthstone Necklace
Is there anything more precious than your birthstone? Aurate has so many simple, chic designs that put you (and your special day) at the forefront. Speaking of special days: The brand has some gorge engagement rings, too!
Rave Review: "I've always wanted a birthstone necklace that was minimalist and something I can wear daily," writes one reviewer. "I love the subtlety of the garnet with the gold. The chain seems delicate but it's sturdy, strong, and well made. I'll be wearing this for years to come."
What should you consider when shopping for jewelry?
Regardless of if you're obsessed with rings or more loyal to layering necklaces, you should always consider these factors when shopping for jewelry:
Is the pricing fair? Because who wants to buy an overpriced item that simply isn't worth it?!
How long will it last? Another v important question. Shop for durable designs, with secure settings for stones and strong clasps and chains. If the piece doesn't harm the environment, that's an even bigger plus.
What's the quality like? Will it turn your fingers green? What type of metals do, and definitely don't, play nice with your skin? Take a close look at material deets before buying (whether that means pure gold, sterling silver, or well-made gold vermeil or plating) and def read the reviews!
These questions can be tricky to answer, especially with so many options to choose from. Plus, jewelry is such a personal, intimate a thing, literally! But that's why we curated a list of our faves above, to help you navigate it all. (You're welcome!)
So, how did we choose the best minimalist jewelry?
Cosmo's team of digital fashion experts—which includes Fashion Features Director Rachel Torgerson, Fashion Editor Tarah-Lynn Saint-Elien, and Contributing Fashion Features Director Alexandra Ilyashov—have decades of combined experience in the industry. They spot relevant trends on the runway before they even hit your TikTok FYP or Insta Explore Page and conduct research across retailers of all kinds—testing many brands IRL—to bring you the best clothing and accessory picks for every season. Basically, we've curated the internet to bring you the chicest options like it's our job (because it is, heh).
Each of our shopping articles adheres to the 15 Percent Pledge and includes products for all sizes. These minimalist jewelry brands were chosen based off of style, price point, and we read through SO. MANY. REVIEWS. to put together this shoppable list of the very best for you!
This content is created and maintained by a third party, and imported onto this page to help users provide their email addresses. You may be able to find more information about this and similar content at piano.io
Advertisement – Continue Reading Below