Do your holiday shopping at these Maine craft fairs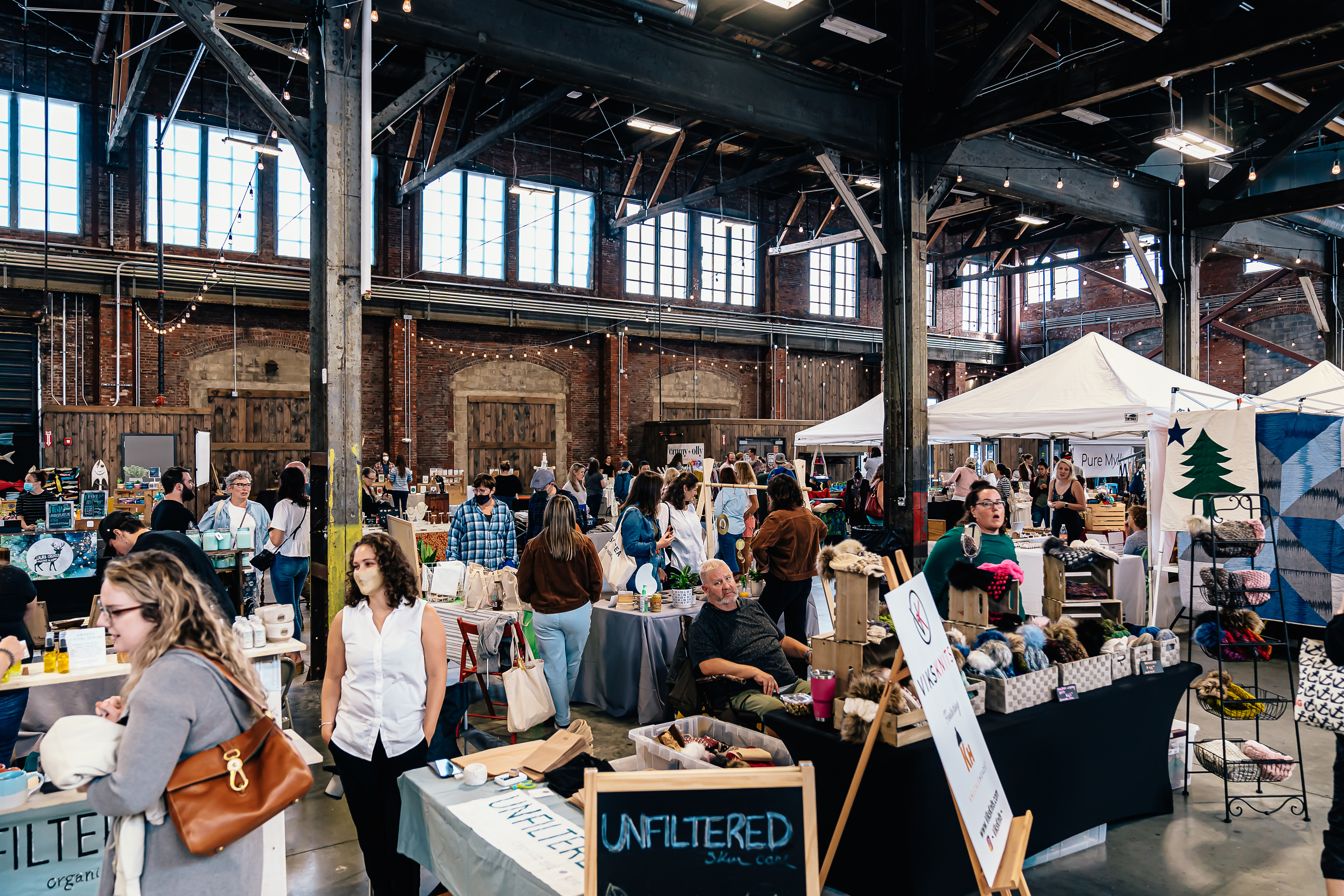 While it's tempting to point and click your way through holiday shopping, we think it's much better to get out there and shop locally. That way, you cut out all the middlemen and don't have to worry about packages getting stolen off your front steps.
One of the best ways to do that is by hitting a local craft fair, where a wide range of artists, makers, knitters, woodworkers, craftspeople and other wildly creative types gather under one roof to make your shopping a breeze.
Some craft fairs feature food trucks and food vendors, and you even grab a cocktail or beer at Thompson's Point and Stone Mountain Arts Center events.
We suggest you mark up your calendar and make one or several plans to shop till you drop, right here in Maine.
 Jolly Holiday Handmade Bazaar
10 a.m. to 3 p.m. Saturday. Denmark Arts Center, 50 West Main St., Denmark. denmarkarts.org
Denmark Arts Center presents its annual bazaar where you'll find a wonderful array of local artists, makers and vendors festively peddling their wares. Not only that, the day will include deliveries of hot pies, which you'll be able to purchase if you're quick enough. Other offerings you'll delve into in Denmark include Bahr Jewelry, Legare Sugar House, Pickett Hill Pottery, Chickadee Quilters and several others.
Fall Craft Show
10 a.m. to 4 p.m. Saturday, 10 a.m. to 3 p.m. Sunday. Costello Sports Complex at University of Southern Maine, Campus Avenue, Gorham. facebook.com/USMCraftShows
With a vast assortment of more than 150 local vendors, you'll lose yourself in shopping bliss at the annual Fall Craft Show at USM Gorham. Pick your day, bring a reusable tote, and set yourself free in the giant landscape of the Costello Sports Complex.
Celtic Fair & State Street Stroll
9 a.m. to 3 p.m. Saturday. Maine Irish Heritage Center, 34 Gray St., Portland. maineirish.com
It's always a festive time at the Celtic Fair and State Street Stroll in Portland. In past years, Santa Claus has shown up, so keep an eye out for photo ops. The fair at the Irish Heritage Center features offerings from a talented slate of local artisans. You can also grab lunch and enjoy music and a performance by the Stillson School of Irish Dance.
41st Annual Arts and Crafts Show
9 a.m. to 4 p.m. Saturday, 10 a.m. to 3 p.m. Sunday. Augusta Civic Center, Civic Center Drive, Augusta. unitedmainecraftsmen.com
United Maine Craftsmen presents a show that's been happening for more than four decades. You'll find all sorts of outstanding gifts like jewelry made by Betty Begin of Custom Designs by Betty, and pottery from Keith Herklotz from Down to Earth Pottery.
Maker's Market at the Point
10 a.m. to 3 p.m. Nov. 12 & 26, Dec. 3 & 17. Brick South at Thompson's Point, Resurgam Place, Portland. thompsonspoint.com
Maker's Market at the Point is legendary because not only can you find more than a hundred makers and creators, you can also shop with a bloody mary in your hand and grab lunch from one of the food trucks. Music will be playing throughout the expansive Brick South space as you bump into friends and accidentally buy a few goodies for yourself. With four dates to choose from, this is a can't-miss fair.
Designing Women Freeport
9 a.m. to 4 p.m. Nov. 18. Maine Coast Waldorf School, 57 Desert Road, Freeport, $2 suggested donation. designingwoman.org/freeport
This year's Designing Women show shines an extra bright light on wearable art, so you can expect a solid showing from fiber creators and jewelry makers. There will also be plenty of glass, pottery and wood items to peruse. Also, you should plan on strolling over to L.L. Bean Discovery Park, as it's the first day of the Northern Lights winter celebration.
Woodfords Church Downeast Fair
9 a.m. to 1 p.m. Nov. 18. Memorial Hall at Woodfords Church, 202 Woodford St., Portland. woodfordscorner.org
It may only be four hours long, the Woodfords Church Downeast Fair has a lot of activity. Festivities include a raffle, a silent auction, all sorts of baked goods, knitted and hand-sewn items, handmade crafts, books, jewelry and attic treasures. There's even an entire Christmas room filled to the brim with decorations waiting to go home with you.
Art on the Hill
6-9 p.m. Dec. 1, 10 a.m. to 5 p.m. Dec. 2, 11 a.m. to 4 p.m. Dec. 3. East End Community School, 195 North St., Portland. seaportland.org
The Society of East End Artists has been presenting Art on the Hill for many years, and it's always a wonderful experience, as the cafeteria, gymnasium and several hallways are transformed into a craft fair haven. As you roam around, you'll find paintings, pottery, home goods, soap, woodworking items, candles and literally everything in between. Plus, the cafe serves up an array of snacks and beverages to keep you powered up for power shopping.
Maine College of Art & Design Holiday Sale
5-9 p.m. Dec. 1, 10 a.m. to 6 p.m. Dec. 2. Maine College of Art, 522 Congress St., Portland. meca.edu
Students, alumni and faculty of Maine College of Art, as well as select community members, will be spread out over several floors for the annual holiday sale. If you go on Friday night, it's also the First Friday Art Walk, so the entire street should be bustling.  This year's sale features works from nearly 50 artists and makers.
Christmas Fair At The Point
9 a.m. to 3 p.m. Dec. 2. The Point Community Center, 345 Clark's Pond Parkway, South Portland. thepoint.community
The Point Community Center presents its annual Christmas-themed craft fair with food trucks, games, arts and crafts for kids, and festive activities for the whole family. Plus, when you're done, you can hit the Maine Mall – if you dare.
Odd Fellows Bazaar
10 a.m. to 3 p.m. Dec. 2. Odd Fellows Hall, 651 Forest Ave., 2nd floor, Portland. woodfordscorner.org
The Friends of Woodfords Corner present the Odd Fellows Bazaar, a vibrant holiday craft fair with plenty of handmade gifts to choose from. You can also grab a bite from Vina Ann's, which will be baking up a storm of holiday goodies.
45th Annual Holiday Arts and Crafts Show
9 a.m. to 4 p.m. Dec. 2, 10 a.m. to 3 p.m. Dec. 4. Italian Heritage Center, 50 Westland Ave., Portland. unitedmainecraftsmen.com
For two days, the Italian Heritage Center will be headquarters to a huge annual fair that attracts dozens of incredible artists and makers. The show is presented by United Maine Craftsmen, so you can expect the cream of the crop.
Christmas Craft Fair
10 a.m. to 3 p.m. Sunday. Dec. 3. Stone Mountain Arts Center, 695 Dugway Road, Brownfield, $2, free for under 12. stonemountainartscenter.com
Stone Mountain Arts Center in Brownfield is a glorious place to see live music, but it's also an idyllic spot for a craft fair. Two halls will be merry and bright and full of local artisans and crafters. The Queen Post Cafe's bar will be open, as will the venue's kitchen with a tasty menu of lunch and brunch fare. One has to wonder, will owner and singer Carol Noonan grace shoppers with a song? Her version of "Have Yourself a Merry Little Christmas" will grow the heart of even the biggest Grinch out there.
Designing Women Portland
9 a.m. to 4 p.m. Dec. 9. Ocean Avenue School, 150 Ocean Ave., Portland, $3 suggested donation. designingwomen.org/portland
The Designing Women fair in Portland got its start in 1991 and has been going strong, and growing, ever since. You'll find an impressive, inspiring selection of fine arts and crafts from area women who excel in several mediums including fine art, clay, jewelry, fiber, glass and more.
« Previous
Got Tix: Where to find concert tickets to upcoming shows

Next »
Face the Music: Maine musicians put on benefit shows to support Lewiston families