Our Favorite Small Towns in Pennsylvania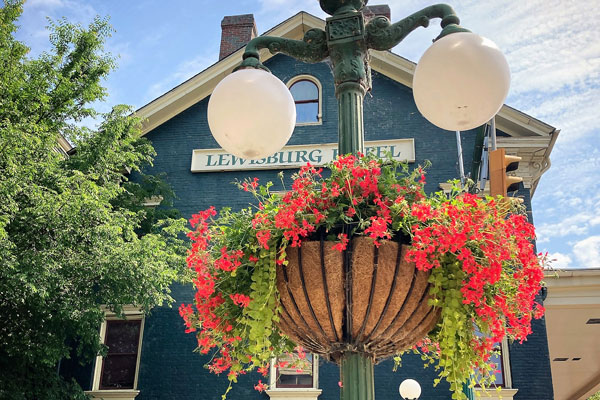 Pennsylvania has some of the best small towns to visit for Happy Travelers! Stroll the main streets and discover all that their shopping and historical districts have to offer. Expand your horizons beyond the big cities to experience the most charming small towns in Pennsylvania.
Quaint Towns in Central Pennsylvania
1. BEDFORD
With its friendly shops and taverns and idyllic street scenery, Bedford is a must-visit for travelers seeking quaint towns in PA. This walkable town with its historic towne square is filled with landmarks reminiscent of your favorite Hallmark movie set. Venture down Pitt Street to find delicious local eateries such as LIFESTYLE Next Door; then continue downtown to find unique clothing, art, antiques, and KJ Shea Seasonals and other boutiques to take home a piece of Bedford. From May to September, stop by the town center to enjoy a variety of fresh finds from local farms at the Bedfored Farmers Market.
2. CARLISLE
Walk, shop, eat, and explore the wonders of historic downtown Carlisle. Whether you're looking for books, candies and chocolates, antiques, jewelry, clothing, local art, or one-of-a-kind finds, the downtown offers a unique shopping experience from block-to-block. When not shopping, dine at cute cafés or exceptional eateries such as The Whiskey Rebellion. Afterwards, stroll along the tree-lined streets immersed in the town's history as you pass Dickinson College, founded in 1783 by Benjamin Rush, a signer of the Declaration of Independence, and the historic Carlisle Theatre, featuring live music concerts and theater productions, films, and programs for children and families.
4. LEWISBURG
A quaint small town and home to Bucknell University, Lewisburg's downtown shopping district and adjacent historic neighborhoods are listed on the National Register of Historic Places. Rich in culture and the arts, Lewisburg invites visitors to stroll their tree-lined, lamp-lit streets while shopping at more than 40 specialty shops including Dwellings Boutique where you'll find unique clothing, jewelry, and fun trinkets and gifts. Catch a show at Campus Theatre, a beautifully restored authentic Art Deco movie palace, and for dinner and drinks, go to Hungry Run Distillery or Trevina, an upscale self-pour wine and beer bar.
5. LITITZ
Continuously dubbed the "Coolest Small Town in America," downtown Lititz delivers one of the best small-town experiences in Pennsylvania. See the town at its best during Second Fridays when stores are open later and offer special sales and events the second Friday of every month. Stop in The Main Street Peddler to find an eclectic mix of folk art, quality antiques, unique gifts, and vintage collectibles. Grab a snack, take a tour, and learn how to twist pretzels at America's First Commercial Pretzel Bakery, the Julius Sturgis Pretzel Bakery. Browse the other shops in this charming town, then take a stroll in the beautiful and scenic Lititz Springs Park.
6. MIFFLINBURG
Originally settled by German immigrants, Mifflinburg has the unspoiled charm of a 19th century Pennsylvania town with its spectacular shops, museums, and historic homes. Today, Mifflinburg invites you to amble into its downtown to visit Made in Mifflinburg local shops and businesses, including Pompeii Street Soap Co. & Aromatherapy, Mifflinburg Buggy Museum, and 45W Arts and Cafe. Grab a drink, enjoy a delicious dinner, and stay the night at the destination brewery, Rusty Rail Brewing Company.
7. NEW OXFORD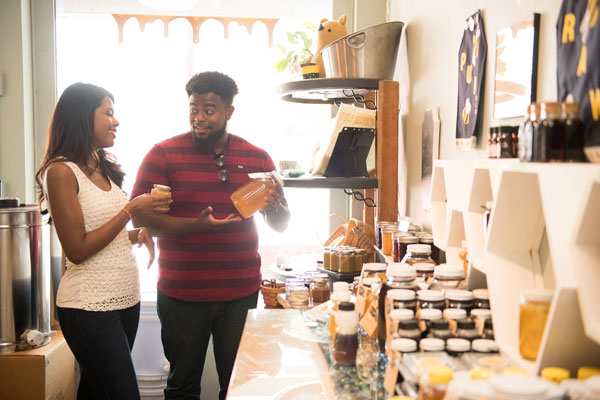 Another cute little town to visit near Gettysburg is New Oxford, the Antiques Capital of Central PA! The town's brick sidewalks, tree-lined streets, and stately homes adorn a beautiful town square that simply beckon visitors to experience and enjoy. Explore this quaint town by taking a self-guided walking tour or antiquing tour. Mark your calendar for June 29 the 67th Annual Market on the Square event, a fun-filled day where you can browse vendors selling vintage and handmade goods, farmers market items, and enjoy delicious local food.
8. SELINSGROVE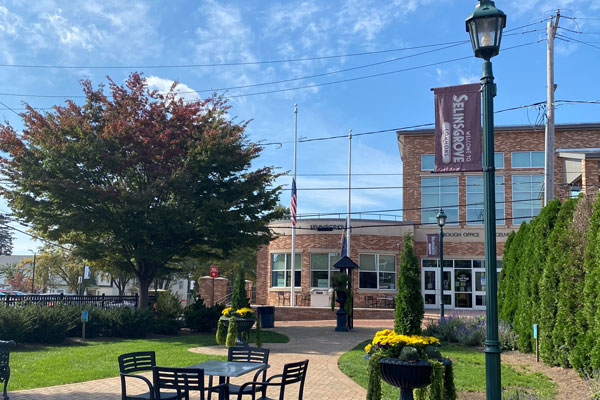 Home to Susquehanna University, Selinsgrove is one of the best towns offering small town charm in Pennsylvania. Walk around and see historic buildings, specialty and antique shops, quaint eateries, and a seasonal farmers market. Enjoy a microbrew at Selin's Grove Brewing Co., housed in the historic mansion of PA's only three-term governor, Simon Snyder. Walk to the Commons in downtown Selinsgrove for a free outdoor concert featuring a wide variety of live music from blues to jazz to rock courtesy of the annual Rudy Gelnett Music Series.
9. STATE COLLEGE
In desperate need of a little retail therapy?! The shops of downtown State College offer the perfect solution. After admiring Old Main, pop into a variety of specialty shops offering everything from jewelry to art. Find a great gift for even your pickiest foodie friend at Kitchen Kaboodle—a favorite of both locals and visitors alike. Once you've worked up an appetite, stop into one of State College's many restaurants for a bite to eat, such as Sowers Harvest Café with its extensive menu of delicious, local, and ethically sourced foods. Of course, no visit to State College is complete unless it includes a delectable ice cream treat from the Penn State Berkey Creamery!
Historic Downtowns in Northwest PA
11. CLEARFIELD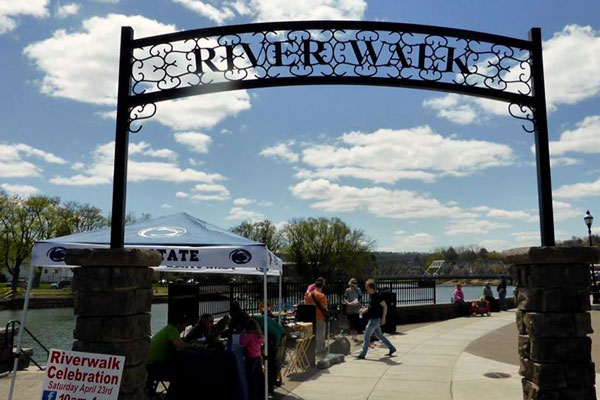 Stroll through Clearfield's lovely Old Town Historic District with its large concentration of Victorian homes, most unaltered and built between 1860 and 1890. Next, visit the historic downtown and stop in the Historica Plus Antique Gallery, a co-op featuring three floors of shop-till-you-drop fun with a wide variety of antiques and collectables, including postcards, furnishings, jewelry, coins, tools, and glassware. Less than a block away is Lefort's Sweet Shoppe with scrumptious coffee beverages, a variety of stuffed-to-the-gills French bread pizzas, and other hearty items. Their quart-sized Grande Milkshake is almost a meal in itself, complete with fudge and candy toppings!
12. COUDERSPORT
Bustling with activity, historic Coudersport is one of the many picturesque small towns in PA. From Coudersport's small stores along Route 6 to nearby museums, here you'll find hospitality is abundant. Sneak a peek at the local artist scene at the Potter County Artisan Center, a juried collective home to 35 of the area's finest artists and craftsmen. In business for more than a century, Hauber's Jewelry Store is a must-stop for unique jewelry and other great gift finds. After a long day, enjoy a meal at Olga Gallery, Café, and Bistro. They have drinks, live music, and arts and crafts workshops, too!
Cute Villages Near Lake Erie
13. BRADFORD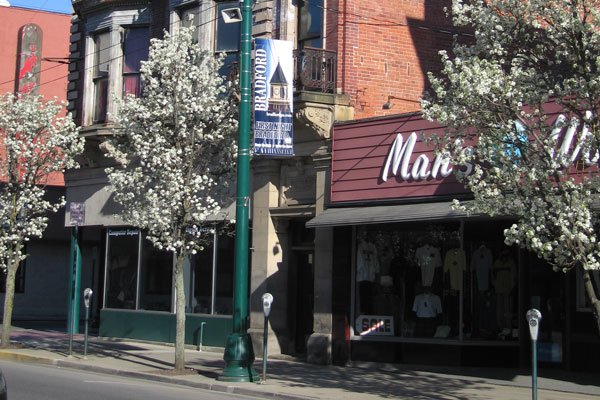 The charming town of Bradford provides a welcome respite from crowded streets, heavy traffic, and long lines. Put the fun back into shopping as you discover inspired, creative, imaginative gifts for your family and friends — and maybe a little something for yourself. Take a walking tour of the town's historic and unique buildings. Stop in the Zippo/Case Museum and Store where you can shop for a classic gift, learn the fascinating history of these two iconic American products, and watch their famed Zippo Repair Clinicians at work. Feeling hungry? Enjoy a meal served with a side of nostalgia at A Slice of the 80's pizza and sub shop, where its name says it all!
14. CORRY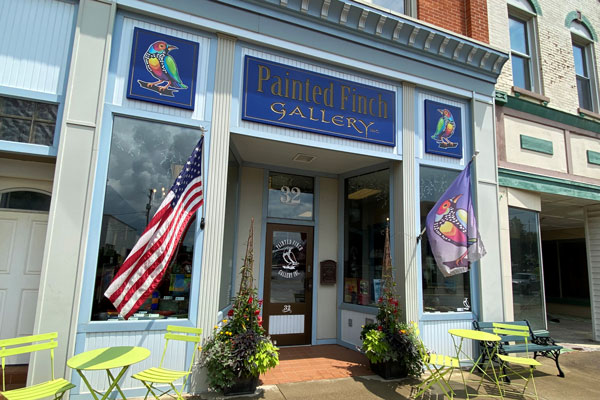 Corry's downtown is home to gift shops, cafés, and specialty stores, including Before the Barrel Distillery, Painted Finch Gallery, and Epiphany's Emporium. Once a railroad boomtown, Corry's downtown is lined with buildings heralding that earlier era and dating back to the 1900s with its well-preserved streets featuring historical markers, interpretive panels, and period lampposts attesting to those earlier days. After a day of shopping, unwind at the Cobblestone Inn and Suites and grab a seat at the onsite beer and wine bar.
15. NORTH EAST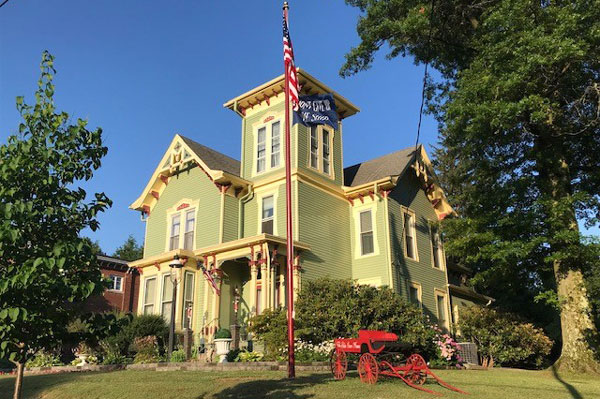 Known for its Victorian-style architecture and charming small-town feel, downtown North East has inviting shops, picturesque Gibson Park, and the historic McCord Memorial Library, built in 1910. You'll find something for everyone on your list at Grape Country Market, showcasing all things synonymous with the Lake Erie Grape Belt including juices, jams and jellies, candles, cards, driftwood and beach glass art, and featuring the work of more than 70 artists, authors and artisans. Shop for unique and fun educational (don't tell the kids!) toys, games, gifts, puzzles, and other fun stuff at The Apple Basket. Stop for lunch at the Skunk and Goat Tavern for a unique and funky take on American cuisine and artfully crafted cocktails.