Your simple guide to finding prescription beauty and skin care products
For many, the pandemic changed how we went about our daily lives – from swapping coffee dates for video chats or dinner out with delivery. But the changes didn't stop with social interactions. It also reshaped the way we interact with doctors. Many of us still prefer the ease of telehealth, especially when it comes to consultations for some of our favorite prescription-strength beauty products like tretinoin or Latisse. And companies like Curology, Apostrophe, Ro and more are making it possible. Ahead, we'll delve into the world of telehealth and fill you in on everything you need to know about getting your beauty prescription online.
Telehealth, or telemedicine, is a term used for virtual doctor's visits. During a virtual visit, doctors can provide you with prescriptions or consultations regarding your concerns. In recent years, telehealth has branched out to the beauty world, partly due to necessity. Customers can now obtain prescription products without the hassle of a physical visit — a definite plus in today's busy world.
Through online telehealth companies, customers can receive specialized care once only available in the office. Most are full-service companies that work with clients from beginning to end. Dr. Whitney Tolpinrud, medical director at online skin care platform Curology, explains how the company deals with the dermatological needs of its clients — all conveniently online.
"Getting started with online prescription services is easy. Whether you are new to skin care or you are a skin care expert, Curology's in-house medical dermatology providers can help customize a skin care routine for you with a personalized prescription formula," says Tolpinrud. "We can even help you incorporate your favorite non-prescription skin care products into your routine." Similar to other telehealth services, your consultation starts with an online quiz in which you share information about your skin's current condition and what you want to treat. Then, a dermatologist will review your answers and prescribe personalized skin care.
A wide variety of prescription beauty products exist, and all of them can target specific beauty-related concerns. They need a prescription because of the strength of the ingredients and the supervision required to treat any side effects or dosage issues.
"When I think of prescription beauty products, I think of those that include ingredients that can help address skin concerns such as dark spots, fine lines and uneven skin tone or texture. These concerns can be effectively targeted with prescription ingredients called tretinoin and hydroquinone," says Tolpinrud. "Prescription formulas can also be compounded with ingredients such as azelaic acid, tranexamic acid, niacinamide, tretinoin or hydroquinone into one convenient product to target multiple concerns at once."
Thanks to the popularity of beauty telehealth and the availability (and accessibility) of prescription beauty products online, many companies offer these services. Here are a few of the most popular and what they offer.
Curology offers personalized skin care by pairing customers with licensed dermatology providers to develop customized skin care plans to help with everything from acne, rosacea, aging and more. After a brief online quiz, your provider prescribes one of Curology's personalized formulas that address your concerns. Choose from a prescription acne treatment or tretinoin-boosted anti-aging formula, and pair it with Curology's cleanser, sunscreen, body wash and more. Personalized prescriptions start at $30 a month. 
Hers revolves around the thought that healthcare should be the same as self care. The company offers a variety of health and wellness prescription products, including those for thinning hair and skin care. Non beauty-related prescriptions include those for mental and sexual health. To start, you take a guided 10-minute health assessment, which a licensed practitioner will review. If prescribed, you can get your product delivered monthly for a reasonable fee. Although Hers does not accept insurance, using generic formulas keeps costs low. 
Ro offers various prescriptions, including hair (Rogaine, Latisee) and skin (Upneeq, Drysol). Like most online providers, customers start with a questionnaire reviewed by a licensed clinician who provides prescription treatment. Ro works on a subscription basis, and prices vary depending on the product. One plus is that you can talk with a licensed healthcare professional 24 hours a day, seven days a week, so if you have questions, someone is always available to help. 
Apostrophe promises treatment as close to visiting a doctor in person as you can get online. Board-certified dermatologists help pair you with a prescription skin care product to help you achieve desired results. In addition to topical treatments, oral prescriptions are available to help those suffering from hormonal acne. Apostrophe's overall cost will vary depending on how often you receive your prescription. 
Originally created as an online community where members could share skin care tips, Musely has evolved into a custom prescription skin care service with low-cost virtual doctor visits, consultations and prescriptions. After a three-minute medical questionnaire, board-certified Musely dermatologists will write you a prescription to target your concerns, whether it's rosacea, dark spots or wrinkles.
Overall, prescription beauty products can improve the look of your skin, treat underlying skin conditions, help regrow hair (or lessen hair growth) and more. Here's a look at some of the most popular prescription beauty products and what they do.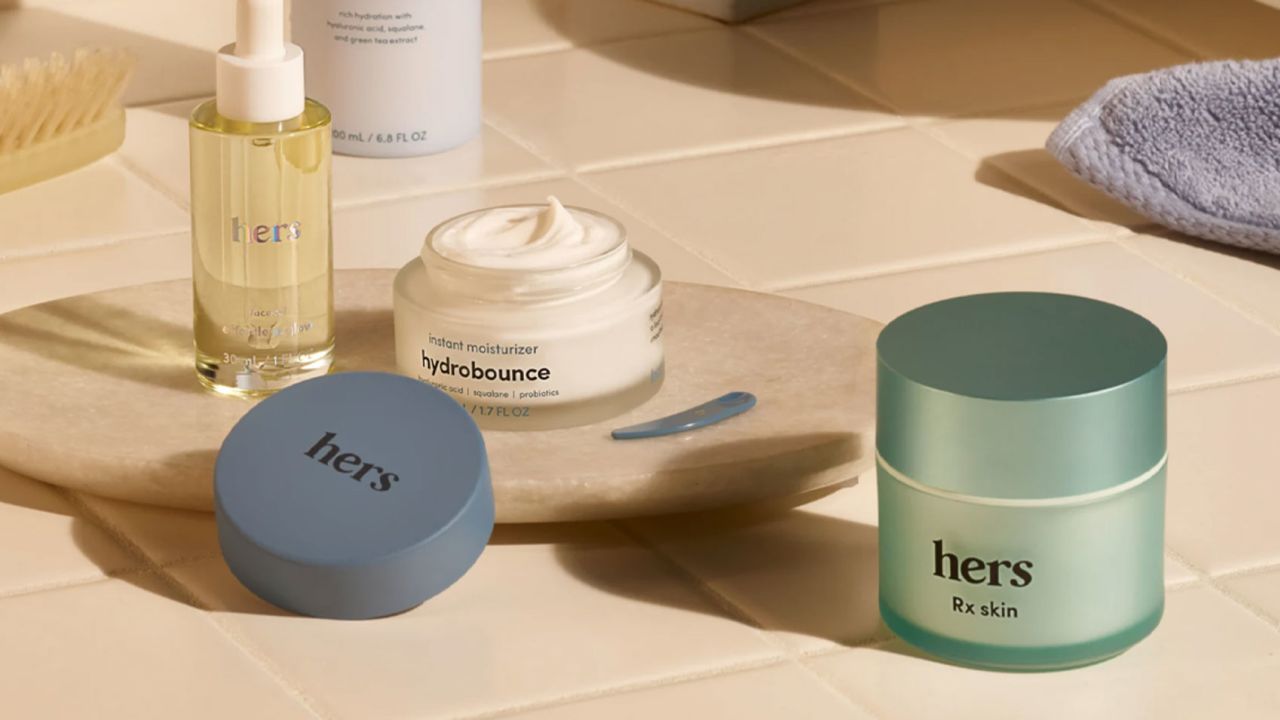 Retin-A and its generic counterpart, tretinoin, are topical creams that speed up skin cell overturn, making it one of the most popular anti-aging products around. It also replenishes collagen stores, making pores smaller and skin fuller. The result is younger, more radiant-looking skin. A prescription is required to help manage the strength of the product.
Latisse was initially formulated as a treatment for glaucoma patients. One of the medication's side effects? Longer lashes. Because of this, the product was reformulated, FDA-approved and renamed Latisse. It's now one of the most popular eyelash growth serums. A prescription is needed to be sure you are a good candidate for the product and to address any side effects. Different telehealth providers have varying sized bottles, and therefore prices, for the product.
Many suffer from hyperpigmentation due to hormonal changes or sun exposure. Hydroquinone works to depigment scars, age spots and sun damage. To get a product containing 4% hydroquinone (enough to make an actual difference), you'll need a prescription. Side effects include itching, dryness and redness, which should be evaluated by a doctor who can alter your dose.
If you are looking for a prescription acne medication, there are plenty on the market. And depending on what telehealth company you work with, the offerings will differ. Curology and Apostrophe both offer their own brands of acne treatments that feature prescription-strength doses of tretinoin, clindamycin, azelaic acid and more. Prescription acne medications, like antibiotics and hormonal treatments, are also available.